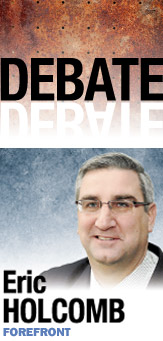 Question: In the November elections Republicans made gains in traditional Democratic strongholds in southern Indiana. Is the shift more likely to be temporary or enduring?

Answer: Some have suggested President Obama accomplished in his first two years what Republicans had attempted for decades: converting southern Indiana "Reagan Democrats" into Republican voters come Election Day. I don't subscribe to this overly simplistic analysis. Rather, I would propose that in 2010 Democratic candidates knowingly sailed into a perfect storm. Whether that storm further develops is yet to be determined. Let me explain.

First, Republican allies worked in an unprecedented manner to recruit first-time candidates with real-world experience.

Second, for the most part, our candidates remained positive. In previous elections, so-called wedge issue attacks created by D.C. consulting firms bombarded mailboxes, radio air waves and television commercial breaks regardless of party affiliation. Voters grew increasingly frustrated that politicians couldn't make progress. In 2010, Indiana Republicans focused on pocketbook issues like the state budget and government growth at the expense of the private sector. Voters connected with these issues and rejected the sensationalized personal assaults.

However, I would maintain these two reasons pale in comparison to the third reason I believe Republicans enjoyed such tremendous success south of U.S. 40.

That is, Republicans owned credibility on the issues that mattered most to voters.

For example, Gov. Daniels stood firm during the last budget battle and resisted giving in to those on the other side of the aisle who sought to spend billions of dollars the state didn't have. Our candidates echoed the governor's leadership and rightly pointed to honestly balancing budgets, cutting taxes and improving government efficiencies, while their opponents relied on out-of-date rhetoric, lacking any constructive ideas of their own.

So, to paraphrase Benjamin Franklin, it's a Republican majority if we can keep it. Indiana Republicans now occupy both U.S. Senate seats, regained the majority of our congressional delegation, hold all statewide offices, expanded our majority in the state Senate, and captured a stunning 60 seats in the Statehouse.
Keep in mind three candidates spanning from the Ohio River straight up U.S. 41 to Terre Haute all lost their first race for state representative by fewer than 170 votes each. Amazingly, House Republicans won these 60 seats and came within a handful of picking up three to five more in districts brilliantly gerrymandered by a former Democratic majority.

History tells us that while Republican candidates typically receive a majority of the total votes cast for all state representative races, we still find ourselves serving in the minority. However, last year, Republican candidates received 60.8 percent of the total vote and won exactly 60 seats. Just drawing fair maps this session that make sense to taxpayers will make it harder for Democrats to compete in areas once considered toss-ups.

The breadth and depth of Republican victories goes far beyond the Statehouse and congressional levels. To suggest voters were only intent on sending a message to the president, Nancy Pelosi, or former Speaker Bauer is missing a significant electoral mood shift that occurred.

County-level Republican candidates won all over Indiana. Hoosier voters plainly said they expected their elected officials to be courageous and make tough decisions during these challenging times, not run up a tab for some future generation to pick up. It's now up to my party to live up to those expectations.

Elections come and go. If Republicans follow this proven formula, recruit capable candidates, wage relentlessly positive campaigns, and stick to the issues that keep Indiana moving forward, I predict more independent and conservative-minded voters will come home and join our Republican ranks.•

__________

Holcomb is chairman of the Indiana Republican Party, and was Gov. Daniels' campaign manager in 2008. Send comments on this column to ibjedit@ibj.com.