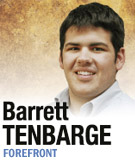 Predictions and prognostications abound as to who will run to be our next governor in an election that is a mere 21 months away. While the political horse race is fun for a small group of Hoosier politicos, the much more important and interesting question is, what will they run on? What sort of ideas will their campaigns be built upon that will turn into governing priorities?
The Jesuit education I received at Brebeuf Jesuit Preparatory School shaped me both intellectually and spiritually, and introduced me to a grand sensibility on how to view the world. A Jesuit concept called the "magis," which is Latin for "the more," is about a restless and relentless pursuit of excellence, the paradox of being satisfied with never being satisfied. Catholic theologian Reinbold Niebuhr said, "Nothing that is worth doing can be achieved in our lifetime; therefore we must be saved by hope."
Gov. Daniels provides this hope in Indiana. Digging this state out of deficits both literal and figurative, he has begun the rebuilding process. But his administration is indeed the beginning, the foundation for even more change.
The next governor must continue on the path toward more reform, and at the center of this reform should be my generation. This is not meant to sound as selfish as it probably does, but rather reflects the fact that public policy must be forward-looking. The problems our current political leaders ignore are left at our feet to fix. But, by the time the problems get to us, often only drastic measures can stave off disaster.
As has been written about extensively in IBJ, Indiana faces a crisis of income. Indiana ranks 45th in personal income, and it is no coincidence that we also rank 45th in the number of adults with college degrees. This problem is not as obvious to see as an unbalanced budget, but is just as threatening to the survival of the state.
Considering the problems we face, our next governor needs to run a campaign based on results, not ideology. As a college student in Bloomington, I can reliably say a vast majority of students are not driven by ideology. We as a generation no longer largely identify with a political party. It is not the "R" or the "D" next to a politician's name that matters, but rather the tone and substance of his or her campaign.
In 2012, I am looking for a candidate to continue a restless, relentless pursuit of change—in essence, the magis.
One issue that should figure into the campaign is energy. Indiana is the Saudi Arabia of coal. We have some of the cheapest energy in the nation because we get around 95 percent of our power from coal.
Rather than waiting on Washington to create a better energy policy, we need to put creative federalism into practice and use policy to diversify our energy sources to create jobs and raise living standards. Energy rarely, if ever, is discussed in an Indiana gubernatorial race, but it is a top political issue for my generation.
While K-12 education will be the focus of this upcoming legislative session, higher education is not talked about enough. Too few students end up receiving an education and too many leave with nothing more than debt. The Commission for Higher Education is doing great work to push institutions to be more results-based, but this is never talked about on the campaign trail over pork tenderloins.
Daniels has set a tough act to follow, but there will be plenty of work left to do because the work is never finished. Contrary to popular misconception, young voters care deeply about policy and how it will improve their lives.
In 2012, rather than speculating on the who, it would be refreshing to speculate on the what and the how of solving the problems we face.•
__________
Tenbarge is a sophomore business student at Indiana University, where he is active in student government and the IU College Democrats. Send comments on this column to [email protected].
Please enable JavaScript to view this content.