Some of the biggest states in the nation—California, Florida and Texas—look to a small Carmel firm to gauge the effectiveness of their tourism campaigns.
Strategic Marketing & Research Inc. conducts its research from a nondescript two-story office building at 116th and Pennsylvania streets, within a stone's throw of CNO Financial Inc.'s headquarters.
SMARI, as the company is known, also serves the health care, manufacturing and utility industries. Co-founders James Ittenbach and David Seiferth remain active in the firm.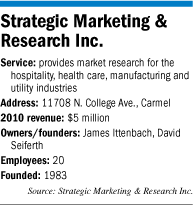 But tourism veteran Denise Miller, who arrived in 1991, has led SMARI's hospitality efforts the past 20 years and is well-known within the industry, currently serving as president of the Michigan-based Travel & Tourism Research Association.
"I always say I'm a research evangelist," said Miller, 55, who served as Indiana's tourism director from 1989 to 1991.
Previously, the Ohio native and University of Notre Dame graduate led the South Bend Chamber of Commerce's tourism efforts before she became director of the Bloomington Convention & Visitors Association, from 1985 to 1989.
Those positions, topped off by her state appointment, have served SMARI well when touting its experience against the competition.
"Expertise is highly valued," said TTRA Executive Director and CEO Michael Palmer. "That's why [there are] only a handful of world-class research organizations like SMARI."
Besides state tourism departments, the firm's clientele includes several convention and visitors bureaus as well as certain attractions.
They include such well-known destinations as Colonial Williamsburg in Virginia and Yellowstone National Park in Wyoming in addition to the local Conner Prairie Interactive History Park in Fishers.
Also closer to home, the Indianapolis Convention & Visitors Association commissioned SMARI on a project that ended last fall.
A SMARI report released in October by ICVA showed that its $1.2 million ad campaign last summer targeting eight Midwestern cities paid off handsomely, generating an estimated $270 million in spending by visitors to Indianapolis.
The organization has worked with SMARI occasionally for 10 to 15 years but more continuously the past five years as ICVA has ramped up its tourism efforts, Miller said.
SMARI stood above other candidates vying for ICVA's latest project, said its chief strategy officer, Matt Carter.
"In research, you're talking about trust and integrity," Carter said. "We survey the universe of companies that can provide the kinds of insights that are necessary. But we also need to make sure those companies are solid and they have a track record, and [SMARI was] the clear choice based on the referrals."
So how does SMARI arrive at its results?
It typically develops the questionnaires and relies on outside companies to supply volunteers to complete the surveys. Most surveys take two to three months to complete and are conducted online using at least 500 participants.
A survey's participants typically are shown advertisements promoting a certain city or attraction. Those who didn't see the ad are discounted because they would have traveled to the destination regardless of the advertisements. But those who saw the ads and were influenced to travel to the destination because of them are used to measure a campaign's effectiveness.
Market research has changed greatly in the past 20 years, most notably the transition from telephone to online surveys. Mobile applications may be next.
The aim is to survey visitors while trip details are freshest. In Kissimmee, Fla., for instance, Miller is working with the local convention and visitors bureau to convince hotels to list on room bills a website where guests can go to take a survey.
Meanwhile, as states in particular aim to get more bang for their buck amid ongoing budget cuts, their "return on investment" has taken on greater importance.
States want a thorough accounting of their leisure travel spending, making SMARI's work highly sought after in some markets.
"It's more important for [state tourism departments] to quantify their budgets," Miller said, "so when they're trying to protect their budgets, they'll have that ammunition."
Other states, such as Indiana, are calling on SMARI less, Miller said. State lawmakers who passed a biennial budget during the special session in 2009 sliced the state's annual contribution to the tourism department in half—from $4.8 million to $2.4 million.
SMARI just now is beginning to recover from the cutbacks. The company enjoyed modest growth until 2008, when the economy soured. Sales stabilized in 2009, and firm revenue grew 10 percent in 2010 to $5 million. Miller expects revenue this year to increase slightly.•
Please enable JavaScript to view this content.