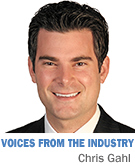 Research shows more than 21.9 million visitors deliberately travel to Indianapolis annually, leaving behind more than $3.5 billion in economic impact for central Indiana. These visitors range from families escaping from Chicago for a long weekend to convention attendees on a corporate expense account monopolizing St. Elmo Steak House.
And with fewer than 360 days until kickoff, the city's 66,000 hospitality workers stand ready to collectively roll out the international red carpet in February 2012 for more than 150,000 visitors for the Super Bowl.
Though this is healthy visitor count, it's not necessarily the quantity of visitors, but rather the caliber of visitors, that intrigues my organization which is charged with driving tourism and booking conventions.
The NFL estimates 65 percent of those attending Super Bowl XLVI will be corporate decision-makers—the same individuals who decide where their company's convention will be held, where a corporate meeting will take place, and what destination will host their annual sales incentive trip.
In the convention industry, decision-makers are lured to a city for a site inspection, to physically walk the destination and envision their convention taking place. Essentially, the city will host a steroidal site inspection next February for the exact people in charge of booking conventions, relocating businesses, and subsequently creating job growth.
Corporate decision-makers will see the city's walkability and new meeting facilities firsthand as they walk via the warmth of our skywalks from connected hotel rooms into the expanded Indiana Convention Center (venue for the NFL Experience) and into Lucas Oil Stadium.
These same corporate folks will attend many of the 130 private parties and events held over a six-day period. These VIP events will showcase the city's special event venues, like the Indiana Repertory Theatre, as logical places to hold corporate gatherings.
To ensure the Indianapolis message comes through, the Indianapolis Convention & Visitors Association will conduct outreach via sleek marketing materials to these corporate decision-makers to help turn their site inspections into a convention contract.
To further capitalize on this epic event, the ICVA will use the Super Bowl as a hook to lure additional "A" list meeting planners who haven't seen the city before. Our message will be simple: If Indianapolis can host the Super Bowl, we can host your convention. And the ICVA has nearly a 70-percent track record of turning a site inspection into ink on a dotted line.
Having attended three Super Bowls on behalf of our tourism community—including the recent trek to Dallas—it's apparent by the spending frenzy that hosting a Super Bowl translates into an unquestionable economic burst. When you're in the business of not only selling a city, but also marketing a city, hosting a Super Bowl also translates into unquestionable buzz for a destination.
As with Dallas, the international media spotlight will be turned on Indianapolis. We anticipate more than 5,000 journalists to physically be in the city—inside the JW Marriott's working media center—talking about the city behind the Super Bowl.
From Sports Illustrated's Peter King to prominent broadcaster Jim Rome, influential journalists will give their perspective on not only the X's and O's of the game, but also the city behind the game. While in Dallas, Rome already talked about getting a reservation at St. Elmo Steak House to knock out a few orders of shrimp cocktail.
Can you imagine multiple days of "The Today Show" originating from Indianapolis—you know, little old Naptown? It will be a reality. Producers have already been on the ground conducting their version of a site inspection of where the set will sit. Will you try to maneuver into the shot of Al Roker giving the weather report holding a sign? I can assure you that wherever Al is standing, there won't be ice under his feet.
The cost to buy a 30-second ad during the Super Bowl is $2.5 million, and via the NBC broadcast of the game alone, the sweet-sounding word "Indianapolis" will be mentioned for at least 30 seconds by announcers—in addition to those aerial video shots of our skyline coming in and out of commercials.
With 230 countries broadcasting the game to more than 111 million viewers, the brand awareness of Indianapolis as a viable place to visit and conduct business will be clear.•
__________
Gahl is director of communications for the Indianapolis Convention & Visitors Association. Views expressed here are the writer's.
 
Please enable JavaScript to view this content.