February's First Friday gallery tour led me to the awkwardly named Indy Indie Artist Colony at 14th Street and Pennsylvania Avenue. Upstairs, apartments and workspaces are filling up with resident creative folks while, at ground level, Philip Campbell is running a gallery now in its second month.
This time, the roomy space has been divided in two, with half devoted to work from the residents and the rest given over to "Just Desserts," a multi-artist show in which candy and other treats provide the spark.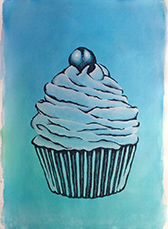 Ann Lang's "Confection Affection" series (including this cupcake) is among the appetizing artworks in the Indie Indy Artist Colony's "Just Desserts" show. (Photo Courtesy Indie Indy Artist Colony)
The distressed walls and floors help take the weight off the work. Ann Lang offers playful before-and-after paintings of cupcakes, ice cream, banana split and apple pie. Kyle Morgan contributes a mirrored memory box, "Family Favorites," incorporating black and white photos, sample treats, and the unexpected-but-oddly-right choice of a spool of thread. Morgan's "Tell Them He'll Have Pie" is a little more elusive, with a pamphlet for preserves combined with nutshell halves and a belted board background.
Meanwhile, down Pennsylvania Street at the Arts Council of Indianapolis' Gallery 924, accomplished Crawfordsville artist (and Wabash College teacher) Doug Calisch showed himself as a man with two creative faces.
His sculptural pieces make use of medical illustrations, pieces of tools, piano keys and croquet balls in fascinating combinations. Like Kyle
Morgan's work, the unpredictable element or combination (a protractor and beehive, for instance, in "Echo's Dance") generate the most interest.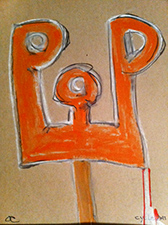 John Clark's "Pop Cycle" is also part of the Indie Indy Artist Colony's "Just Desserts" show. (Photo Courtesy Indie Indy Artist Colony)
I didn't realize, at first, that the photography simultaneously showcased in Gallery 924 was also by Calisch. Once that dawned on me, the "things lost" connections made sense. Here, Calisch is focused on landscapes and what was. A worn ice cream sign and a stairway to nowhere are beautifully composed in "Abandoned Attraction (Roadside). In "Dedicated Space (Fence)," unidentifiable windswept material clings to a useless barbed wire fence. The glossiness of these images feeds their sense of loss.
At the Harrison Center for the Arts, on Delaware Street, you don't need to hear the title of her show to quickly realize that artist Carolyn Springer is in an "Elemental" mode. Double images of fire and water seem to expand the square footage of the Harrison Center's main gallery while, above, "Cherry Blossom Sky" billows gracefully with its acrylic-painted rayon.
Springer's latest work was inspired by a trip to Japan, funded through the Creative Renewal Fellowship program. The visual poetry of her new work reveals an artist who has been creatively renewed. It will be interesting to see what happens when the newness of these ideas merge with that of her earlier work.
__________
Last week, I wrote about the pleasure of hearing chamber music at the new Palladium in Carmel. This week, it was another chamber orchestra in a very different—but equally pleasurable—context.
For the past three years, February has brought the Indianapolis Chamber Orchestra's live accompaniment of a silent movie genius. This year, it was Charlie Chaplin's turn. The feature, "The Kid," despite not holding up quite as well as the last two offerings (Buster Keaton's "The General" and Harold Lloyd's "Safety Last"), still anchored a wonderful evening.
That score was actually penned by Chaplin himself, which focused more attention on the music itself and the quality of the playing. The ICC wisely didn't shy away from the sentimentality of the work, and that commitment made the musicians and the film shine even brighter.
__________
Janet Allen, director of the Indiana Repertory Theatre's production of "The Diary of Anne Frank" (through Feb. 26) clearly understands that the power of this play comes not from our attachment and previous knowledge of the story but from the opportunity it offers to experience its title character not as an icon but as a human being.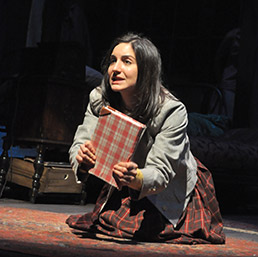 Rebecca Buller's performance in the title role is one of many reasons to revisit "The Diary of Anne Frank" at the Indiana Repertory Theatre. (Photo Courtesy Indiana Repertory Theatre)
Anne Frank is often trivialized as an optimist's optimist whose "in spite of everything" faith in people defines her completely. In this recently rewritten version of the play used here (incorporates more from the diaries), Allen and outstanding actress Rebecca Buller aren't afraid to let Frank be annoying, naïve, awkward and petulant. In presenting her with such contradictory humanity—and by surrounding her with a solidly cast group of nuanced actors—they breathe life into what could be a museum piece. And they make her fate seem almost surprising. And newly painful.
My only complaint—a perhaps trivial but distracting one—is the size of the attic portion of the set. In a world where space and privacy are at a premium, the expanse of unused space makes one wonder why Frank and her fellow hideaways don't spread out. •
__________
This column appears weekly. Send information on upcoming arts and entertainment events to lharry@ibj.com. Twitter: IBJArts and follow Lou Harry's A&E blog at www.ibj.com/arts.
Please enable JavaScript to view this content.