Alex Kosene wasn't thinking about making a television commercial when he wandered into Reis-Nichols Jewelers about a year ago. He just wanted someone to fix his watch.

At the time, Reis-Nichols had no plans to advertise on TV. It already had a successful radio and billboard campaign.
IBJ.COM EXTRA

Click here to watch the Reis-Nichols ad.
But it wasn't long before Kosene and Reis-Nichols had struck a deal that had little to do with watches.

What resulted was a TV ad with an almost slow-motion appearance, no overt sales pitch or even narrative. Only a hint of jewelry is shown, and aside from a logo emblazoned at the end of the ad, there's barely a mention of the company doing the advertising.

The ad, which features original music by local songwriter Jennie DeVoe, is creating quite a buzz for Reis-Nichols and has launched Kosene—and his partner Sami Mustaklem—into the TV ad business. Their firm, 3rd Strand, has a growing list of clients seeking their unique storytelling approach.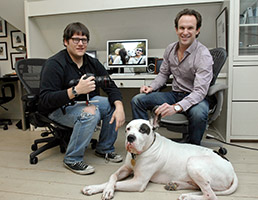 Sami Mustaklem, left, and Alex Kosene of the local production firm 3rd Strand created a Reis-Nichols television commercial that became an instant hit. Kosene's dog Notch was used in the 30-second television spot. (IBJ Photo/ Perry Reichanadter)
"The ad isn't just a sales pitch," Kosene said. "It's a love story. It creates feelings. We tried to emotionally connect with the audience."

Connect Kosene did. After reviewing the commercial, Reis-Nichols decided to air it between Thanksgiving and Christmas, the most important selling season of the year. It's a period, said Reis-Nichols owner B.J. Nichols, that accounts for 25 percent of the company's annual sales.

The ad was an immediate hit.

"People were coming into our store and talking about this ad like never before," said Reis-Nichols Marketing Director Lori Roberts. She said year-over-year sales were up more than 10 percent this December.

"It doesn't seem like a commercial," said DeVoe, whose music is featured. "It seems like a mini-movie to me."

Kosene proposed cross-promoting the jewelry store and singer through their websites and offering free downloads of music featured in the commercial.

Cinematic crossover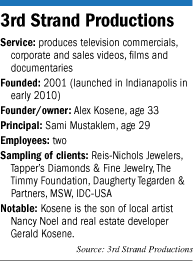 People like Kosene and Mustaklem with ambitions in cinema have increasingly found their way into advertising during the post-2007 economic swoon, said Ball State University advertising professor Bob Gustafson. It's an opportunity for producers, directors and writers to make some money in a down economy and gives local advertisers a shot at using a wider array of talent, Gustafson said.

"My more arty peers in New York or L.A. may think making commercials is just a way to make ends meet," Kosene said. "After having done it, I have a different view. When good advertising comes through, it can be compelling, touching and honest. And I love helping the clients take their brand to a new level. You're not just feeding the beast."

Kosene's initial pitch was a made-for-Internet documentary on watches to be sponsored by Reis-Nichols. The conversation evolved into one about TV advertising. Kosene showed Reis-Nichols officials samples of his work, and they liked what they saw.

Reis-Nichols abandoned TV advertising almost a decade earlier because it had difficulty finding the right talent—at the right price—to make its ads.

While Kosene was confident the 30-second TV spot would drive traffic to the store, he didn't foresee where it would steer his career.

After all, Kosene, 33, an aspiring screenwriter and director with 14 years' experience in L.A. and New York, was supposed to be in town for only a month visiting his parents while he completed a mini-series. The mini-series is based on the true story of a marijuana smuggling ring that operated out of Indianapolis in the 1970s and 1980s and was one of the nation's largest.

Kosene had produced occasional corporate projects to pay the bills but hadn't made a TV commercial since producing a spot for Students Against Drunk Driving while he was in high school.

A little more than a year after his initial visit to Reis-Nichols, Kosene, a 1996 Park Tudor High School graduate, finds himself with deals to make TV ads for Detroit-based Tapper's Diamonds and Fine Jewelry, The Timmy Foundation, ad agency Daugherty Tegarden & Partners and nearly a dozen other local companies.

Reis-Nichols was so pleased with the feedback from its ad that it's in talks to have Kosene's two-man company, 3rd Strand Productions, make several more TV spots for the jewelry retailer.

Steve Mara, founder and president of locally based Adrenaline Motion Pictures, met Kosene more than 15 years ago. He said that even as a teen-ager, Kosene exhibited an uncommon aptitude for filmmaking and storytelling.

"His work has never been the status quo, and I think that shows through in the [Reis-Nichols] commercial," Mara said. "He took 30 seconds, and told a story. He makes an impression on the audience."

Powerful partnership

Kosene, who has worked on projects with actors Jane Seymour and James Keach and on a CBS documentary about the Formula One racing circuit, provides much of the creative power that runs 3rd Strand. Mustaklem, who formerly worked at the Apple store at Keystone Crossing, provides the technical savvy as well as a keen knowledge of modern culture, Kosene said.

"I give a lot of credit to Sami," Kosene said. "Many of the ideas we use are his."

After a chance encounter at the Apple store in 2007, Kosene said he pleaded with Mustaklem to work with him. The duo later worked on various projects in New York. Mustaklem, 29, cut his teeth as associate producer and editor of "Holyland Hardball," a 2009 feature documentary that appeared at the Heartland Film Festival.

Daugherty Tegarden Principal Scott Tegarden isn't surprised by the duo's success.

"When I saw the Reis-Nichols spot, I thought it was a brilliant piece," Tegarden said. "It goes beyond lighting and shooting scenes. It's about shooting something the audience wants to watch. I thought, 'I bet there are a lot of companies that would like to use [their] services.'"

Tegarden hired Kosene to produce a corporate video for Holt Construction Group. He thinks ad agencies like his will see Kosene as a vendor rather than a competitor.

"I gave [Kosene] very little direction, and he hit it out of the park," Tegarden said. "He has the ability to achieve a look that's bigger than your budget."

Kosene has found that he has to focus on business decisions as well as storytelling.

He doesn't have far to go for advice. Entrepreneurship runs in the family. His mom, Nancy Noel, is a well-known local artist, and his dad, Gerald Kosene, and uncle, David Kosene, are real estate developers.

"I've seen all the headaches of running a small business, but I think the personal satisfaction of running a small business is well worth it," Kosene said.

While his parents have given him the freedom to forge his own success and make his own mistakes, he credits them for teaching him about creativity, branding and business operations.

One piece of advice he got was to not underestimate the value of his time or the creative process. For now, most of 3rd Strand's ad deals are in the $10,000 to $50,000 range.

Kosene wants to grow his company to a dozen or so employees, but doesn't want "to become a factory. I love the personal contact with clients."

For some, Kosene's work makes a statement about the Indianapolis advertising community.

"There are a number of talented people—independent and in ad agencies—in this market," Mara said. "It's a tough haul, but we have to show people nationally the quality of work we can do here."

Kosene thinks there's a pent-up demand for the type of work his firm does.

"I went to the coasts because I thought there were limitations to what you could do here," Kosene said. "Now, I've found that isn't the case. We're busier now than we ever were in New York or L.A."

While TV ad work is on the front burner for 2011, Kosene and Mustaklem haven't given up on other projects.

"We're still film geeks," Kosene said. "We still have ideas we want to execute. We'd still like to do a feature film. Whether we make a dime or not on that, we won't be happy until we do it."•