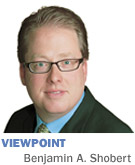 In mid-January, United Van Lines released its annual study of migration patterns across the United States. The resulting map paints an interesting picture: States in yellow are those they define as "high outbound" (where more people are moving out than in), those in blue are the opposite, and those in white are neutral, where the population has been stable.
Perhaps it's no surprise that Indiana is one of the stable states, but what may come as a bit of a shock is that Indiana appears to be floating in a sea of yellow, with almost every one of the neighboring states, except Kentucky, indicating more people outbound than inbound. Michigan? Yellow. Ohio? Yellow. Illinois? Yellow.
Well, maybe that last one shouldn't come as a surprise, given the mid-January passage of a 66-percent personal income tax increase and 46-percent business-tax-rate increase from the cash-strapped state government. Regardless of our respective political differences, these two facts should give every Hoosier a sense of pride in what has been built (or, some might say, what hasn't been built) here in the seat of Indiana's government, Indianapolis. Indiana now enjoys a meaningful comparative advantage relative to its surrounding states, one that is likely to grow only more attractive to new businesses if other Midwestern states find themselves in similar positions as Illinois, with declining tax revenue and increasing spending obligations.
Many local business and thought leaders have wrestled with the questions of what Indiana needs to do in order to be considered more seriously by expanding businesses, or what the state should try to do to prevent the entrepreneurial brain drain from our universities. And for all the angst that many have felt over not having great answers to these questions, Indiana has managed to quietly foster an answer that is entirely consistent with our values: good fiscal government.
The result of this sort of base-running versus swinging for the fences may not find Indiana playing host to Google or the next great biotechnology industry. But a stable state with attractive personal and business tax rates will—at a minimum—drive labor-sensitive businesses to look more seriously at Indiana. Look around the state and it's easy to find pent-up industrial know-how, the sort of capabilities other states simply cannot match. And, to paraphrase Tom Cruise in the movie, "The Firm," manufacturing "may not be sexy, but it's got teeth!"
For some, these sorts of industries are too old-school to drive the new economy. And while the criticism is legitimate, Indiana's current strengths lie in embracing a vision of our future that is authentic to what we do truly better than others, while not shutting the door on exploratory efforts to cultivate higher-technology startups.
These are delicate matters, because some of the things that characterize Indiana can't be changed. After all, our topography and climate really aren't up for adjusting. But what we can do is stay true to what we are and what we aren't, and in doing so, foster an environment of stability, something business very much desires.
Perhaps most important, Indiana's current fiscal position points a way forward, illuminating what the next decade of good government, and good partnership between municipalities and businesses, should look like—not only at a regional level, but for the nation as a whole as well.
As Gov. Daniels' second and final term comes to an end, business and policymakers need to pay attention to what Indiana has going for it: good government that understands its limitations, seeks to ensure its fiscal stability, and empowers business to worry about everything other than double-digit increases in taxes.•
__________
Shobert is managing director of Teleos Inc., a local firm specializing in taking products and technologies to market.
Please enable JavaScript to view this content.