A program to help Indiana University Health patients get discounted hotel rooms has ballooned in recent years to the size of a midsize convention.
Patients of IU Health, formerly known as Clarian, booked more than 11,000 nights last year, taking advantage of discounts with 30 hotels around Indianapolis.
The program is managed by ProCare, an Indianapolis-based concierge service, which handles all booking for the patients. ProCare has negotiated discounts on the hotel rooms ranging from 20 percent to 60 percent. Some hotels throw in other perks like free parking.
The hotels participating in the program, most of them downtown, include the Conrad, Hilton, Hyatt Regency, Courtyard by Marriott, Candlewood Suites and Holiday Inn Express. And ProCare says it wants to add the new JW Marriott to the program as well.
 
Heffelfinger
"We've proven that the volume is there, and it just continues to grow," said Jeff Heffelfinger, administrative director of cancer programs for the IU Melvin and Bren Simon Cancer Center, who spearheaded the program with ProCare when he found that 70 percent of IU's cancer patients were coming from more than 30 miles away.
Cancer treatments and transplant surgeries account for the most overnight stays at IU Health's three downtown hospitals: Methodist, University and Riley Hospital for Children.
Jim and Pat Fisher, a retired couple living in Terre Haute, used ProCare to book a week's stay at the Candlewood Suites in November while Pat underwent a surgery to replace her cancerous bladder.
"It was so nice, because we knew we were going to be there the week," said Fisher, 69, a retired Hollywood film and television scriptwriter. He added, "Having it so close was fantastic, because I could go home and heat up soup, and take some time and read, and then go back to the hospital."
IU Health's downtown hospitals handle more than 32,000 surgeries every year, according to data reported to the Indiana State Department of Health. In addition, in 2009, the hospitals handled more than 75,000 outpatient visits by cancer patients—a 27-percent increase over 2007.
That's the year the IU Health-ProCare partnership started. It booked 1,100 rooms in that first year. But as IU Health doctors have done a better job promoting it to their patients, and as more hotels have signed on, the program has grown.
Jim Fisher heard about the ProCare program on a visit to Dr. Michael Koch's office, the IU cancer surgeon who performed Pat's bladder surgery. His extended-stay suite cost about $80 a night, compared with a normal price of $110 or more.
ProCare receives a fee from each hotel for each room it books for IU Health patients.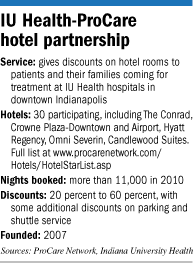 Don Neel, CEO of ProCare, said the program saved patients more than $350,000 last year, on hotel rooms and other services. And the program also earned more than 200 free nights from hotels last year, which IU Health social workers use for families unable to pay for their own accommodations.
"Most people want to focus on the health issues for the family," not scrambling for a bed to sleep in, Neel said. "So they're very appreciative."
Many Indianapolis hotels already offered discounts to hospital patients—if they mentioned it or knew to ask, said Glenn Brooks, vice president of sales and marketing at Indianapolis-based General Hotels Corp.
Having ProCare centralize the booking makes it easier for both patients and the hotels, he said. And by having only 30 hotels in the program, it has provided a boost to business, even during off-peak times.
"That's a lot of rooms," Brooks said of the 11,000 booked through the program. "I know that we've gotten a fair amount of business from it."•
Please enable JavaScript to view this content.