It's hard to pinpoint the smells swirling inside the Indy Winter Farmers' Market. Dozens of vendors fill the downtown market with their goods—herbs, spices, meats, cheeses, cider and candy—and the melting pot's aroma fills the air.

The diverse fragrances mesh well with the market itself, described by owner Laura Henderson as "a destination" for residents looking to eat local.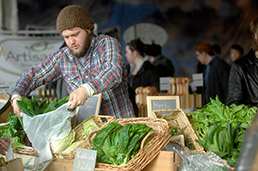 Joeseph Monroe, owner of Harvestland Farm of Anderson, helps a customer at the Indy Winter Farmers' Market at 530 E. Ohio St. Winter markets are increasingly common. (IBJ Photo/ Perry Reichanadter)
"It makes an impression on visitors to find something like this," said Henderson, 32.

Open from 9 a.m. to 12:30 p.m. Saturdays at The Maxwell apartment building downtown, the Indy Winter Farmers' Market has more than 60 approved vendors.

While fields of most commercial farms lie bare, smaller producers have spurred growth of farmers' markets nationwide. The U.S. Department of Agriculture says there are about 900 winter farmers' markets in operation—a 17-percent increase over the past two years.
IBJ.COM EXTRA
For more photos of the Indy Winter Farmers' Market,
click here
Winter markets are increasingly common thanks to the growing popularity of organic food and the eat-local movement. Still, they are by no means considered mainstream.

Former landlord Larry Jones, in fact, didn't know what to expect three years ago when he first allowed the Indy Winter Farmers' Market to take space in another property he owns at 25th Street and Central Avenue. But he learned quickly.

"The first day, we had 400 people at the door," said Jones, president of Teagen Properties.

The next year, when the market moved to his Chatham Center property along East Street, more than 1,000 customers showed up each week. Attendance is just as strong at The Maxwell and shoppers say the reason is simple.

"It's the freshest, best food you can buy," said Anne Sweeney, a 59-year-old Indianapolis resident who has been a regular since 2008.

Vendor Darby Simpson, 36, sells beef, eggs, pork and poultry at the Maxwell. Simpson, who hails from Martinsville, said it is the strongest market he's participated in, including summer ventures. The winter market keeps him from needing to get a part-time job.

"It gives us an opportunity to sell year-round," he said. "Without this market, I really wouldn't have any hope of being able to farm full time."



Although not all vendors participate every week, Henderson said the market has benefited those involved. For the season, she expects vendors to bring in a total of about $414,000, based on an average of $400 in transactions per vendor each week.

Full-season vendors pay $440 to set up shop all 23 weeks, while half-season vendors pay half that amount and occasional vendors hand over $25 a week. Henderson's business grosses $15,000-$20,000 each season, depending on vendor participation.

Winter markets began catching on about four years ago, said Annie Schmelzer, the Indiana State Department of Agriculture's program manager for entrepreneurship and diversified agriculture. She expects the growth to continue here, as more small farms sprout around the state.

From 2002 to 2007, the number of small farms nearly doubled in Indiana, according to the most recent data available. All told, the state has about 9,700 farms smaller than 10 acres.

It follows that that trend coincides with the increase in farmers' markets.

"Ten acres is not a lot to grow major corn and soybean crops on, so a lot of those farms are working on things that would go in the farmers' markets, or specialty crops," Schmelzer said.

Indeed, Maria Smietana, marketmaster for the year-round Green Market at Traders Point Creamery in Zionsville, has noticed a growth in specialty crop agriculture.

"As market farming becomes more lucrative and farmers realize they can get a higher price for their goods, farmers are shifting production," said Smietana, 51, who also owns Valentine Hill Farm in Zionsville.

A recent poll of vendors at The Green Market found 80 percent were involved in careers unrelated to agriculture before they began farming, she said.

Smietana estimates summer market attendance has grown as much as 50 percent in the past five years, and winter market attendance is up about 20 percent.

This agricultural trend also could inspire cultural and social change in the Indianapolis area, explained Molly Trueblood, market manager of the Indy Winter Farmers' Market.

"It's still very grass-roots," Trueblood said of the support for local and organic produce, "but I think the culture in Indianapolis is at least becoming more aware of that."

Much of that awareness has come as a result of media attention for the eat-local movement, Smietana said. Authors such as Barbara Kingsolver ("Animal, Vegetable, Miracle") and Michael Pollan ("In Defense of Food: An Eater's Manifesto") have become authoritative voices for what previously was an effort fueled by "foodies."

Kingsolver's book describes her family's experiment eating only food produced through its own efforts. Pollan argues today's consumption and production practices have changed food into "edible food-like substances" that cause health problems.

"We have these gurus, these national gurus, that seem to be striking a chord with people," Smietana said. "These are mainstream people that aren't satisfied with the food they're getting and want an alternative."

Winter markets typically sell different products than their warm-weather counterparts, but the surge in demand has spurred more similarities. Although root vegetables such as potatoes and products with long shelf lives are still predominant, green vegetables are beginning to crop up in winter markets as well, Smietana said.

The additional revenue from winter markets has allowed local farmers to explore technology that extends growing seasons, she said.

"You can certainly have income year-round," Smietana explained. "That, in turn, encourages farmers to try new, cold-weather growing technologies."

The main logistical limit for continued development in the specialty foods sector, ISDA's Schmelzer said, is finding a place for growers to both produce and sell their goods. Smietana agreed, noting the rapid increase in interest from vendors seeking space at The Green Market.

However, both women see the space issue as a reason for optimism, not concern.

"It's a good problem to have," Smietana said.

Henderson said she wasn't looking to start a business when she started Indy Winter Farmers' Market. Her efforts, she joked, were more about making Indianapolis into a place she wanted to live.

But on that first day at 25th and Central, with people lined up outside the door, she realized her goals were similar to those of many others in the community. Her market and others like it, she explained, are about more than food.

"It's not just about the market," she said. "We should be proud to be Indiana, the Heartland, a farm state."•