In a kind of alternate drug universe, sales of Eli Lilly and Co.'s ghosts of blockbusters past are soaring in China—prompting the drugmaker to pour money into emerging markets in an attempt to prop up revenue.
Sales of Prozac, which lost its U.S. patent a decade ago, grew 22 percent in China last year. Vancocin, an antibiotic Lilly introduced in the 1950s, grew more than 40 percent last year. And Zyprexa, Lilly's $5 billion-a-year drug that will lose patent protection in the United States and Europe this year, is already off-patent in China and battling against a dozen copycat competitors. Yet its sales last year surged 22 percent among brand-conscious Chinese consumers.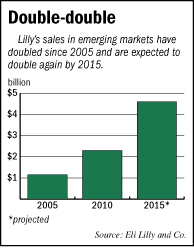 China and other emerging markets are now producing real money for Lilly: $2.3 billion a year, in fact. The company expects the number to double by 2015.
And in another Far Eastern market—Japan—Lilly grew sales last year 32 percent, to nearly $1.7 billion.
The company's big dream is that emerging markets and Japan can substantially ease the nightmare Lilly faces as five of its blockbusters lose patent protection in the United States and Europe, between now and 2014.
"Lilly today is the fastest-growing pharma company in Japan and the fastest-growing among the top 10 multinational companies in key emerging markets," Lilly CEO John Lechleiter told investors last month, adding, "We'll continue to take advantage of this countercyclical growth."
Lilly will need emerging-market growth and then some. When its cancer drug Gemzar lost its U.S. patent in November, it started a process that promises to suck away 45 percent—or about $10 billion—of Lilly's current revenue by the end of 2014.
Lilly has been trumpeting its growth in emerging markets and Japan more and more recently as its string of patent expirations began in November and as it has continued to suffer significant setbacks in launching new products in American and European markets.
But investors and analysts, while heartened by international growth, say it's still not quite as valuable as would be a new blockbuster drug launched in Western markets.
"When you have billions of dollars in the U.S. that's going to go to zero, it's hard to look at all those products [in emerging markets] and see them really adding up to a significant offset," said Barbara Ryan, a pharmaceutical analyst at Deutsche Bank Securities in Greenwich, Conn. "People take a wait-and-see approach on that."
And most companies have reported that profit margins in emerging markets are lower than in the United States—sometimes 25-percent to 30-percent lower. Lilly officials say they're earning profits slightly lower than what they earn in European countries, where government health agencies control the prices of drugs.
"The companies will never have the same margins in emerging markets that they do in mature markets, so those sales are less valuable," Les Funtleyder, manager of a health care mutual fund at Miller Tabak & Co., wrote in an e-mail while he was visiting Hong Kong this past week. "However, emerging markets are growing and matures are not and pharma needs growth to support its R+D program. So they are important, especially in light of patent cliffs."
Diverse, but all emerging
There is no standard definition of emerging markets. Many people limit it to Brazil, Russia, India and China—the BRIC countries. But Mexico, Turkey and South Korea are also seeing strong growth in their economies.
IMS Health, a Connecticut-based pharmaceutical market research firm, now counts 17 countries as emerging markets—including such nations as South Africa, Vietnam, Thailand and Ukraine.
Nearly half the total worldwide drug sales growth—$90 billion worth—over the next three years will occur in these markets, according to IMS projections.
Deloitte Consulting, looking out over the next decade, foresees sales growth of $90 billion in China alone, and another $90 billion in the six "second-tier" emerging markets.
The dynamics of each country are different. Some, such as Turkey, have a government health agency that pays for most health care. Others, such as Russia, have a stronger government role, but still don't have a culture of patients seeking care for chronic disease. And others, such as China, seem to have growing public and private spending on health care.
"These are all diverse markets with their own unique health care funding, delivery and distribution characteristics. But collectively, they offer strong growth prospects fueled by rising GDPs, expanding access to health care and, in many cases, an improving regulatory environment," said Murray Aitken, senior vice president of health care insight at IMS, in a 2010 report.
The populations of emerging markets are both aging and adopting the lifestyles of Westerners—along with the health conditions that come with both.
"They're eating more fast foods, they're sitting more in cars, they're sitting more watching television," said Jacques Tapiero, Lilly's president of emerging markets, sitting in his office at Lilly's Indianapolis headquarters, looking out onto Interstate 65.
Playing catch-up
Tapiero, facing a large world map mounted on his wall, oversees Lilly's sales operations in roughly 80 countries. But since Lilly launched a reorganization in September 2009, he's been paying the most attention to a half dozen key countries, with China at the top of the list.
Tapiero
Tapiero, a 52-year-old father of three, has been well prepared for the job. Born in Morocco and raised in France, he joined Lilly in 1983 as a financial analyst. He later led Lilly sales efforts in Sweden, Brazil and France, before being charged with overseeing all countries outside the United States and Europe.
"Eli Lilly and Jacques Tapiero are not new to emerging markets," he said. But, he acknowledges, Lilly has never made the kinds of investments in those markets it is now.
Lilly doubled its sales force last year in China, for example, boosting the number of cities it covers from 65 to 250. Lilly now employs nearly 3,000 people there.
Lilly is working to do clinical trials in China and other emerging markets at the same time as it is in Western markets, so it can launch drugs there sooner.
Previously, Lilly focused on launching new drugs in North America and Europe, then began clinical trials in other markets. That often delayed a drug's launch in emerging markets three to four years.
Lilly has come somewhat cautiously and somewhat late to the emerging-markets pharma party.
In 2009, Lilly's percentage of sales from emerging markets ranked it No. 12 out of 13 multinational pharmaceutical companies tracked by IMS Health.
But last year Lilly grew faster than all its peers in five of the most important emerging markets—Brazil, China, Mexico, South Korea and Turkey. Lilly boosted its emerging markets sales to about 10 percent of its overall sales of $23 billion.
Such companies as France-based Sanofi-aventis SA and Switzerland-based Novartis AG have roughly 15 percent of sales coming from emerging markets.
Lilly is intentionally being more selective about its emerging-markets forays. It is not following Sanofi's lead by selling low-priced generic drugs in emerging markets. Instead, Lilly wants to focus on high-priced, branded, innovative drugs.
"My strategy is geared on innovation," said Tapiero. "I want to bring the Lilly medicines to fit the needs of the patients in emerging markets."
Also, Tapiero wants to fill out his sales reps' catalogs by acquiring rights to generic drugs made by local companies that, unlike generic drugs in the United States, are given a brand name and supported by aggressive marketing campaigns.
A big reason is profit margins. Emerging markets are full of local drug companies selling generic drugs on price and earning small profit margins. Lilly wants higher profit margins, even if its overall sales are lower.
Focusing on its brand makes sense, given the dynamics of China and India and some other emerging markets. Patients still pay for most drugs out of their own pockets. And wealthy patients treat brand-name drugs with the same aspirational attachment as Americans would a luxury car or country club membership.
"The brand consciousness is very high because that's what shows them that they have arrived," said Sanjay Behl, a partner in the life sciences corporate strategy group at Deloitte Consulting. "At parties in China, people talk about what [medicines] they're taking."
Tapiero, who travels to China four times each year, is well aware of this fact. He knows it's why Lilly drugs have potential to keep generating nice sales and profits long after their patents there expire.
"For patients and doctors," he said, "when they see that red Lilly, it matters."•
Please enable JavaScript to view this content.