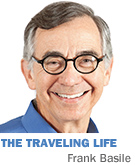 Every year, my wife Katrina and I take to the skies, seas or road to explore places we've never been (you can read about some of those adventures in my quarterly IBJ column).
 But whether the trip is low-key, high-energy, around the corner or around the globe, we've developed a few rules for ourselves that help make the journey more interesting and exciting.
 While I don't expect these to work for everyone, they've worked for us.
Stay flexible
 If you want to enjoy the journey your way, develop your "to-do" list, book the flights, pack light and go. Don't bother with hotel and other reservations.
Yes, I mean that.
 Unless we are not allowed to travel independently by the country we are visiting, as with the Galapagos, Bhutan and Tibet, or if it is considered dangerous, as with Iran and Saudi Arabia, Katrina and I travel on our own with very few advance reservations except for the flights from the United States and back.
Independent travel gives us the flexibility to stay however long we want at each location or city along the way, see whatever sights we want for however long we want at each museum or other location, and have the flexibility to modify the itinerary as we go. Otherwise, we would need to cancel all reservations going forward if we make a change in our schedule. This flexibility also permits us to select the hotel that best suits our fancy when we arrive.
Only once were we not able to find a hotel. This was in Ljubijana, Slovenia, where we had to stay in a hostel, which happened to be new, fun and quite comfortable. This made for a nice unexpected experience … which we enjoyed.
 An exception to the above: family trips. We've traveled with my five sisters and their significant others and, trust me, it's difficult getting 14 people to agree on anything. In such cases, a fixed agenda is the way to go.
Do a to-do list
Though we travel with few reservations and advance commitments, I still have a plan in mind and in writing, beginning with that to-do list, to ensure maximum coverage of the "must-see" sights while not being overly scheduled. I also have an alternate plan in the event of transport cancellations or other unforeseen contingencies.
 With all the flexibility afforded by traveling on your own, you want to make sure you cover the essential sights in each location, which is why I suggest that you develop a list tailored to your interests and check off the items as you do them. This is one reason why we often opt in some locations to take a city tour to get an overview before setting out on our own. That decision is made on the spot. Sometimes we even scrap some of the items on the list and just experience the city, which is what we did in Barcelona. Again, when you are on your own, you have this option.
 In an earlier IBJ column, I reported the wonderful interactions we experienced with locals during a trip to the Arab Gulf countries. We would never have had those encounters on a guided tour because we would have been insulated. We would likely have spent more time at souvenir shops, museums and mosques, all of which are OK if they are on our to-do and are within the timeframes we want to spend at each.
Early in my travels when I complained about a problem during a trip, a friend told me that if I don't want to be inconvenienced, stay home where I am in full control.
I never forgot that advice.
Keep groups small
Even in the cases where we must have a guided tour, we try to arrange for the group to be the two of us with a driver and guide, which gives us the opportunity to exercise some control over the arrangements, including the cities and sights we visit and how long we stay at each.
Talk and walk
Typically, we emerge from the train station after arriving in a town, in Europe for example, talk with the hotel locator desk, which is located in most European train stations, and walk or take a taxi to an interesting hotel located in the center of the city, usually among the sights on our list.
We like to walk out of the hotel to interesting places for sightseeing, dining, shopping and just plain walking without having to take a car, taxi or subway. We then have the flexibility to walk back to the hotel during the day to freshen up or get another item of clothing or whatever. Our base of operations in that city is easily accessible.
Luxury hotels aren't necessary
We don't opt for a luxury hotel unless we plan to spend time in the room, which is highly unusual since our goal is to be on the streets soaking up the culture and the sights and sounds of the city, not staying in the room reading or sleeping. We can do that at home. We stay at a well-located 3-star or 4-star hotel.
We also prefer not to have breakfast included in the price of the room, which gives us the opportunity to select interesting restaurants along the way.
Weather permitting, we have meals and/or coffee and pastry at an outdoor dining area, which gives us another opportunity to watch the people and happenings on the street in our "outdoor museum."
Wasted time is OK
Traveling in this way can be frustrating and perhaps a little risky. You can lose some time when you make mistakes, but it gives you the opportunity to interact with the locals and actually experience what it is like to book a bus or train, take a subway and make purchases without the buffer of a guide. On guided tours, you never have to worry about interacting with vendors or people because the guide handles all that, which is good if your goal is to simply relax and not have to deal with these things yourself.
You are also a lot more likely to run into situations that might cause you some concern, but in the end, you will have overcome a challenge while also having another great travel experience as well as a story to tell friends.
On the other hand, fewer problems will occur if you simply sit in a bus while the driver and the tour guide negotiate everything every step of the way and all you need to do is get out of the bus at the museum, look around for two hours and get back on the bus for the drive to the next pre-selected stop, which could be a souvenir shop for a 45-minute visit, whether you want to or not.
 Pack light
An integral part of traveling in the manner described here is to pack light, which means taking only what you can't live without during the trip. When flying, you want to travel only with a carryon and no checked baggage. In this way, you don't have to carry excess baggage around in taking taxis, buses, planes and trains while en route from place to place. It also provides more flexibility in the type of transport you can take, even cars with little trunk space.
Most importantly, if your flight is cancelled or delayed, you have the flexibility in most cases of changing to another flight or airline if you are not tied down with checked baggage.
Finally, with the increased restrictions on what you can carry and check on planes without incurring additional fees, you will also save money.
Of course, you can ignore all of these rules. Just remember that the point is to enjoy the journey your way. •
__________
Basile is an author, professional speaker, philanthropist, community volunteer and retired executive of the Gene B. Glick Co. His travel column appears in IBJ whenever there's a fifth Monday in the month. Basile can be reached at Frank _Basile@sbcglobal.net.
Please enable JavaScript to view this content.