Let me come clean right away: I'm a gambler. And there's not much I enjoy more than a long weekend in Las Vegas. But since moving to Indianapolis almost a decade ago, I've spent far more time in Indiana's riverboats and "racinos" than working on my neon tan in Sin City. Gotta support the home team, right?

For about 15 years, Hoosiers have been able to double down, feed one-armed bandits and push all-in without leaving the state.

Now the Indiana has five casinos on the Ohio, five on Lake Michigan and one in rural Orange County.

Two years ago, Indiana's two horse tracks added to the state's gambling menu, opening so-called racinos that offer electronic gambling within a toss of the dice of the capital city.

So given Indianapolis' central location, what's a gambler to do when she gets the urge to press her luck? Figuring that out is nearly as hard as deciding whether to hit or stand on 16. Sometimes you just have to go with your gut—fact is, most gamblers' favorite casino is the one where they left with a pocketful of cash.

Personal preferences also come into play. A favorite game and a friendly dealer are draws for some. Loyalty programs keep others coming back for the perks. And I have friends who describe themselves as "convenience" gamblers who only visit a casino when they're already in the neighborhood. Then there are those like my sainted husband, who just go along for the ride when a loved one gets the itch.

There's a certain sameness to many casinos—you know, the smoky air, clanging slot machines, abundant buffets and scantily clad cocktail waitresses (who, sadly, are prohibited by state law from offering free booze). But there are some distinguishing characteristics that might tip the scale.

So here's a rundown on the basics, with insight from someone who (probably) has been there:

Northern tier

The five casinos located on Lake Michigan are an easy drive from Chicago, but a bit more of a hike for central Indiana residents—about three hours north on Interstate 65. But there is a convenience factor once you're there: Four of them are clustered within about 15 minutes of each other amid the smokestacks and oil tanks that define the region. And the outlier is less than an hour east.
Horseshoe Hammond (Photo Courtesy Horseshoe Hammond)
Horseshoe Hammond

History: Opened in 1996 as the Empress Casino, renamed Jack Binion's Horseshoe Casino in 2001, and rebranded as Horseshoe Hammond in 2008; part of the Las Vegas-based Caesars Entertainment Corp. family

Location: 168 miles from downtown Indianapolis in Hammond

Casino: 108,000 square feet of table games and slot machines on two levels, including a high-limit gaming room, a 34-table live poker room and the separate Asian Gaming Room, which includes a noodle bar

Other amenities: The Venue showroom, which features entertainers such as Whoopi Goldberg, Huey Lewis and the News, and Alicia Keys; two bars and multiple dining options

Good to know: $500 million expansion opened in 2008; no hotel or spa on the property; Total Rewards loyalty club cards can be used at sister casinos; site of World Series of Poker circuit events

For more information: www.horseshoehammond.com
--------------------

Ameristar Casino Hotel East Chicago

History: Opened in 1997 as Showboat Casino and was known as Harrah's East Chicago and Resorts East Chicago before being acquired by Las Vegas-based Ameristar Casinos Inc. in 2007

Location: 159 miles from downtown Indianapolis in East Chicago, Ind.

Casino: 56,000 square feet of gaming space on four levels, with slot machines and table games, including a high-stakes area and separate Baccarat room with noodle bar

Other amenities: 290-room hotel on the property with a 24-hour fitness center; two lounges, two bars and several sit-down dining options

Good to know: Casino guests can access an outside deck for river views; no live poker room; Ameristar operates properties in other markets, but loyalty cards are casino-specific

For more information: www.ameristar.com/East_Chicago.aspx
--------------------
Majestic Star I, Gary (Photo Courtesy Majestic Star)
Majestic Star Casinos

History: Two separate casinos opened on so-called Buffington Harbor in 1996, one as Majestic Star and one as Trump Casino Hotel. Majestic Star Casino LLC bought the Trump property in 2005 and rebranded it as Majestic Star Casino II.

Location: 159 miles from downtown Indianapolis in Gary

Casino: Almost 80,000 square feet of slots and table games in separate three-level casinos that operate as a single unit (and share a boarding area); Majestic Star I has a high-limit room for table games and a Baccarat room with noodle bar; Majestic Star II has a live poker room.

Other amenities: 300-room hotel on the property with an enclosed walkway to the dining pavilion and casino

Good to know: Free live entertainment every weekend; generous promotions for regular customers; no ties to other casinos

For more information: www.majesticstarcasino.com
--------------------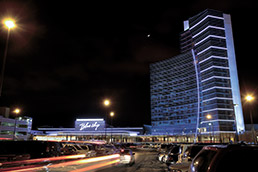 Blue Chip ?Casino Hotel Spa, Michigan City (Photo Courtesy Boyd Gaming Corp.)
Blue Chip Casino Hotel Spa

History: Opened in 1997; Las Vegas-based Boyd Gaming Corp. acquired the property two years later.

Location: 174 miles from downtown Indianapolis in Michigan City, Ind.

Casino: 65,000 square feet of slot machines and table games on one level, including a live poker room

Other amenities: 486 hotel rooms and an indoor pool in the 22-floor Spa Blu and eight-story Blue Chip towers; 10,000-square-foot spa, salon and fitness center; 20,000-square-foot Stardust Event Center; and several sit-down dining options including a sports bar designed to mimic as Las Vegas sports book

Good to know: Of the northwest Indiana casinos, Blue Chip feels the most like Las Vegas, with an open casino and everything guests need in close proximity; B Connected loyalty card can be used at all 16 sister casinos.

For more information: www.bluechipcasino.com
--------------------

Southern tier

The six casinos south of Indianapolis generally have more elbow room than their urban cousins up north, with most located in rural areas. Three are within about an hour of each other near Cincinnati, one is just across the river from Louisville, and the others are in French Lick and Evansville.

Hollywood Casino

History: Opened in 1996 as Argosy Casino; rebranded in 2009 after a $336 million expansion by Pennsylvania-based owner Penn National Gaming Inc.

Location: 98 miles from downtown Indianapolis in Lawrenceburg, Ind.

Casino: 150,000 square feet on two levels, including a 41-table World Poker Tour poker room, high-limit areas and a "Celebrity Pit" featuring live entertainment

Other amenities: 295-room hotel on the property; Hollywood on the Roof bar/entertainment area, dance club and ballroom; several sit-down dining options

Good to know: The most Vegas-like of the southern casinos, Hollywood hasn't felt like a riverboat since the expansion. Site of nationally televised World Poker Tour event

For more information: www.hollywoodindiana.com
--------------------

Grand Victoria Casino & Resort

History: Opened in 1996; owned by HGMI Inc., an affiliate of Hyatt Hotels Corp.; a $43 million sale to Las Vegas-based Full House Resorts is pending

Location: 103 miles from downtown Indianapolis in Rising Sun, Ind.

Casino: 40,000 square feet of gambling on four decks

Other amenities: 201-room hotel on the property, with a health club, indoor pool, whirlpool and sauna; Tim Liddy-designed Scottish links-style golf course; dining options include Queen City Market, which serves Cincinnati favorites

Good to know: First floor of casino is smoke-free; historic Rising Sun is within walking distance, and trolley rides into town also are available

For more information: www.grandvictoria.com
--------------------
Belterra Casino Resort & Spa (Photo Courtesy Belterra Casino Resort & Spa)
Belterra Casino Resort & Spa

History: Opened in 2000 by Las Vegas-based Pinnacle Entertainment Inc.

Location: 112 miles from downtown Indianapolis in Florence, Ind.

Casino: 38,000 square feet on two levels, including high-limit rooms and a nine-table live poker room

Other amenities: More than 600 rooms in two on-property hotel towers, including one that opened in 2003; full-service spa and salon; Tom Fazio-designed golf course; Centerstage Showroom featuring the likes of REO Speedwagon and .38 Special; multiple sit-down dining options

Good to know: Expect to explore small-town Indiana on the drive—including historic Vevay; hubby and I enjoyed the Aquarium Café enough to eat there twice in one visit (try the ribs).

For more information: www.belterracasino.com

--------------------

Horseshoe Southern Indiana

History: Opened in 1998 as Caesars Indiana and rebranded in 2008; part of the Caesars Entertainment family

Location: 132 miles from downtown Indianapolis in Elizabeth, Ind.

Casino: 93,000 square feet of slots and table games on four levels, including a high-limit area and 30-table poker room

Other amenities: 503-room hotel with fitness center and indoor pool; The Showroom event venue and outdoor summer concert series; numerous dining options including Paula Deen buffet; Chariot Run golf course; outdoor fitness trail.

Good to know: Caesars completed a $50 million renovation in 2008; Total Rewards loyalty club cards can be used at sister casinos; site of World Series of Poker circuit events.

For more information: www.horseshoe-indiana.com
--------------------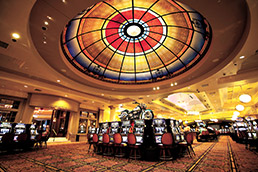 French Lick Resort Casino (Photo Courtesy French Lick Resort Casino)
French Lick Resort Casino

History: Casino opened in 2006 as part of a $500 million historic renovation and casino development project spearheaded by Cook Group Inc. founders Bill and Gayle Cook.

Location: 108 miles from downtown Indianapolis in French Lick

Casino: 51,000 square feet of gambling on a single level, including a separate non-smoking area and a high-limit room with VIP lounge

Other amenities: 686 guestrooms in two historic hotels on the property; driving ranges and two golf courses, including a restored Donald Ross course designed in 1917 and a new Pete Dye-designed course; two full-service spas; hiking and biking trails; horseback riding; bowling; video game arcade; tennis and basketball courts; indoor and outdoor pools; and Windsor Ballroom, which features headliners such as Kenny Rogers and Three Dog Night

Good to know: The casino is secondary—if that—at this sprawling property surrounded by the Hoosier National Forest. French Lick Springs Hotel and West Baden Springs Hotel each are historic landmarks that were in their heyday in the 1920s, and then fell into disrepair. French Lick Springs reopened in 2006; West Baden Springs, which includes a 200-foot domed atrium once called the "eighth wonder of the world," reopened in 2007. Shuttle service between hotels is available.

For more information: www.frenchlick.com
--------------------

Casino Aztar

History: Indiana's first riverboat casino when it opened in 1995; now owned by Las Vegas-based Tropicana Entertainment Inc.

Location: 183 miles from downtown Indianapolis in Evansville

Casino: 38,460 square feet of public space on three decks, with 897 slot machines and 44 table games, including live poker

Other amenities: 347 rooms at two hotels, including a luxury boutique hotel; eight restaurants and nine bars in the Riverfront Pavilion and The District entertainment complex

Good to know: The District, a $40 million expansion project, is located across Riverside Drive from the casino; a second skywalk also is planned.

For more information: www.casinoaztar.com
--------------------

Closer to home

Feel a hot streak coming on but not up for a drive to one of the riverboats? Central Indiana's two horse tracks offer electronic gambling closer to home. These gambling parlors are just what they sound like: Row after row of machines—slot, blackjack, roulette, craps and poker—and not a card or chip in sight. Oh, and guests also can still bet on the ponies in the separate track areas.

Indiana Live! Casino

History: Opened in a temporary facility in 2008 and the full "racino" the following year; owned by Indiana Downs LLC.

Location: 24 miles from downtown Indianapolis in Shelbyville

Casino: 233,000 square feet of gambling on one level, including a high-limit room and a 10-table electronic poker room

Other amenities: A variety of dining options, including the white-tablecloth Maker's Mark Bourbon House

Good to know: An easy drive southeast on Interstate 74 in rural Shelby County

For more information: www.indianalivecasino.com
--------------------

Hoosier Park Racing & Casino

History: Opened in 2008; owned by Centaur Inc.

Location: 39 miles from downtown Indianapolis in Anderson

Casino: 92,000 square feet on a single level, including a high-limit area and a four-table electronic poker room

Other amenities: A variety of standard casino dining options, including Indianapolis favorite Naked Tchopstix

Good to know: An easy drive north on Interstate 69, but not visible from the highway

For more information: www.hoosierpark.com


Sources: IBJ research, casino websites