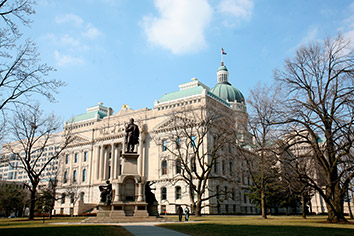 The author of a contentious Arizona-style bill to crack down on illegal immigration in Indiana won't be present if the Indiana Senate votes on the measure Tuesday.
Republican Sen. Mike Delph of Carmel is taking the bar exam Tuesday and Wednesday. He graduated in December from Indiana University's law school in Indianapolis.
Delph says he's disappointed he can't be there, but he expects one of the bill's co-authors to call the proposal for a vote Tuesday.
Delph's bill would punish companies that hire illegal immigrants and allows police officers to ask someone for proof of immigration status if they have a reasonable suspicion the person is in the country illegally. Delph believes the bill has a good shot of passing, though some Republicans have raised concerns.
Major employers such as Eli Lilly and Co. have opposed the measure, saying the bill would hurt the company's ability to attract top workers and also would give Indiana a bad image.
Please enable JavaScript to view this content.