Venture-capital investment held its own in the Indianapolis area last year, and local observers expect more of the same this year—not much growth, but at least no setbacks.
Activity won't gain much steam until more entrepreneurs become optimistic, and optimism won't materialize until the economy gets warmer, said John Barnard, managing director of Pearl Street Venture Funds, an Indianapolis fund focused on life sciences.
"I don't see any kind of dramatic changes this year," Barnard said.
Local angel investor Mark Hill, who specializes in the technology sector, agreed, saying, "I don't see anything that would say it will jump up."
Thirteen Indiana companies snagged $68.7 million in venture capital last year, according to the latest PricewaterhouseCoopers/National Venture Capital Association Money Tree report.
In 2009, 11 companies received $156.9 million, and in 2008, nine companies landed $40.9 million.
Last year, ChaCha Search Inc., a Carmel-based search engine that differentiates itself by offering answers from live people, pulled down $16.1 million in an infusion from two firms headquartered in New York and California.
The next-largest recipient of venture funding was Indianapolis data-storage seller Scale Computing—$15.2 million from two deals.
Nationally, $21.8 billion in venture capital was invested in 2010. That was up from $18.3 billion in 2009, but well below the $28.1 billion of 2008.
Early-stage, expansion and later-stage investment recovered faster than seed-stage because the youngest companies are relying more on bootstrapping, friends and family, and angel capital, said Mark Heesen, president of the Virginia-based National Venture Capital Association.
"All this being said, many believe that a smaller industry is a better industry and that innovation will continue to be funded, albeit at lower, and more prudent, levels," Heesen said.
Overall venture-capital activity will increase moderately this year and into 2012, he predicted, mostly because institutional investors haven't put a lot of money into venture funds.
In Indianapolis, the coming year or two will amount to more of the same, Barnard and Hill agreed.
That's because existing venture funds have invested most of their resources, and no new funds are on the horizon.
Barnard said last year wasn't as active as the $68.7 million total suggests. Most of the investments were relatively large infusions in later-stage companies—those with the least risk. In Barnard's field of life sciences, investors fret that the U.S. Food and Drug Administration has swung from approving too many products to extreme caution. As a result, they worry the FDA might prevent a company from bringing a product to market, and are taking wait-and-see attitudes on buying new compounds.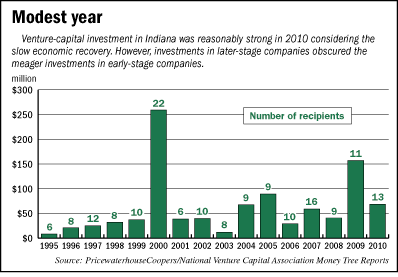 "You have to move the company along quite a way to get the pharmaceutical company even interested," he said.
Still, Barnard thinks drug companies might soon swing into another of their cyclical feeding frenzies. Many big drugmakers are recognizing they need new compounds to fuel future sales, so they likely will begin making acquisitions soon.
In tech, the industry attracting the largest portion of venture capital, Hill anticipates another year or two passing before the economy improves enough to lure local entrepreneurs into investor offices.
A huge plus is the recent $525 million sale of Aprimo Inc. to Ohio-based data warehousing giant Teradata Corp., Hill said. The deal created a number of millionaires, and some of that money will return to the street as angel and venture capital.•<
Please enable JavaScript to view this content.