It was only 43 years ago.
That difficult-to-shake thought stayed with me as I stood and watched Robert Kennedy on the back of a pickup truck informing an Indianapolis crowd that a gunman had shot and killed Martin Luther King Jr.
His words: forthright, humane, heartfelt and largely unscripted. His demeanor: searching, introspective, deeply sad and profoundly human.
Less than half a century ago, right-thinking people had to fight for bus seats and water fountains and lunch counters, blatantly bigoted speech could come from public officials, and a brave man who lost his brother to an assassin's bullet delivered truly tragic news on a volatile day.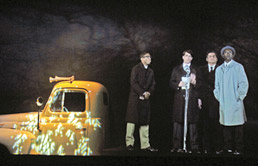 High-tech innovations put Robert F. Kennedy and entourage on the back of a real pickup in the Indiana History Center's latest "You Are There" exhibit. (Photo Courtesy Indiana Historical Society)
No, I wasn't actually at 17th and Broadway in Indianapolis on April 4, 1968. I was busy being a 4-year-old in New Jersey. But thanks to the Indiana Historical Society, I feel as if I experienced that scene. Its latest "You Are There" addition, "1968: Robert F. Kennedy Speaks," effectively puts visitors in the crowd as a holographic Kennedy delivers that remarkable speech on that terrible day. Afterward, costumed cast members playing characters who have been listening to the speech engage patrons in conversation about the news. (The trio I experienced the show with had solid answers to my questions, although one's use of the term "African-American" seemed anachronistic for the period.)
Context mostly comes later. In a post-show room, videos offer first-person insight from people who were there and interactive screens that make use of the photo collection of the Indiana Historical Society. It's here, too, that you can see what happened to the person you "played." (Each visitor is given a character sheet at the onset—I was an AP photographer.)
This "You Are There" packs a lot into a small area, but there's more to the story. If you find your interest sparked, pick up a copy of Ray Boomhower's book "Robert F. Kennedy and the 1968 Democratic Primary" (Indiana University Press) or give a listen to the L.A. Theatre Works recording of the drama "RFK: The Journey to Justice."
The former, an Indiana Book Award winner, goes deep into the details of a tricky campaign. The latter, commissioned in part by the University of Notre Dame's DeBartolo Performing Arts Center, offers a fascinating look at the sometimes antagonistic relationship between the Kennedy administration and King and how Robert Kennedy's politics evolved to the point where he became the person capable of making one of the most important speeches in Indiana history.
Details on the exhibition can be found at www.indianahistory.org.
__________
Just across the street from the Indiana History Center, the Eiteljorg Museum of American Indians and Western Art looks at another interesting pairing in U.S. history. Its new show "Red/Black" (through Aug. 7) explores the interactions between African-Americans and Native Americans.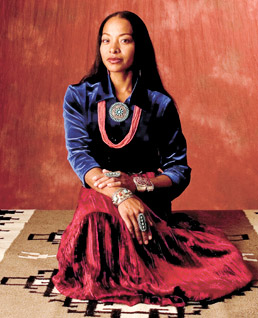 Radmilla Cody, the controversial, biracial Miss Navajo Nation, will be speaking at the Eiteljorg Museum. (Photo Courtesy Eiteljorg Museum)
Perhaps one of the reasons the subject has taken so long to receive a major museum exhibition is because its issues aren't, well, black and white. What to make of the fact that Native Americans fought for the South during the Civil War? Or that some Native Americans owned black slaves? That the Buffalo Soldiers fought Native Americans or that, more recently, controversy erupted when biracial Radmilla Cody became Miss Navajo Nation?
The Eiteljorg wisely embraces, rather than shies away from, the complexity, offering an object-and-text-panel show that is more likely to engage those who give time to it. Special events are scheduled throughout the run. More information at www.eiteljorg.com.
____________
I'm playing catch-up with the plays in this year's Going Solo festival of one-actor shows at the Indiana Repertory Theatre (through March 13). So far, I've only gotten to "Fire in the Garden," in which playwright and Indiana University teacher Ken Weitzman tells the semi-autobiographical story of a new father trying to come to terms with the self-immolation of Norman Morrison, who set himself on fire outside the Pentagon in 1965—with his 1-year-old daughter nearby.
As told here, dad antics (new-agey birthing classes, etc.) come across as trite and forced compared to the true-life drama of Morrison's choices. Despite the efforts of actor Ryan Artzberger, the intermissionless play—which, in an earlier version, was performed at the John Waldron Arts Center in Bloomington in 2009—still lacks a solid main character. Whenever focus turned to him instead of Morrison, I felt like saying, "Down in front."•
__________
This column appears weekly. Send information on upcoming arts and entertainment events to lharry@ibj.com. Twitter: IBJArts and follow Lou Harry's A&E blog at www.ibj.com/arts.
Please enable JavaScript to view this content.