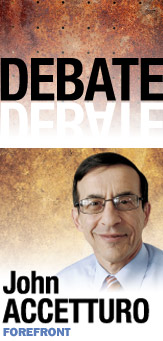 Question: What role do you see Indianapolis playing in the future of Carmel?

Answer: When we speak about the role of Indianapolis in the future of Carmel, we need to look at it through the eyes of neighbors being responsible to one another for the good of the entire neighborhood.

Carmel is a suburban city bordering Indianapolis and it benefits from the infrastructure and economy of Indianapolis. Each of the cities has a role in keeping the Indianapolis area one of the most vibrant places in our country to live.

Indianapolis' infrastructure—such as the airport, hospitals, major sports complexes, universities and museums—are important to Carmel residents. Unlike some elected officials in Carmel, I do not believe our city is an island. No one should want to stop progress in either community.

However, together, both cities should progress and grow without using taxpayer money to duplicate venues.

The private sector can decide where it wants to invest or locate. We need to leave those decisions to the market forces.

The success of Carmel depends on the success of Indianapolis; those who do not acknowledge this fact need look no further than Detroit and the decline of its suburbs.

That is why we need to build communications, cooperation and coordination. I believe both cities can benefit from this type of behavior. It is important to understand how Indianapolis views Carmel, and really understand everything it can bring to the table to enhance both our city and the metropolitan area.

The "us against them" attitude of Mayor Brainard and his administration is not beneficial to either city. After all, Carmel provides a great community Indianapolis can use to attract people, business and tourism. Carmel has exceptional schools, wonderful neighborhoods, shopping and an extremely low crime rate.

Many Indianapolis business leaders and others who work in Indianapolis live in Carmel and support our local economy with their tax dollars.

As mayor of Carmel, I will work with elected officials of Indianapolis and community leaders to promote regular communication, cooperation and coordination.

The next question is, what are some of the key issues that should be discussed first, and why?

The most important issue is that, as elected officials, we should not use taxpayer money to duplicate or compete with existing venues. Government has enough debt without creating more in a frenzy of "you against me" with the taxpayer's wallet.
Regional transportation is another vital issue to both communities. We need to support the movement of people going from Carmel to Indianapolis and vice versa. I do know that much work has already been done in this area; however, can we afford what is on the table now?

We need a regional transportation system that can benefit the people who need it most.

Furthermore, street and road projects on the border of Indianapolis and adjacent cities need to be better coordinated. We can't afford to waste taxpayer money to satisfy individual community leaders' egos.

Finally, we need to discuss philanthropy in the area of the arts. There is only so much private support for the arts and we should not create a government-versus-private-sector funding conundrum, because it will result in the failure of arts venues and organizations and erode important community investment in them.

As an elected official and leader, my utmost responsibility is to my community and constituents. The times are too perilous and the issues are too important for politics as usual.

As mayor of Carmel, I will work responsibly with Indianapolis and other cities in our area to represent the people of Carmel and provide complete transparency in all undertakings, while making our city and our metropolitan area the best in the country.•

__________

Accetturo, a member of the Carmel City Council and a career public servant, is running for the Republican nomination for mayor. Send comments on this column to ibjedit@ibj.com.