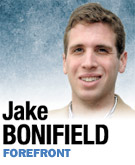 As Democrats emerge from the electoral carnage of November, their sights naturally tend toward the next great challenge. Next year, Republicans may well have to pay the dues of populism as they attempt to reconcile ideological dissonance introduced by groups such as the Tea Party. Nationally, their opponents will have the tricky task of defending President Obama's agenda while dethroning the Congress whose popular battle cry has been to see it dismantled.
Hoosier Democrats, meanwhile, will face their greatest opportunity in eight years to redefine themselves as the rational choice to lead Indiana.
As we near spring, the path to this opportunity is becoming clearer and the gubernatorial gossip more intense.
The potential Democratic field seems strong with their Republican opposition decided, or nearly so. Reports abound with speculation that Mike Pence will jump into the race for governor, entering his first truly competitive political contest in over a decade.
Top Democratic contenders include Brad Ellsworth, former congressman and a candidate for the U.S. Senate in 2010, as well as U.S. Rep. Joe Donnelly and former Speaker of the House John Gregg.
Each would bring unique skills and experience.
Pence, a darling of social conservatives and Tea Partiers alike, is a stark departure from the wonky, reserved Daniels, a fitting depiction of the party's identity crisis.
Pence's fire-and-brimstone persona, combined with the toll of intra-party skirmishes within the General Assembly as the Daniels agenda searches for an amicable path around social policy legislation and other red herrings, may prove too much for the 2012 GOP ticket to withstand.
Democrats must be ready and willing to leverage these fissures by employing disciplined, clear communication. Democratic candidates must be careful to exude pride in who we are even as they help to redefine where we are going. They must acknowledge the need for Indiana to remain fiscally sound while insisting that the burdens of austerity be shared equitably by local and state governments, industry and educational institutions.
They must present Hoosiers with more than a plan. Democrats need to forge a coherent pact with their constituents, detailing how they will reform education without undermining educators; shepherd sensible, pro-taxpayer policies through the General Assembly without becoming distracted by fringe issues; and provide private citizens and municipalities with the tools and revenue they need to evolve Indiana into an economic leader.
Clear communication and a unified message of progress—in every House and Senate race across the state, and in the rhetoric of the gubernatorial primary—are the first, crucial steps to achieving these goals. Democrats need to use the 2012 stage not just to win seats or take back the governor's mansion, but instead to build a brand around their candidates in a way that allows people to be inspired by their candidacies.
The business of governing is a sober task, especially at the state level. But the vision behind those who wish to govern is the marrow of elections. It is this vision that Democrats need to promote and use to win the support of citizens.
This will no doubt involve pointing out differences with Republicans on matters of policy and perspective, but more than anything else it is essential that the focus remain more on what they believe than what they oppose. If Democrats focus on presenting themselves as the party of compassion, ideas and clarity, Hoosiers will respond.
And in the end, neither the Democratic Party nor the citizens of Indiana can afford anything less.•
__________
Bonifield is a political science major at DePauw University and president of Hoosier Youth Advocacy, an organization focused on increasing youth participation in the Indiana General Assembly. Send comments on this column to [email protected]
Please enable JavaScript to view this content.