FINALIST: Community Achievement in Health Care
Quality Health First Program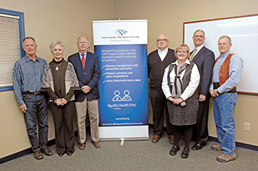 Indiana Health Information Exchange employees who've been instrumental in the Quality Health First program are, from left, Chris Schultz, Jan Van Vlack, Tom Penno, Harold Apple, Jackie Eitel and Dr. J. Marc Overhage. On the far left is Dave Kelleher, one of the program's founders. (IBJ Photo/ Perry Reichanadter)
 How to cut health care costs while simultaneously improving the health of Hoosiers—that's the $60 million question. The Quality Health First Program has a revolutionary approach to health care delivery that is already making inroads.
Launched in 2008 by the Indiana Health Information Exchange, QHF focuses on management of chronic diseases, which account for nearly 75-percent of all health care spending in the United States.
QHF collects clinical information from all participating hospitals, laboratories and other health care providers and delivers it to physicians, allowing them to easily see if a patient is overdue for a mammogram or colonoscopy or if a diabetic patient needs blood sugar monitoring.
Since the program began, 1,884 diabetic patients have received follow-up care that they weren't getting before.
"We can't change the fact that they have diabetes," said J. Marc Overhage, M.D., chief strategic officer and national policy advisor for IHIE. "But we can control it and their cholesterol as well, which reduces their risk of cardiovascular disease."
Another impressive figure: Seventy percent of the program's clinical measures, such as cholesterol levels, have improved each quarter.
But the program probes deeper into the problem. At its core is the restructuring of the health care reimbursement system to reward doctors for delivering quality care—not quantity of care. Physicians who deliver high levels of care to patients or who improve their levels of care will receive financial incentives from insurers that they can use to fund additional nursing positions or information technology. Each insurer creates its own incentive program.
"In short, patients are seeing better health outcomes, the quality of care in our community is improving and physicians are being rewarded financially for spending more time with their more medically complex patients," said David T. Lee, M.D., vice president of provider engagement and contracting at Anthem Blue Cross and Blue Shield.
"In the first two years of Quality Health First, Anthem has paid more than $7 million in bonus payments to physicians participating in this program. We believe this is money well spent."  
Overhage used information from a 2005 report done by Rand Corp., the global think tank, to project savings, which are estimated to be approximately 9 percent per covered life per month for Medicaid patients and $4 per covered life per month for commercial health insurers.
The program now includes more than 1,400 providers in 57 communities and includes close to one million patients—both insured and uninsured. The goal is to make it self-sustaining, with insurance companies such as Anthem Blue Cross and Blue Shield and UnitedHealthcare, who use the service, being the primary supporters.
QHF serves the entire community by providing information about the population as a whole. Access to the information gives physicians a benchmark for comparing their outcomes to those of their local colleagues and encourages collaboration on projects.
"A real exciting power part of this program is the dialogues that have developed among providers, payers and employers," Overhage said. "The community collaboration is focused on breaking down barriers to improving the care that people here in Indiana receive."•
____
Click here to return to the Health Care Heroes landing page.
Please enable JavaScript to view this content.