A Ben Davis High School and Indiana University graduate once known for his partying prowess is poised to score a stake in Playboy worth at least $6 million.
Flanders
Scott N. Flanders, who took over as CEO of Chicago-based Playboy Enterprises Inc. in July 2009, will pick up a 3-percent ownership stake if 84-year-old Playboy founder Hugh Hefner closes on a pending deal to take the company private.

Hefner started his Playboy magazine with $600 in 1953, and the business has grown to include pay-per-view channels, websites and licensing deals ranging from apparel and entertainment venues to beauty products and energy drinks. Playboy has been publicly traded since 1971, but its shares have steadily fallen from a high of $32 in 1999 as competitors began offering risqué content online and the namesake magazine shed readers and clout.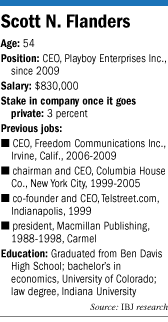 Flanders, 54, is a member of the so-called "purchaser group" known as Icon Acquisition Holdings LP. Michigan-based private-equity investor Rizvi Traverse Management owns 60 percent of Icon, Hefner owns 37 percent and Flanders owns 3 percent, Moody's Investors Service reported.

The deal, scheduled to close in early March, is not a sure thing. A group of shareholders is challenging the deal in Delaware Chancery Court, claiming Playboy is trying to pull a fast one with its valuation of the Playboy Mansion. The suit claims the mansion is worth $54 million—45 times the $1.2 million value the company assigns to the 29-room home on its books, Bloomberg reported.

The proposed going-private deal—led by Hefner and financed with a $180 million loan—values Playboy at $6.15 per share, or $207 million. That would put the value of Flanders' stake at more than $6 million.

Flanders declined an IBJ interview request through Playboy spokeswoman Abi O'Donnell.

Records show that Flanders owns 156,000 shares in the publicly traded company, or roughly one-half of 1 percent of the 33.7 million shares in circulation. The tender offer from Icon notes that Flanders also owns about 44,000 Class B shares.

Flanders' first executive role was as president of Carmel-based Macmillan Publishing. In 1999, he founded Telstreet.com in Indianapolis. He most recently was CEO of newspaper and broadcast chain Freedom Communications Inc. in Irvine, Calif.

Flanders plans to transform Playboy into a "brand management" company while outsourcing many of its publishing and licensing functions.

"The Playboy brand remains this company's greatest asset, and we continue to find new opportunities to monetize its value," Flanders said in a statement on Feb. 15, announcing the company's fourth-quarter earnings.

In 2010, Playboy lost $48.5 million on revenue of $215.2 million. That compared with a loss of $51.3 million on revenue of $240.4 million during the same period a year earlier.

Flanders is a graduate of Ben Davis High School, and earned a bachelor's degree in economics from the University of Colorado. He earned a law degree from the Indiana University School of Law.

Former classmates describe him as a partier and smooth operator who could talk his way out of just about any situation.

His success goes beyond luck, one former classmate said.

"He's got a magic touch understanding the industry he's in and predicting change and working with people and turning a particular company into more than a sum of its parts."•