Residents and patrons of Broad Ripple have been talking for 20 years about the need for a parking garage to ease the area's traffic tensions.
This month, the city expects to receive several proposals for building one.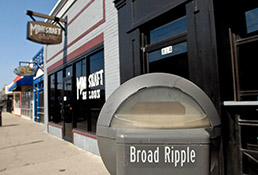 The city wants a new Broad Ripple parking garage to accommodate mixed uses and at least 300 spaces. (IBJ Photo/ Perry Reichanadter)
City leaders in February put out a request seeking ideas of how to design and finance a parking garage in the popular entertainment district about seven miles north of downtown. Responses are due March 11.
The city has just a few criteria for the projects. The structure must include a mixed-use component—ranging from a hotel to retail or residential space—and it must be large enough to accommodate at least 300 parking spaces.
Constructing a garage of that size would run into the millions of dollars—a cost city officials acknowledge they might have to subsidize. The amount of the subsidy, where the garage would be built, and other details would depend on what developers propose.
"The idea is just to spur it," said Kurt Fullbeck, a project manager with the Indianapolis Bond Bank who is overseeing the request-for-qualifications process. "It's to get people to move in getting a garage built or a mixed-use facility."
City officials haven't set a time line for building because it will depend on the scope of responses they receive and what's in them. But Fullbeck said they want to move as quickly as possible.
Once the bids are submitted, they're sealed until the city's selection committee, which includes a pair of Broad Ripple neighborhood leaders, chooses a concept.
Ongoing debate
Parking has long been a point of contention in Broad Ripple.
The dense area of restaurants, bars and shops provides few parking options for its many weekend visitors. There are a handful of private lots, which charge a fee, and the nearby neighborhood streets, which some say pose a safety risk for patrons returning to their cars late at night.
At times, the limited parking caused such tension among neighborhood residents that they've resisted new development in the area for fear it would exacerbate the problem.
"There were literally developers avoiding doing things in Broad Ripple because the process was combative," said Ryan Vaughn, the City-County Council president whose district includes the neighborhood.
"The citizens who lived and worked there couldn't provide the services needed because of the parking. We needed to find a way to cure this parking problem in order to get people excited about investing in Broad Ripple and make it more of a welcome village feel."
In the last few years, the Broad Ripple Village Association, the area's neighborhood group, revived discussions about how to address the problem. The association also commissioned a study to determine how many spaces were needed to serve the area, which resulted in the baseline of 300 the city included in its request.
Even with strong demand for parking, the challenge was always finding a way to make the garage work financially, said Elizabeth Marshall, past president of the village association who has been heavily involved in parking discussions.
Parking garages are expensive to build, with each space averaging about $13,000. Revenue from the operation, some say, wouldn't be strong enough to offset those costs.
So when Mayor Greg Ballard's administration began talking about a broader overhaul of the city's parking, Broad Ripple advocates saw an opening to promote their cause.
The city's larger parking deal includes a 50-year lease of meters in downtown and Broad Ripple to Dallas-based Affiliated Computer Services Inc., in exchange for $20 million upfront and an estimated $363 million to $620 million in meter revenue over the life of the deal.
Other changes—such as increased meter rates, longer hours and new meters that accept credit-card payments—are beginning to be implemented this month.
Meanwhile, money from the deal—along, potentially, with other funds such as the money from the sale of the city's water and sewer utilities—could help subsidize building costs, though city leaders say they're looking for proposals that maximize private investment.
"Obviously, the best scenario would be a private developer figuring out how to build a garage without any support from the city," said Michael Huber, the city's deputy mayor for economic development.
Once the garage is built, the city plans to implement permit-only parking in the nearby neighborhoods. Eliminating visitor parking in those areas, Marshall said, will help drive demand for the garage space.
Keeping it 'village'
The location of the garage would depend on what private land is available. Those familiar with the area say it will need to be in a spot that provides easy access to Broad Ripple Avenue, the district's main drag.
Possibilities include two lots that now house abandoned gas stations. Both are on College Avenue, one a bit north of the Broad Ripple intersection and the other just south of it.
The area behind the Vogue nightclub and space near the Riviera Building on Westfield Boulevard also have been floated. Those ideas are based on preliminary discussions between developers and landowners, Marshall said.
Location would be key to determining what kind of use is incorporated into the garage, said Gerry Kosene, a partner with Indianapolis-based Kosene & Kosene developers, which manage several retail and residential properties in the neighborhood.
He sees a need for general office space and housing that would be affordable for those who work at the restaurants and shops in the area.
The neighborhood already has an abundance of middle-income housing to own and rent, as well as retail.
"Broad Ripple doesn't need a lot of new retail space at this time," Kosene said. "There's certainly room for growth, but not an extraordinary amount is needed."
Residents and area business owners want to ensure that whatever mixed-use component goes into the space camouflages the parking area.
"While we need several hundred parking spaces, we don't want people to drive down the street and say, 'Oh look, there's a parking garage,'" Marshall said. "We want to have the character of a village. That's one of the most important things that we as an association need to help preserve."
Some have raised concerns—in Broad Ripple and elsewhere—that increasing the cost for parking could cause people to bypass the area for shopping districts with free parking.
But Vaughn said that's already happening. He thinks providing a place to park will create an incentive for people to stay.
"It's very difficult to park in Broad Ripple now and not pay to park," Vaughn said. "The only place to park free is in neighborhoods, and we have a public safety issue in neighborhoods late at night."•
Please enable JavaScript to view this content.