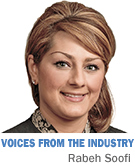 Islamic financing strategies are rarely considered by business owners in America's heartland who are looking to ease cash flow or acquire project financing or working capital. But Islamic financing, having largely been insulated from the economic crisis, has allowed Western and American businesses to secure funding by attracting wealthy Islamic banks that are heavy with liquid assets.
Islamic financing in recent years has grown into a $1 trillion industry, and that figure is expected to triple in less than five years.
Islamic financing sounds like the stuff of Wall Street, not Meridian Street—too distant and too exotic to be of any use to Hoosier businesses. The reality is that most business owners simply do not know about the opportunities because they do not understand what it is or how it works.
Conceptually, Islamic business practices structure deals to achieve fairness for every party to the transaction without undue burden, risk or loss to the party with less leverage.
Legally, Islamic business contracts adhere to economic Islamic principles, such as those prohibiting speculative risks, contingent transactions, undue shifting of risk of loss, compounding of interest and usury. Some critics have even championed the economic and philosophical aspects of the Islamic approach to business transactions, asserting that Islamic economic principles could have tempered the global economic meltdown.
Islamic transactions span services, franchising, distribution, energy, infrastructure, power/utilities, real estate, banking, retail, manufacturing and, (of particular interest to Indiana), agribusiness. Deals include loans, leases (ijarah), mortgages, insurance (takaful), retail financing, sales agreements (murabaha), partnerships (shirkah, musharakah), joint-venture agreements (mudarabah), rent-to-owns, sales lease back, manufacturing agreements (istisna), bonds (sukuk) and financing/transactions unique to agriculture (bai salam).
More sophisticated financial instruments such as hedges and derivatives are finding their way into Islamic financial transactions to replicate conventional financing arrangements, loans, forwards, futures, options and swaps. This year, private equity and venture capital strategies are predicted to be the next wave of growth in Islamic finance.
For American businesses, the introduction of Islamic financing and investment strategies, while cautious at first, is now headed for growth.
In Chicago, for example, Islamic financing is growing among businesses and community groups. The Chicago Islamic Microfinance Project and a number of Chicago-based Islamic banks offer "socially responsible" investment funds and financing for development projects. This growth followed the recent investment of $242 million in a Chicago real estate project by Kuwait Finance House (KFH), one of the largest Islamic lenders, which has been looking to increase its American investments.
Businesses in other American cities and states also are reaching out to pursue Islamic financing opportunities. Numerous Islamic banks have cropped up across the country, offering lending, investment and insurance strategies. New Jersey-based Zayan Finance offers a variety of comprehensive financing and insurance options.
In Connecticut, Islamic hedge-fund manager Shariah Capital is under way in pursuing the growth of assets under management from $260 million to the "multibillion" dollar level in three years. In Virginia, consumer/retail Islamic financier Guidance Residential, which offers Islamic mortgages and home loans in 22 states, has surpassed $1 billion of loans and business appears to be booming.
These Islamic megabanks are also looking to attract American interest and talent. Last year, KFH–Bahrain invited and hosted 38 MBA students from the University of Virginia's Darden School of Business to introduce them to Islamic banking principles. A couple of months ago, DePaul University graduated 15 students in Islamic finance in connection with the Bahrain Institute of Banking and Finance.
Even mainstream American companies are looking to grow their Islamic financing and investment opportunities. GE recently became the first major U.S. company to issue Islamic bonds, paving the way for other Western firms to tap investors in the Middle East and elsewhere. GE's $500 million bond issuance was the largest by an American company, exceeding the $166 million Islamic bond sale by East Cameron Partners, a Louisiana oil-and-gas firm, in 2006.
Whatever lessons were learned in the aftermath of the subprime mortgage crisis and attendant freezing of liquidity, it is clear that alternative financing and investing strategies have become a priority for businesses seeking to survive. Some companies may be content with simply trying to stay afloat.
However, for businesses seeking to use the recession as an opportunity to grow or thrive, Islamic financing strategies and opportunities could put them at the forefront of an economic and cultural shift in how business will be conducted in years to come.•
__________
Soofi, an attorney at law firm Ice Miller LLP, is a member of the firm's Islamic Finance, Business and Litigation Practice.
Please enable JavaScript to view this content.