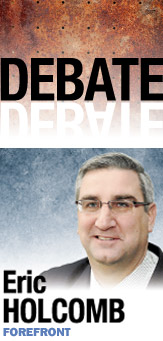 Question: Should Gov. Mitch Daniels run for president?
Answer: Gov. Daniels set the tone on day one when he vowed to "waste no energy assigning blame for this [fiscal] crisis" while also wasting "no time in addressing it." He called for "bold" actions, "because the problem is huge."
Taken in today's context, those words are more than just Mitch being Mitch. They also stand as a stark contrast to our current president, who would rather spend his days blaming others for the problems he was hired to fix.
Too often in politics, we bear witness to lofty rhetoric filled with empty promises. To politicians employing the use of smoke and mirrors rather than laying out the cold, hard facts of our predicament. That's not Mitch Daniels.
He's never sought to preach to the choir, but to provoke thought and action. His aim is to create innovative approaches to regain fiscal solvency and ensure a better future for all Hoosiers, chiefly those less fortunate. He exemplifies what happens when you bring audacious ideas to the table and follow through with measurable actions. The Daniels model has become Indiana's Story—one of fiscal responsibility, accountability and growth.
It's no wonder George Will recently said, "We need a national agenda, that to my mind, looks an awful lot like Indiana's agenda." Indiana's comeback hasn't come easy, nor could it have come at a better time. Now some think Indiana's Story could provide valuable lessons learned.
Just imagine it. Lower taxes, reduced regulations and an end to out-of-control spending while increasing efficiencies, effectiveness and quality of service. Those concepts may seem foreign to the current president, but they're all prerequisites in the Daniels governing playbook and why Indiana is now envied among our fellow states.
The era of fiscal responsibility we live in now is the likes of which we've never seen. Daniels took us from a $600 million debt to a $370 million surplus, balanced our budget without raising taxes, cut property taxes to the lowest level in the nation, and helped obtain the first AAA bond rating in the history of the state.
By confronting what he calls the "Red Menace" of debt head on, Daniels has paid down our state debt 40 percent since 2005, at the same time the other 49 states have added to theirs by the same percentage. Additionally, while 35 states raised taxes during the latest downturn, Indiana cut them.
Accountability, at every level, has seen an equal commitment from the governor—something sorely lacking in the "You scratch my back, I'll scratch yours" culture of Washington.
From schools to local government to the criminal justice system, the best course of action is to make all public officials accountable to the people who hired them. That meant not allowing the financial hardships of the recent recession to get in the way of his desire to curb the growth of government and cut spending.
We did it by reducing the quantity—but not the quality—of the state work force. In fact, Indiana has its lowest level of state employees since 1978 and has the lowest number of state employees per capita in the nation.
When it comes to growth, Indiana maintains the pole position. Businesses are locating and expanding their operations in our state. We're known as one of the top places to do business in the country.
Americans always look for in their next president what the last one lacked. Daniels—a fiscal hawk—understands how to cut and balance budgets without raising taxes, encourage businesses investment, and implement reforms. There is no more compelling story or record to inspect than My Man Mitch's should the country hope to make a presidential change.•
__________
Holcomb is chairman of the Indiana Republican Party, and was Gov. Mitch Daniels' campaign manager in 2008. Send comments on this column to ibjedit@ibj.com.
Please enable JavaScript to view this content.