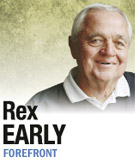 On Feb. 6, all over our country, Americans celebrated President Ronald Reagan's 100th birthday. The media interviewed various people who shared their experiences or their thoughts about "The Great Communicator." I will share mine.
On May 6, 1980, Ronald and Nancy Reagan were in Indianapolis. First, there was a political rally at the Murat Temple. After that, there was a "meet and greet" fundraiser at the Early home on White River on the north side of Indianapolis.
The Reagans were gracious, they were easy to talk to, and they had a sense of humor.
All our guests had their pictures taken with the Reagans and even got to talk with them a short time.
Soon-to-be President Reagan seemed to enjoy the fact that some of my uninvited pals from White River Yacht Club showed up on the river in two pontoon boats. They might have had a few beers, they were mostly shirtless, and they were yelling, "Hi, Ronnie." Reagan walked over to the end of the deck and waved back to them. I am not sure the Secret Service guys enjoyed my friends.
Reagan was elected in November and, after taking office, appointed me to the American Battle Monuments Commission.
The commission's mission is to overlook and manage the 22 American military cemeteries in eight countries. More than 115,000 of our military men and women who lost their lives in World War I or II are buried in these cemeteries.
The commission is made up of 10 members, all of whom are appointed by the president—Gen. Mark Clark was our chairman. Being on the commission afforded me one of the greatest experiences of my life.
It was on June 6, 1984, the 40th anniversary of D-Day, the invasion of France at Normandy Beach. Reagan and the heads of state of all our World War II allies were in attendance. All the members of the Battle Monument Commission were present.
There were three venues—Pointe du Hoc, Utah Beach and Omaha Beach. Omaha Beach was the main venue, with the Queen of England, Margaret Thatcher, Francois Mitterrand, etc., attending there.
Reagan visited all three sites by helicopter. The commission members were split up and I drew Pointe du Hoc. Pointe du Hoc turned out to be the best place to be.
Pointe du Hoc was a high cliff the Germans had fortified with costal guns and heavy artillery. Those guns could have swept both Utah and Omaha beaches where the landing occurred.
Pointe du Hoc and its guns had to be silenced.
That mission fell to 225 of the U.S. Army's finest Rangers.
Under withering fire from above, 90 of the 225 who started the climb reached the top and captured Pointe du Hoc. It was an unbelievable feat.
On that day, 40 years later, those former Rangers, who were now around 60 years old, gathered on Pointe du Hoc. They were the honored guests. Some were in bad health, some looked good, and some were represented by their wives or children.
Reagan, as usual, gave a great speech about the bravery of "the boys of Pointe du Hoc." It was very emotional. It was even more emotional when, after the speech, these brave Rangers fell out into ranks at attention. Reagan walked through their ranks and shook hands and thanked them for their bravery.
There were few dry eyes that day. The president's weren't.
Reagan's legacy is well-known—a strong military, an end to the hyperinflation he inherited from Jimmy Carter, and the end of the Cold War.
Most of all, as president, he made us proud once more to be Americans.
Our country loved him for it; he won 49 of 50 states in the 1984 landslide election.
I loved him because he was "one of us." He was also the last president who didn't go to Yale or Harvard.•
__________
Early served in the Indiana House and as a Republican state chairman, as well as on the Republican National Committee. Send comments on this column to ibjedit@ibj.com.
Please enable JavaScript to view this content.