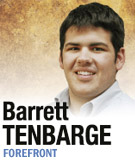 Fiscal responsibility is a political trait that all love to appear to possess, but when it comes to the budgets of those agencies or institutions that are nearest and dearest to our hearts, such resolve usually disappears. It is all too easy to take the narrow, provincial view of our state budget by talking the talk of balanced budgets and black ink in the abstract, then opposing when such admirable principles are applied to the budgets that most closely affect us.
As a student at a public institution of higher education involved in student government and the campus budget committee, I favor proposals to cut the state's allocation to higher education. The reason for this is twofold: It is good for our institutions and good for the state.
On the institutional side, it is clear from both quantitative analysis and personal experience that there are ripe opportunities in higher education to cut the cost for students and their families while improving educational outcomes.
For example, my own Indiana University-Bloomington is in the middle of implementing e-Textbooks. This initiative will significantly drive down costs because of IU's new bulk negotiating power. These textbooks will be delivered via the Web portal each student uses every day, with new social annotation and analytics features.
Not only will students save an average of $600 per year, but professors report that students who use this new platform are more engaged with the material. The phrase "game-changer" is too often used to describe insignificant change. But if there was ever a game-changer in higher education, e-Textbooks are it.
This innovation came about because students were unhappy with the status quo. Textbook costs are a perennial complaint on college campuses, and IU is innovating out of a desire to improve the college experience for students.
While students are not as vocal about tuition and fees as they are about the specific problem of textbooks costs, administrative spending should be the next area to tackle to decrease costs for Hoosier families.
According to the American Council of Trustees and Alumni, tuition and fees at Indiana's four-year public universities are 10 percent above the national average. Not coincidentally, administrative spending has exploded in recent history. At Bloomington, for example, administrative spending doubled between 2002 and 2007.
The challenge to control spending, and consequently costs, is a huge opportunity to rethink the way we deliver higher education content and the support structure behind its delivery. This encompasses ideas as diverse as an increase in distance learning to dealing with skyrocketing health care costs.
However, the impetus for cuts at our public campuses is not likely to be internally driven. Rather, fiscal reality at the state level is realistically the only way such cuts are going to happen.
In order to maintain balanced budgets and not put our fiscal solvency in jeopardy, some parts of our state budget have to be cut. Of all the areas for potential cuts, higher education makes the most sense. Not only are there great opportunities for cuts, but our higher education institutions are well-prepared to handle them.
As we have seen time and time again, the negative repercussions of budget cuts are almost always overstated. In most cases, we find a way to make it work.
This is not to trivialize the financial challenges higher education faces in this state, but rather to put them in the larger perspective of the challenges we face as a state. The same students who would theoretically benefit from increases in higher education spending will be the ones left footing the bill of both an education that costs more than it should and the red ink used to subsidize such largess.
I love Indiana University, and I love both IU and Indiana enough to say that when the General Assembly makes painful but necessary decisions, higher education is tough enough to take it.•
__________
Tenbarge is a sophomore business student at Indiana University, where he is active in student government and the IU College Republicans. Send comments on this column to [email protected].
Please enable JavaScript to view this content.