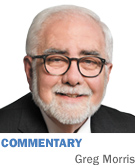 When you post a comment to a story on a media website, you are responsible for your words. At least that is the case at this time. Contrary to that opinion, many people think hiding behind an anonymous identity online should be a protected right.
This topic has been in the news recently. The Indianapolis Star wrote last week about a Marion County judge's recently ordering the newspaper to identify anonymous posters to its website as it relates to an expanded defamation lawsuit filed by the former chief executive of Junior Achievement, Jeffrey Miller. The Star reported that WRTV-TV Channel 6 is under a similar order from the judge.
Indianapolis Business Journal was pulled into this controversy in the middle of last year. IBJ received a subpoena and was asked to produce documents and records as a non-party in the lawsuit filed by Miller against Junior Achievement and other defendants. The suit alleges defamation, tortious interference with a business and/or contractual relationship, and intentional infliction of emotional distress.
IBJ had written stories last March and April related to Miller's exit from Junior Achievement and the above-mentioned lawsuit. We were asked to provide the identity of seven individuals who posted comments in response to some of those stories. IBJ resisted and a brief was filed on our behalf in support of a motion to quash the subpoena. IBJ did not believe the plaintiff had carried out his legally required burden to show how the request outweighed the First Amendment rights of the individuals he sought to identify.
The motion to quash was overruled and IBJ was required to turn over the identifying information. Most of the posters were operating with anonymous identities. They did not provide true names or e-mail addresses when they registered to post comments. However, whenever a comment is posted, an Internet Protocol address is recorded and that is where identities can be uncovered.
The Internet is a wonderful and amazing thing. But navigating it is like operating in the Wild West. There is little conformity and there are few rules. The rules that do exist seem to change daily. In the world of printed newspapers, there are fairly clear operating standards and libel laws that are meant to protect freedom of speech and the rights of individuals. Libel law strikes a balance between the protection of reputation and our "profound national commitment to the principle that debate on public issues should be uninhibited, robust and wide-open." (New York Times v. Sullivan, 1964) In Indiana, this has been ruled to mean that a statement is not libelous unless it is a false statement that is harmful to someone's reputation and made with actual malice. This protection under the First Amendment is afforded everyone, even those who post comments anonymously. 
But protections are less clear as they apply to learning the identity of those who post anonymously. The recent court orders discussed here send a message that you cannot make allegedly libelous comments and hide behind an anonymous identity in cyberspace. Some would argue that you should be able to, but why shouldn't we require true identities on the Internet? We wouldn't print a letter to the editor without believing we had a real name.
I predict we will see a lot more legal activity in this area before it's all done. Could we see a Supreme Court decision someday? It's possible. There are no easy answers. You need to be accountable for your words. But how do we prevent an avalanche of lawsuits that could intimidate people into being afraid to voice their opinions?
There is no doubt that some of the comments get out of control on many websites. It is a full-time job monitoring them. We leave comments up in their entirety or remove them. They are never altered. IBJ has wrestled with how to deal with this national phenomenon. We want to encourage reader interaction and expression of views, but there are rules. Here's a partial list of those rules:
• We reserve the right to remove any post that we feel is obscene, profane, vulgar, racist, sexually explicit, abusive or hateful.
• Posts that insult, defame, threaten, harass or abuse other readers or people mentioned in IBJ editorial content are also subject to removal.
• You are legally responsible for what you post and your anonymity is not guaranteed.
The online conversation and debate will continue. As it does, let's remember we are responsible for our words.•
__________
Morris is publisher of IBJ. His column appears every other week. To comment on this column, send e-mail to gmorris@ibj.com.
Please enable JavaScript to view this content.