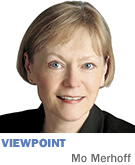 "I'm looking for a nice bed-and-breakfast with an ocean view. Can you make some recommendations?"
Of course, the caller to the Carmel Chamber presumes she's contacted Car-MEL, California, and is typically embarrassed/surprised/amused/all of the above to learn she's talking instead with somebody in Indiana. We've got Hoosier hospitality in abundance. But mountains and ocean views?
Thirty years ago, those places with mountains or ocean views were where the family planned a vacation, not where their job was. Your job was where whoever hired you put you, whether it was Reedsburg, Rock Island, Chicago or Fond du Lac—all places our family moved when my father was transferred by his company.
Not anymore. Jobs are important, especially when they're scarce during economic times like these. But, in ever-increasing numbers, they're not first in the minds of college graduates. Author Richard Florida cited a recent Gallup survey of 28,000 graduates in their 20s. When they were asked what would keep them in their current location, their job ranked second. What did they value most? The ability to meet people and make friends. Amenities, including parks and open spaces followed, along with culture, nightlife and places to go to a concert, see new art or share a good meal with friends. Access to continuing-education classes rated high, too.
Knoll, the workplace furnishings company, found similar responses, resulting in an article titled, "Supporting Generation Y at Work." Their respondents were commute-averse, ideally seeking a job they could reach on foot or on their bike. They preferred their workplace to be near a neighborhood with amenities like food, dry cleaning and a place to work out.
Today's lifestyle preferences have trumped yesterday's corporate loyalty, just as flatter organizational structures leading to greater employee interaction have replaced pyramid-shaped corporate structures.
So if we believe that strong businesses make strong communities, how can central Indiana ensure we win the economic development game, without any mountain scenery?
For one, we can change the thinking that a high-rise structure surrounded by a lot of concrete for parking is the only option. It's estimated that there are more than 120 million parking spaces in the United States. That's a lot of land, and at an estimated $12,000-per-space cost in a parking garage, that's a lot of money.
The industrial, business and office parks of the '70s and '80s continued the zoning patterns of the '50s that segregated land uses. Your office wasn't near your home, which wasn't near your favorite restaurant, which wasn't near any shopping. You had a car to take you all the places you wanted and needed to go.
Circle Centre mall began the evolution for downtown Indianapolis. The naysayers—and there were more than a few—looked at the ever-expanding hole in the ground and argued that nobody would ever drive downtown to shop, let alone to have dinner (unless it was at St. Elmo Steakhouse), and certainly never live there.
So much for that theory. It turns out all those things that studies say young people want are what a whole lot of other people want now, too.
Second, we can choose to be leaders in community rethinking and planning. We can embrace creativity, eschew "BANANA" thinking (build absolutely nothing anywhere near anybody) and create enviable, sought-after business spaces that will attract and retain businesses and their harder-to-please employees.
Finally, we can face up to the fact that winning business communities have public transit alternatives.
Ensuring central Indiana becomes a leading site for business attraction takes leadership, planning, creativity and funding. But it's a lot easier and considerably cheaper than creating that ocean view.•
__________
Merhoff is president of the Carmel Chamber of Commerce.
 
Please enable JavaScript to view this content.