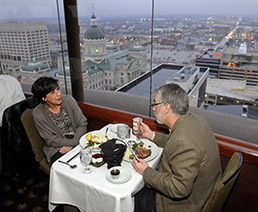 Christine and Robert Baldwin from Carmel dine at the Eagle's Nest. The restaurant makes a complete revolution in about an hour. (IBJ Photo/ Perry Reichanadter)
As rooftop restaurants nationwide have fallen from grace, the Eagle's Nest, sitting high atop the 22-story Hyatt Regency Hotel in the center of downtown, continues to fly high.
The restaurant, which opened in 1977 when sky-high eateries were all the rage, is now one of fewer than two dozen rotating rooftop restaurants left in North America, hotel and restaurant analysts said.
As rooftop restaurants elsewhere are dropping like flies, Hyatt officials in July are planning to overhaul the Eagle's Nest as part of a $17 million hotel-wide improvement project.
The restaurant's renovation will be the first in more than 15 years. Hyatt plans to sink $350,000 into new carpeting, lighting, wall coverings, furniture and a reconfigured entrance. Renovations at the Eagle's Nest will take a month to complete, with the larger hotel renovations stretching into early 2012.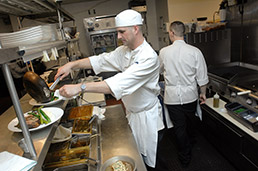 Nick Lewis, one of the lead cooks at the Eagle's Nest, cooks with electricity instead of gas because of the difficulty of running a gas line up 22 stories. (IBJ Photo/ Perry Reichanadter)
"We think this renovation will make [the Eagle's Nest] a little more contemporary and trendy," said Hyatt Regency General Manager Brian Comes.
One thing won't change.
"We won't mess with the setting," Comes said. "Every table has an unobstructed view, and it has a very intimate feel, and that won't change."
At the height of their popularity in the 1970s and 1980s, there were scores of rooftop hotel restaurants, but their numbers have plummeted for a variety of reasons, said Mark Eble, a hotel consultant and Midwest regional vice president for San Francisco-based PKF Consulting Corp.
"They're expensive to build and more expensive to maintain. Things like a dedicated elevator—which is a must—and the logistical problems of having a kitchen on the top floor are not cheap," Eble said.
Expense is just one issue that saw two-thirds of the full-service rooftop hotel restaurants close in the last two decades, Eble said.
"They had a real problem with signage and awareness, and they just weren't a sweet spot for things like corporate lunches," he said. "We entered an era of sidewalk cafes and diners wanting the ease of getting in and out of street-level restaurants."
Whether on the top floor or at street level, hotel restaurants are often nothing more than a convenience for hotel guests.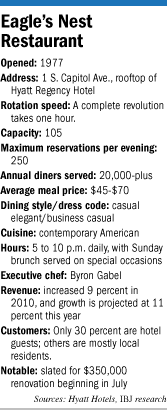 "Under the best circumstances, a hotel restaurant is only modestly profitable," Eble said. "I've heard more than one hotel operator say their restaurant simply bleeds the economics of their hotel."
Down to earth
Few—if any—hotels built today would choose to include a rooftop restaurant, said Cory Chambers, director of sales and marketing for the new JW Marriott, which has two street-level restaurants at its 1,005-room hotel on the western edge of downtown.
"All the research shows it's essential to have the exposure on the street level," Chambers said during a media tour shortly before the JW opened last month. "It's so difficult to get [diners] up to a restaurant that's not at street level. It just doesn't have that visibility and convenience factor that's so vital."
Not even Comes would argue with that. The Hyatt Regency in late 2007 moved its other full-service restaurant from the third to the first floor to improve visibility and foot traffic. But Comes said a reputation built over the last 33 years has kept wind under the Eagles Nest's wings.
Comes wouldn't divulge the restaurant's annual revenue, but he said sales grew 9 percent in 2010, and early projections point toward 11-percent growth this year.
He said it's been consistently profitable and boasts a profit margin that would stack up nicely against most independent downtown Indianapolis restaurants.
The restaurant, which is open 5-10 p.m. daily and for Sunday brunches on special occasions, seats 105. It is usually booked solid with about 250 diners every Friday and Saturday night.
Only a small part of the restaurant's business—about 30 percent—comes from hotel guests, Comes said. The majority of customers is locals—many of whom have been coming back for decades.
Though most customers are local, Comes said conventions like last month's Dealer's Expo and events such as the recently concluded NFL Combine also usher big crowds into the rooftop retreat.
In the kitchen
The Eagle's Nest's traditional menu hadn't changed much over the years—until about six months ago. Reflecting a broader trend in the restaurant business, the menu was modified to feature seasonal offerings. It will now change four times a year and features Indiana-grown and -produced dishes, including duck and vegan offerings, Comes said.
While diners are drawn to the tables with a view, Eagle's Nest Executive Chef Byron Gabel said the restaurant's kitchen, which underwent a major renovation three years ago, is just as incredible.
"This kitchen is the best I've ever seen in a rooftop restaurant," said Gabel, who has been with the Hyatt 19 years and at the Eagle's Nest for just more than two years.
Running a restaurant in a rotating rooftop comes with limitations.
"Running a gas line up 22 stories is a real challenge," Gabel said. The Eagle's Nest is forced to use electric, but Gabel said the appliances are so good they are comparable to gas appliances.
"Everything here is absolutely state-of-the-art," he said. "And that has allowed us to compete in a growing downtown dining market."
There are a few other challenges that come with a moving dining room. For example, seating areas are marked so servers can easily find their rotating customers.
The Eagle's Nest has succeeded over the years with little marketing or advertising.
"Word-of-mouth is our primary marketing tool," Comes said. "We participate in Devour Downtown and use Groupon, but our biggest marketing tools are the diners themselves."
"It's become an iconic destination for this city," said Chris Gahl, Indianapolis Convention and Visitors Association spokesman. "Not only is it an absolutely great place to showcase our city, it's become known as a quiet, private place above the fray, a great place for corporate gatherings, meetings and to do business."
Gahl said the Eagle's Nest has become one of the ICVA's favorite spots to take meeting planners and convention organizers. It offers a great vantage point for those who come to town to survey the city's offerings and amenities.•
Please enable JavaScript to view this content.