Plans are on hold for a new Latin restaurant at 52nd Street and College Avenue after another restaurant owner sued to overturn city approval of a parking variance.
Calle 52 had been scheduled to open late last year in the former home of a Movie Gallery store, but the owners now are waiting for resolution of a lawsuit against the city's Board of Zoning Appeals. The BZA voted in October to approve a parking plan providing for 21 on-site spaces, fewer than the 56 required under the code. The developers won approval after submitting a valet plan using off-site spaces and making adjustments to the site plan to ease parking concerns.
But the concessions did not satisfy Aristocrat Pub & Restaurant owner Rick Rising-Moore, who sued in November. In the suit, Rising-Moore called the approval "arbitrary, capricious, an abuse of discretion, and unsupported by substantial evidence." He says the additional cars will hurt his business and others in the area, and create a public safety hazard.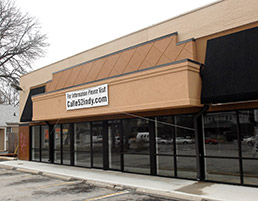 Calle 52, a Latin restaurant, waits to open at 52nd Street and College Avenue. (IBJ Photo/ Perry Reichanadter)
Parking has been a hot topic in part because patrons of businesses in the area have been using parking spaces in front of the vacant video-rental store without paying.
Plans for Calle 52 call for 133 indoor seats and 32 seats on a patio, and a menu featuring ceviche, queso fundido, carne asada and pastel tres leche. The owners are Nicole Harlan-Oprisu and Tim Oprisu (who also own Old Pro's Table), Bill and Nancy Ficca and Jamie Browning (the Ficcas and Browning also own Usual Suspects in Broad Ripple).
Browning said the project has significant support from others in the neighborhood. He noted that Rising-Moore did not apply for a parking variance when he added an outdoor operation, which increased his restaurant's capacity.
 
Please enable JavaScript to view this content.