At Peppy Grill, the we-never-close eatery that's been a Fountain Square staple for as long as anyone can remember, they don't mince words. In fact, they probably don't mince anything.
"We're not fancy," owner Mary Wyman said. "We're a greasy spoon. This is not fine dining."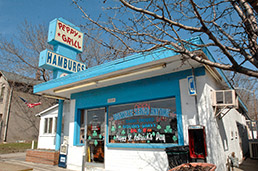 Peppy Grill is a popular all-night diner on Virginia Avenue. (IBJ Photo/ Perry Reichanadter)
She also said, with something of a smile: "This is not a restaurant where you get it your way. The customer is not always right. And you come in here to be abused. That's basically our philosophy."
But maybe the sign behind the counter best sums things up: "Cows may come and cows may go, but the bull in this place goes on forever."
That sign, at least, can be printed here. Others that hang in Peppy Grill cannot.
"I say to myself, 'Oh, my gosh, how can she put that stuff around?'" said Larry Kaseff, a longtime friend and customer and owner of American Hardware & Supply, a few doors down on Virginia Avenue.
"But people don't seem to care. Many restaurants may have things hanging around that make them beautiful places. This is not a beautiful place. This is a very utilitarian restaurant. What makes it unique is that it's a family-owned restaurant with a personality."
That personality starts with Wyman—known to friends and regulars as "Mother." She said she and her then-husband bought 12 Peppy Grills from the son of the original owner in the 1970s.
At that time, she said, Peppy Grill restaurants were scattered across Indianapolis, serving square hamburgers in competition with White Castle. (The first mention of a Peppy Grill in an Indianapolis City Directory was a West Washington Street location in 1951. There's one other Peppy Grill still in Indianapolis, on East 10th Street, but Wyman said it's not related to the original restaurants.)
Then, in the mid-1980s, Wyman was diagnosed with cancer. She said doctors gave her four weeks to live, but experimental drugs kept her alive.
The Wymans sold most of the locations to pay her medical bills but kept the Fountain Square restaurant. It was the only one where they owned the building, and it always generated the most profit—enough to put Wyman and the two youngest of her six children through college, she said.
Running Peppy Grill isn't easy, Wyman said. Never has been.
"Any restaurant that's open 24 hours a day, that's a big, big challenge," she said. "Most restaurants do not stay open 24 hours a day."
Keeping the place clean, keeping a wait staff, fending off fast-food competitors that offer dollar menus, not being able to buy in bulk—those are some of the challenges. The city's smoking ban also hurt, Wyman said. She doesn't smoke, but thinks customers should have that option as long as they're separated from non-smokers, which they were.
In the same breath, though, she acknowledged that November 2010 was the restaurant's best month ever.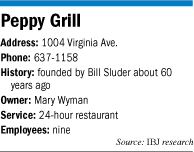 "How, why, we don't know," she said, declining to disclose figures.
Peppy Grill competes with chain restaurants in a couple of ways. Wyman keeps prices low—most entrees have odd prices like $5.10 or $8.90, and the menu is your basic combination of breakfast foods (omelets, pancakes), burgers and tenderloins. It's a white bread, iceberg lettuce, biscuits and gravy, bottomless cup of coffee place.
"They try to give you good food for a good price," said Doug Howard, a salesman for McFarling Foods Inc., which supplies Peppy Grill with what he estimates is 80 percent of everything it serves. "People get good value for the money."
Steve Delaney, a restaurant specialist with Sitehawk Retail Real Estate, said the success of Peppy Grill can be attributed in part to having an owner-operator serving good food at a fair price, the resurgence of Fountain Square, and that "people tend to champion and want restaurants like this to succeed."
"They go there to help foster the success of independent businesses because they're not chain restaurants," he said.
Peppy also serves up an overabundance of personality, starting with the sign outside boasting that they sell "hamburgs." The sign is original; the original operator probably couldn't fit "hamburgers," Wyman guessed.
Then there are the customers. Here, you're as likely to find judges or lawyers as musicians and artists—some of whom leave behind ink sketches on their napkins when they pay their bills.
There also are the regulars, some of whom once took it upon themselves to add a porch to the original building because they wanted to be able to sit outside in the summer. They did this while Wyman was on vacation. (She doesn't remember what year.) The same group also added the enclosure for the porch, so that Peppy Grill can seat about 70 people at full capacity.
Since Peppy Grill is open 24 hours a day, seven days a week, the clientele varies by the time of day. As a New York Times writer observed in a 1998 article, during the late-night hours, it's "a popular place with bartenders, actors, the gay community, sex workers and drunks. The eavesdropping is even better than the food."
Wyman said if you want to see Peppy at its loudest, most crowded and outrageously entertaining, come in between 2 a.m. and 4 a.m. on weekend mornings.
"It's fascinating to watch," Wyman said. "This place will fill up and we'll have people standing around and I think: 'At a greasy spoon?'"•
Please enable JavaScript to view this content.