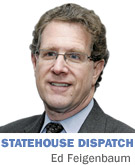 As the legislative standoff continued, those who were concerned about policy turned their attention to the budget process.
The three distinct schools of thought about the budget process will probably be largely unaffected by how soon House Democrats return.
The prevalent line of thinking in the Senate appears focused upon developing a package that would look like a typical, traditional biennial budget. This would result in a budget bill that would be a fiscal document, based mostly upon HB 1001, the proposed budget passed by the House Committee on Ways and Means but left lingering in legislative limbo when House Democrats left the state long ago.
Such a budget would provide a fiscal framework for the operation of state government at lower expenditure levels the next two years, make certain adjustments to the Medicaid program, require the return by local governments of some tax overpayments from the state (although the repayment schedule will almost certainly be massaged in the Senate to offer more favorable terms and avoid undue hardships for harder-hit communities).
This budget would also recalibrate the school funding formula from one that only a few people truly understand and most rail against (because it protects urban and rural districts losing students) to one that most people will understand but still rail against (because money follows students and favors growing suburban districts).
As we've suggested, this budget could incorporate some planned House Republican tweaking that might have been undertaken on the House floor had there been an opportunity for Second Reading amendments at the end of February. And it might address some relevant concerns evinced by Senate Democrats, perhaps acting by proxy for their absent House counterparts.
Another way the budget may be constructed would be to turn it into the proverbial legislative Christmas tree, loading it with assorted policy measures that failed to survive the walkout. While this practice is traditionally frowned upon in the Senate (and theoretically barred by the Constitution), the circumstances may drive the Senate to justify some bending of the germaneness rules and that body's preference for keeping the budget "clean."
Besides, Hoosier appellate courts are loath to intervene and find violations of the single-subject matter restrictions on legislation—particularly in the budget bill—and the Senate itself has wrapped up redistricting with the budget before under the pretense that both were constitutional responsibilities.
Expect impatient House Republican freshmen to be the strongest advocates for this strategy. They want their agenda advanced, they see House Democrats as disrupting the process and denying democracy, and they aren't quite as concerned as their more temperate colleagues in the upper chamber about comporting with rules and tradition—particularly after seeing Democrats run roughshod over their favored legislation.
But the more senior and moderate faction at the helm of the Senate is not likely to accede too much in the way of loading up the budget bill with provisions more appropriately found in separate stand-alone bills, regardless of circumstances.
The sole exception: education matters. Bear in mind just how hard Gov. Mitch Daniels and Superintendent of Public Instruction Tony Bennett have campaigned for charter school expansion and a new voucher-based school choice program. They are not likely to abandon the crusade, and even House Democrats appear willing to settle for a limited voucher experiment (perhaps assuming there are enough Senate Republican concerns with it to force it to a summer study panel).
Finally, there is the budget perspective that House Democrats appear to have adopted—or resigned themselves to.
The new minority understands that new programs can't be added, and current programs won't see funding increased. Democrats were looking at moving dollars among silos at best, and were privately conceding that regardless of funding levels approved in the budget, Daniels could unilaterally decide to withhold all or some funding.
From their perspective at this point, the budget now becomes more of an aspirational document than a fiscal blueprint. Their concerns over labor- and education-related matters were policy battles that, unlike the budget, truly meant something, and were thus worthy of their real efforts.
Public testimony at forthcoming Senate budget hearings may prove more interesting this year than ever before, but its impact again remains questionable.•
__________
Feigenbaum publishes Indiana Legislative Insight. His column appears weekly while the Indiana General Assembly is in session. He can be reached at edf@ingrouponline.com.
 
Please enable JavaScript to view this content.