When word went out that one of the three Indianapolis Opera presentations this season would be a production of "Carmen," sans chorus, sans full orchestra, sans biggie-size sets, and sans Clowes Hall stage, it was perfectly understandable that some patrons may have lowered their expectations.
After all, one of the pleasures of opera—at least, opera as we have come to know it here—is its scale.
But as reordered, tightened and otherwise reconfigured by adapter Peter Brook, "La Tragedie de Carmen" makes sense on a small stage, one in which the passions don't have to be played to the back of the balcony. And it's just one of many operas whose ideal venue seats dozens or hundreds instead of thousands.
 
Before I go further, let me clear up a misconception I may have inadvertently helped create.
In my e-mail preview of Indianapolis Opera's "La Tragedie de Carmen," I described the Basile Opera Centre as "mid-to-small church in size." (If you don't get my Thursday e-mail blast, visit www.ibj.com/registration and
sign up. It's free.) I did not mean to imply that patrons would be seated in pews or that the performance would be held in the former sanctuary of the venue. The performance space is actually in the rehearsal hall, transformed with a small stage, risers, and a lighting grid into a more-than-acceptable theater space.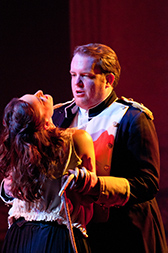 Ariana Chris and Clayton Hilley lead an up-close-and-personal "Carmen." (Photo ©Denis Ryan Kelly Jr. )
The biggest advantage to the intimate arrangement is that there proved no need for electronic amplification. At "Carmen," voices, unadorned, blended with music, unadorned, with conductor James Caraher expertly balancing his small orchestra. It soared when it needed to, but never stepped on the voices.
To be sure, there are added acting pressures put on the performers when the furthest audience member is close to the action. The leads are double cast, but the company I saw for the eight-performance run (closing March 20) ably brought the piece to life. Clayton Hilley offered an easily duped, Andy-Richter-like sad sack Don Jose. Darren K. Stokes personified arrogant strength as bullfighter Escamillo. Rachel E. Copeland's Micaela, in lovely voice, was believably naive but still capable of a heated cat fight. And Ariana Chris offered a notably hostile Carmen, more interested in manipulating than in anything resembling love.
One of the challenges of such in-your-face opera is that the actors occasionally have little to do when the music is taking precedence. Chris, even in vocal downtime, knew how to hold attention.
All were abetted by Betsy Cooprider-Bernstein's lighting design and Stage Director Joachim Schamberger's set and project design. Sometimes, the images lingered a bit too long, but the overall impact was to expand the stage without being too literal. Projected elements were nicely echoed in on-stage props, paying off particularly well in the dramatic final moment (which I won't reveal).
I wish there were more such stunning moments throughout—a little theatrical magic might have helped up the heat level. But the result proved far more than just an IO budget-tightening experiment.
More important, it indicated an expanded vision for the company—a vision that points the way to wider repertoire, more innovative productions, and the potential for increased audiences.
I left the theater with a greater sense of the potential of Indianapolis Opera as a creative force, rather than simply as an able presenter. Bravo.
__________
Musicals are perennially popular. Yet in Indianapolis, the largest regional theater (the Indiana Repertory Theatre) avoids them. The most significant college theater (Butler University) shuns them. And the touring Broadway season doesn't draw enough subscribers to bring in a strong season of them.
Yes, we have Beef & Boards Dinner Theatre—a rare dinner-and-a-show venue featuring professional talent. BobDirex periodically offers a new show. Actors Theatre of Indiana is increasing its ambitions with its upcoming production of "Chicago." And the Phoenix will work in one or two intimate ones a season.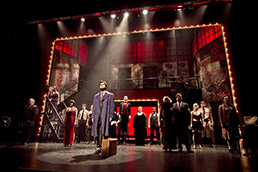 Civic Theatre operates on a scale grander than any other musical-making company in town. (Photo Courtesy Civic Theatre)
But large-scale musical theater work here largely has been left to the avocational theaters—community theaters or professionally managed companies that can fill the stage in part because the actors aren't being paid.
Leading among them is Booth Tarkington Civic Theatre (formerly known as Indianapolis Civic Theatre) which, next season, will make the jump to a new theater at the Center for the Performing Arts in Carmel.
Civic's latest offering, "Cabaret" (through March 26), shows off its strengths with an able retelling of the landmark musical—one of the first mainstream shows in which songs directly commented on the serious action in a satiric way. For those unfamiliar, it revolves around an American writer whose stay in Germany coincides with the rise of Nazi power. That power doesn't arise just from force, but from the citizens' willingness to believe that the troubles are outside and that as long as you keep dancing, those problems will go away.
Incorporating some but not all of the rethinking used in the recent, grittier Broadway revival, Civic's production doesn't transcend, but it delivers the material, benefiting from consistently strong vocals, a unified vision and strong performances by Jeremy Allen Brimm as the emcee and Mark Fishback as a tender, confused Herr Schultz.
Plus there's Paul Hansen, who might qualify as Indy's musical theater MVP this season thanks to his "Cabaret" role as smuggler Ernst Ludwig, recent appearances in "Spelling Bee" and "Forum," and an upcoming spot in ATI's "Chicago."•
__________
This column appears weekly. Send information on upcoming arts and entertainment events to lharry@ibj.com. Twitter: IBJArts and follow Lou Harry's A&E blog at www.ibj.com/arts.
Please enable JavaScript to view this content.