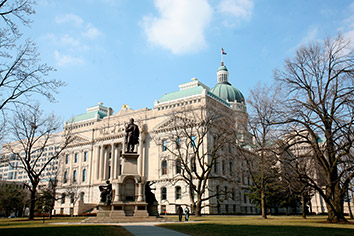 An Indiana Senate committee is set to start public hearings on a new state budget, reviving a process that has been stalled by the month-long boycott by House Democrats that shows no signs of ending.
The Senate Appropriations Committee has scheduled the hearings to begin Monday. The panel will use the two-year spending plan approved last month by the House Ways and Means Committee as its starting point.
The Senate committee would typically only begin its budget work after a plan had been approved by the House, but Chairman Luke Kenley of Noblesville says there are too many important issues pending to wait for the House impasse to end.
The committee will take public testimony on Monday, followed by a presentation by the state schools superintendent on education funding and more public testimony on Tuesday.
Republican Statehouse leaders said last week that they were finished negotiating with the boycotting Democrats and would start working around them.
Democrats fled to Illinois nearly a month ago on Feb. 22 to deny the chamber the quorum it needs to do business and derail bills they consider an attack on labor unions and public education.
But the House will try to convene Monday, but House Minority Leader Patrick Bauer of South Bend said last week that Democrats didn't expect to return Monday.
Please enable JavaScript to view this content.