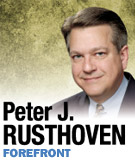 The month-plus Democratic walkout from the Indiana House became worse than wrong; it got boring. The 39 absent lawmakers disagreed, saying they were blocking a "radical," "anti-family," "anti-worker" agenda. Wow. What is so radical, anti-family and anti-worker that our Democrat friends chose to stand at Armageddon (well, to sleep in Urbana) and battle for the Lord?
It started with "right to work" legislation, which bars contracts requiring workers to pay union dues. But Republicans took it off the table almost immediately.
So why wouldn't Democrats take "yes" for an answer, declare victory and come back? The answer is simple: school choice. Gov. Daniels' education proposals would give Hoosier parents at the bottom of the income ladder vouchers enabling them to send their children to a private rather than a "public school" (the term we use for government-run schools).
That's what the war's about. The Indiana State Teachers Association opposes vouchers with every fiber of its being. So does the Democratic legislative caucus, supported by ISTA (and ISTA dues money).
Are vouchers "radical?" They would certainly introduce competition into K-12 education—a huge change in the only enterprise where failure to perform as consumers wish means not that one goes out of business, but supposedly shows entitlement to more funding.
But "radical" as in "extreme right-wing?" Cities with voucher programs include Milwaukee and Cleveland, scarcely conservative strongholds. Washington, D.C., whose voters are reliably Democratic, had a voucher program for years—until President Obama killed it. (The Obamas themselves chose not to send their children to D.C. public schools, opting for Chelsea Clinton's alma mater, the Sidwell Friends School, at $32,960 per child per year.)
What about "anti-family"? How is it bad for poorer families to give them more effective choice on where their children will be educated? I say "more effective" because choice already exists as a legal matter.
As Anatole France observed, "The law, in its majestic equality, forbids rich and poor alike to sleep under bridges, to beg in the streets, and to steal their bread." Education law reflects the same "equality," allowing rich and poor parents alike to choose whether a private school is better for their children than a public one.
Thousands of Hoosier families with sufficient means exercise their right to choose the private alternative. Thousands of others simply can't afford this. Vouchers will make "choice" a reality for them. How is that "anti-family"?
Then there is ISTA's label, "anti-public education." If "public education" means using public funds to maximize choices for parents in providing the best education for Hoosier children, vouchers are a step in the right direction. If "public education" instead means "government-run schools," operating as a monopoly when it comes to poorer families, then vouchers introduce the "threat" of competition.
But it's a curious definition of "public" that ignores the interests of the public (parents and children) the system is meant to serve.
Which gets us to "anti-worker." Vouchers don't harm working parents who lack the means for other options for their children's education. Vouchers would mean that the current power of ISTA, which depends on preserving the power of government-run schools, will be lessened by enhanced, competitive alternatives available to working parents. But how is greater competition—considered so beneficial that it is illegal for private enterprises to limit it—a "bad" thing for workers or anyone else?
Vouchers are no panacea, but they improve performance—as now documented by numerous studies. The families most in need of educational choice are the poorest among us, often living in urban areas where public schools are least safe and least effective. These are the families about whom our Democratic friends profess to care deeply.
Here, the 39 Democratic legislators who went AWOL have chosen the ISTA agenda over the interests of those families. That's what the war's about. How it ends is more vital to our state's future than anything else before the Legislature.•
__________
Rusthoven, an attorney, was Associate Counsel to President Reagan. Send comments on this column to ibjedit@ibj.com.
Please enable JavaScript to view this content.