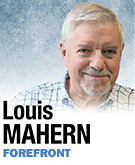 What if dissatisfied lower-income Indianapolis Public Schools parents could send their children to any school they wanted? What if they had the same options that the middle class enjoys?
In the past 10 years, IPS enrollment has dropped more than 20 percent. Parents have been voting with their feet to an alarming extent.
In the last decade, the population of Center Township fell 14 percent but the population age 18 and under has fallen 25 percent. There are 10,000 fewer children living in Center Township than there were 10 years ago.
So where are they going? They're moving to the suburbs, mostly. In Decatur and Franklin townships, as well as surrounding counties, the school-age population is up sharply.
In Lincoln Township of Hendricks County, 25 percent of the population growth in the last decade was composed of African-Americans. We can safely assume they were not drawn by all the soul food restaurants in Brownsburg.
They were drawn by the same forces that motivate all families that can afford it: a desire for a better life and better schools for their children.
So if you live within the boundaries of a failing public school system, you can send your kids to a private school or you can move to a more favorable school district. If you cannot afford to do either, your child will have to take what the local school district has to offer.
It has become increasingly clear that chances at a financially rewarding and personally satisfying life hinge on the education one can obtain. It is equally apparent that the ability to obtain a decent education for one's children depends largely upon one's financial condition.
This is antithetical to the basic American promise of an equal chance at "The Good Life." All Americans should be ashamed and embarrassed that this is so. Literally millions of American children, many of them African-American and Hispanic, are condemned to an inferior education by virtue of their parents' need.
So why not take the tax money we would have spent sending these children to a failing system and give their parents the opportunity to send them to the private school of their choice? After all, that's what we do when it comes to higher ed. Pell grants and other federal programs essentially give a voucher that the parents then use to help finance their children's college education.
"But what about religious schools?" critics ask. For years, the Indiana General Assembly has funded a Freedom of Choice grant program that allows students to use tax money to help pay for higher education at religiously affiliated colleges like the University of Notre Dame, Hanover College, Anderson University and Marian University.
I doubt that, were we to start over from scratch, we would design the same public school system we now have. All we have to do is look at fairly recent government initiatives to see how our thinking has changed.
Had we kept to the public school model for other taxpayer-funded programs, food stamp recipients would have to shop in government groceries. Medicare and Medicaid participants would have to be treated only in government-run hospitals and only by government-employed health care personnel.
Once upon a time, we did actually send indigent citizens to a government-owned county home or some other "poor folks home." We now realize it is much more humane and efficient to give indigent citizens a voucher good at any grocery, clothing store or apartment complex.
Public education means the public pays for it. It does not have to mean it takes place only in government-owned buildings using only government employees.•
__________
Mahern has been an assistant to U.S. Rep. Andy Jacobs and U.S. Sen. Birch Bayh and served in the Indiana Senate. Send comments on this column to ibjedit@ibj.com.
Please enable JavaScript to view this content.