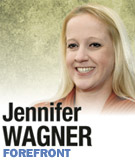 A year ago, I was working for the federal government as a political appointee at the National Nuclear Security Administration, the agency that oversees our nation's nuclear stockpile and runs the world's largest nonproliferation program.
I was deputy director of public affairs, and my boss asked if I could travel to Chile with three major media outlets embedded on a secret mission to remove the last remaining highly enriched uranium from the country.
That alone would have been an amazing trip, but the day before we were supposed to load up the weapons-grade material on a ship bound for South Carolina, an 8.8 magnitude earthquake—the fifth-largest in recorded history—struck near Santiago, where our team was located.
It was a little after 3 a.m., and I was asleep on the 16th floor of a hotel in the capital city's business district. The building twisted on its foundation, and my room shook for nearly three minutes. Cracks erupted along the walls, plaster dust rained down, and lamps crashed off tables. I thought to myself, as I was rounding up HD video equipment, two laptops and my personal belongings, "I'm 29 years old, and I'm going to die in a pile of rubble without saying goodbye to my family."
Fortunately, Chile's building codes were written with the country's seismic palpitations in mind, and our entire delegation—along with the nuclear material—was safe. But the airport and most businesses shut down, and there were hundreds of casualties closer to the epicenter. It took us several extra days to securely transport the nuclear material by truck and load it on two cargo ships using an alternate route and port because the infrastructure had been so severely damaged.
An interesting story, but what, you might be asking, does this have to do with politics?
I'd never have been halfway around the world climbing all over nuclear research reactors if I hadn't taken a few risks in Indiana.
When I first went to work for the Indiana Democratic Party in 2005, I'm fairly certain my parents, who raised me Republican, thought I was crazy. I worked as part of the Democratic National Committee's "State Partnership Program," a new initiative that sent millions of dollars to states like Indiana that had never seen full-time staff outside of an election cycle.
There were three of us—me in communications and two regional field coordinators—whose job it was to party-build through messaging and organizing. In 2006, with great candidates and lots of hard work, Hoosier Democrats claimed a majority of congressional seats and took back control of the Indiana House. I continued working for the party until early 2008, when I signed on with architect and business executive Jim Schellinger's primary campaign. After that election, I started my own consulting business but remained active in politics through the 2008 election in which Indiana supported a Democratic presidential candidate for the first time in 44 years.
I had just gone back to work at the party in 2009 when my phone rang one night. It was my former regional desk supervisor at the DNC, who had risen through the ranks and recently left to become director of public affairs for an agency I'd never heard of: NNSA.
He asked if I'd be interested in working as his deputy to promote the president's unprecedented nuclear security agenda, including the bold plan to secure loose nuclear material around the world within four years.
Next thing you know, I was packing my bags for Washington, D.C., a move I'd recommend to anyone with the opportunity to serve a presidential administration or member of Congress. Relocating is difficult, but you won't regret the experience.
I spent 18 months working at NNSA, the average life span for an executive branch appointee. It was 18 months I'll never forget, highlighted by a trip to Chile that changed my outlook on life.
I owe it all to the folks here who gave me a chance to work in politics. The earth may shake to its very core, but I won't forget where I came from.•
__________
Wagner is a lifelong Indianapolis resident who served as deputy director of public affairs at the National Nuclear Security Administration. Send comments on this column to ibjedit@ibj.com.
Please enable JavaScript to view this content.