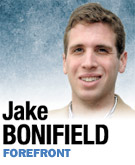 A historic election, by any measure. Barack Obama's 2008 victory saw the 47-year-old junior senator from Illinois ushered into office by an enthusiastic electorate eager for change. Propelled as much by his sweeping agenda as the promise he seemed to hold for a new beginning, Obama inspired a diverse group of supporters not only to vote for him, but to join his cause.
From Iowa onward, the Obama campaign recruited and won over more high school and college students than any other. In the end, young voters preferred Obama to McCain by a margin greater than 2-to-1. The campaign's tactics won then-candidate Obama great press and were a key strategic advantage throughout the 2008 race. The question becomes, can his model be emulated in state-level races?
The next logical step for Indiana Democrats is to begin answering this question.
Mitch Daniels, through his 2004 and 2008 campaigns, proved that young people can be engaged in state politics. If they expect to win back the House and the governor's mansion, Democrats need to invest in an infrastructure that will begin to engage young Hoosiers. Solutions surrounding public education and deficit reduction as well as economically feasible plans focused on protecting the environment—an area in which Indiana lags well behind the rest of the country—are all policy topics around which young voters will rally.
In the 2012 election, more than most, the stark differences in the priorities of both parties will be on display. Republicans, having overstepped their mandate by embracing a social policy agenda that does nothing to address unemployment or dwindling revenue, will have to defend their agenda to all Hoosiers, including those getting ready to enter the work force.
Politically cognizant college students across the state understand this and, if Democrats make a concerted effort to engage them, they will show up to the polls and bring their friends with them.
Organizing For America, the grass-roots arm of the Democratic National Committee, communicates and conducts training sessions for young, progressive community leaders year-round. They never stop recruiting talented leaders to join their effort, even holding summer training sessions for young organizers. The dividends of their efforts were clear in the most recent presidential election and they will no doubt be significant in 2012.
If the Democratic Party is serious about engaging youth, it needs to begin the conversation now. Existing clubs and organizations provide a good starting point for developing a presence at campuses across the state, but if Democrats expect to fully capitalize on the enthusiasm young voters can provide, they must establish points of interaction centered around platforms, not partisanship.
The state party needs to make a concerted effort to get in touch with the concerns harbored by the next generation of leaders. For students today, outlets for involvement in state politics are not as plentiful as they might be.
In the lead-up to the 2012 contests, it would behoove either party to begin assembling a network of college students who are sympathetic to their agendas. Bringing candidates to campus, organizing roundtable discussions with students, and engaging Indiana's educational institutions in discussions of policy would not only yield useful insights, but would also introduce candidates to a segment of their constituents who are often overlooked.
Reaching out to young voters is a strategy that, over time, can help revive discourse among members of my generation about the problems we stand to inherit and the solutions we want our representatives to embrace. The candidates most willing to listen will earn the endorsement of young voters and, as Obama found out, their support can make all the difference.•
__________
Bonifield is a political science major at DePauw University and president of Hoosier Youth Advocacy, an organization focused on increasing youth participation in the Indiana General Assembly. Send comments on this column to ibjedit@ibj.com.
Please enable JavaScript to view this content.