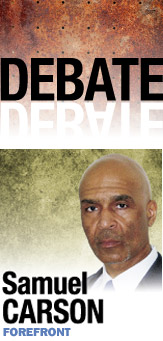 Question: What is one big idea from another city that you'd like to implement here?
Answer: My slogan for the 2011 mayor's race is, "Every voice will be heard." In polling Indy residents, three areas stand out as particularly significant: infrastructure; public safety (including police community relations); and justice in wages and quality of life, including the best possible education for our children and youth.
The best mayors have been mayors of reformation. So let's get going with some serious reform. Which city and which idea have I chosen?
It is Houston, and the idea is a comprehensive mass transit plan, which incorporates neighborhood economic development and community control of infrastructure such as Houston began developing some 20 years ago and needless to say to loud cries of, "It can never be done." I believe this initiative would address all the concerns listed above.
There has been much discussion of making City Market or the Lafayette Square area target destinations. While I agree that both initiatives are vitally important to this city, I am also concerned about the conditions of our neighborhoods.
What about ways for the poor, the working class, our retired citizens, the educated young professionals who wish to "go green" to travel to our target destinations? Why should any Indianapolis citizen be forced to walk in the street or even ride or drive through neighborhoods with deteriorating sidewalks, bridges and nearly impassable roads?
When I visit our incredibly beautiful downtown library and survey the southern exposure looking out over the War Memorial down to the city skyline, I am thrilled with the fact that all this is available to the public free of charge, that folks struggling to find work can use a computer for free on that same floor, enjoying that same breathtaking view.
Then I go downstairs, onto the street, where there are individuals who cannot get to their next destination because of inadequate bus service, no shuttles to parking destinations, to say nothing of a nonexistent train service.
Houston was in the same predicament just a couple of decades ago. And look at what is going on in that city today. I am already in contact with Mayor Annise D. Parker, an intergenerational public servant. She boasts a specialization in financial management.
I am already researching and planning for my administration to do what she was able to accomplish as city controller before becoming mayor. Her commitment to fiscal responsibility is noteworthy, as is her hands-on approach to managing police community relations.
In Houston and surrounding counties where concealed weapons (the identified culprit in high homicide rates) are illegal, gun owners must also regularly renew permits and show ongoing evidence of trained capacity, such as regular target practice, resulting not only in safer streets but increased sources of tax revenue and additional jobs related to the gun industry.
Of course, what we do in Indianapolis will be up to our citizens and their wishes.•
__________
Carson, a former Marine and founder of the Julia Carson Legacy of Love Foundation, is a Democratic candidate for mayor of Indianapolis. Send comments to ibjedit@ibj.com.
Please enable JavaScript to view this content.