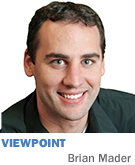 No one likes to be told what to do. But, we're told how fast we can drive, how many emergency exits we have to have in a building and, in some cases, even the color we can paint our houses.
Whether we like it or not, these rules and guidelines help keep us healthier and safer and preserve our property values. Rules are necessary to help us make good decisions, not just for ourselves and our businesses, but our communities.
Unfortunately, not everyone follows the rules. Take the Di Rimini Apartments. The 31-unit apartment complex at 733 N. Capitol Ave. was shut down by the city of Indianapolis and the state fire marshal because it doesn't comply with state and city building codes or the Indianapolis Regional Center Design Guidelines.
The city was right in its decision to issue a stop-work order. According to reports in IBJ, inspectors discovered numerous safety problems, including a lack of fire walls between apartment units and a nonworking sprinkler system.
There also were dozens of instances where the finished building design veered from the approved design, such as, there are fewer windows and a different style and size of windows, there is less limestone than the approved design and more synthetic stucco. The approved design also included a two-story aluminum and glass storefront, which was not built, and neither were the promised vertical columns.
There's a reason Indianapolis adopted the Indianapolis Regional Center Design Guidelines in 2010. The guidelines were developed by architects, planners and developers from the city of Indianapolis, Ball State University College of Architecture and Planning, Indiana Landmarks and the Urban Design oversight committee.
The guidelines provide a community standard for urban design. They were developed to encourage creativity, interest and variety and to build upon local heritage and character. The guidelines are intended to protect the investments of stakeholders by maintaining downtown Indianapolis as an efficient, sustainable and vital place in which to live, work, learn and spend free time.
We don't know all the details of the Di Rimini Apartments, but we do know the city is setting a precedent that it won't allow a building that's not safe, and it's not going to make an exception for a building that wasn't built according to the approved plans.
Yes, these are tough times. Everyone is faced with tight budgets, but cutting corners, changing plans and building unsafe facilities are not viable options. Professional architects have the duty to ensure that new or renovated facilities are designed based on the Regional Center Design Guidelines. Please, design creative structures that are interesting and that fit into our local culture and heritage.
And building owners, we all understand how important the bottom line is, but changing approved plans without an architect's involvement and the city's blessing has the potential for disaster. Every new downtown project or building is an opportunity to market your business; attract tenants, employees or consumers to your facility; and better Indianapolis' urban environment, regardless of the project's price point.
Allow architects to do their job by designing to code, to the applicable design guidelines, and to your budget, and they might just produce something wonderful.
The Regional Center Design Committee spent countless hours developing guidelines for a reason: to ensure that new projects make a positive contribution to our city. While no one likes to be told what to do, sometimes we need those rules to keep everyone on the right track.•
__________
Mader is an architect with ArcDesign and past president of the American Institute of Architects Indianapolis.
Please enable JavaScript to view this content.