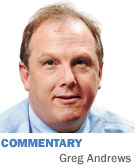 My trip to China this month took me to the Shanghai street where my great uncle worked nearly a century ago, when he was only beginning to quench his appetite for knowledge about this vast and mysterious nation.
Owen Lattimore would go on to win acclaim as a leading expert on China—a career path that ultimately put him in the sights of Joseph McCarthy, the red-baiting Wisconsin senator.
In 1950, McCarthy labeled Lattimore "the top Soviet espionage agent in the United States," a charge that fanned Americans' growing anxiety over the spread of communism.
My uncle dismissed the allegation as "pure moonshine." He is widely credited with coining the term "McCarthyism," now in wide use to describe the leveling of unsubstantiated charges of disloyalty.
I came to China to explore the growing business ties between the communist country and Indiana. But my first trip to China also was personal, allowing me to delve more deeply into my family's roots.
In 1901, Owen's father, David Lattimore, a high school teacher in Washington, D.C., moved his family to Shanghai, where he had accepted a government job teaching English and French. He spent the next two decades teaching in China.
Owen wasn't the only Lattimore sibling captivated by China. Eleanor Francis Lattimore—his sister and my grandmother—became a children's book author and illustrator and set many of her stories in China.
Best-loved among her more than 50 books was "Little Pear," the story of a curious Chinese boy with a knack for finding trouble. He falls into the river, gets burned by a firecracker, and stows away in a wheelbarrow full of vegetables—adventures that invariably end with a warm-hearted scolding from his mother.
Her books—some of which are still published and available on Amazon.com—reflected who she was: someone who loved children and viewed the world with childlike simplicity.
At least that's how she seemed to my brother and me. Though she helped raise us in Lexington, Ky., we remember her more as a playmate. She'd join us and our neighborhood friends for Old Maid or other games at the kitchen table.
Eleanor was born in Shanghai in 1904. The family initially lived in a part of the city known as The American Compound, but where that was is unclear. Scott Kennedy—a China expert at Indiana University who led our delegation of professors, businesspeople and journalists—mined his contacts in a quest to find the location, to no avail.
But he did come up with the address for Arnhold & Co., an import-export and insurance firm a stone's throw from the Huangpu River where Owen went to work at age 19. The building-numbering system changed over the past century, but we found the block where he toiled.
Owen assessed insurance risks—a task that frequently took him into the country's interior, where interpreters were scarce. He found he loved the travel and began to seriously study Chinese.
"Arnhold gradually delegated to him much of the traveling required in matters other than insurance, occasionally sending him to negotiate with corrupt officials demanding outrageous bribes to allow passage of a shipment of wool, peanuts, or some commodity already purchased by Arnhold but held up in the interior," Robert Newman wrote in his biography "Owen Lattimore and the 'Loss' of China."
"Four years of navigating the countryside for Arnhold and Co. taught Lattimore much about politics, economics, banditry, landlordism, and peasant unrest. At the time he viewed his early years … as a kind of purgatory. Later he realized that his travels gave him the equivalent of a Ph.D. in economics."
After quitting in 1925, Lattimore met his wife, Eleanor, and they focused on travel, exploring Mongolia and western China, both writing prolifically about their experiences. Owen was serving as a lecturer at Johns Hopkins University in Baltimore when President Franklin Roosevelt appointed him in 1941 as special adviser to Chinese nationalist leader Chiang Kai-shek.
Lattimore's China expertise made him an alluring target for McCarthy. The United States was reeling from the Soviet Union's transformation from ally to enemy and from China's going communist in 1949. McCarthy accused Lattimore of having deliberately instigated foreign policy failures in the Far East.
Lattimore ended up exonerated, and McCarthy discredited. In fact, Lattimore's view on the People's Republic of China proved prescient. He believed pure communism couldn't compete with capitalism—a point the Chinese government now concedes.
Its embrace of "capitalism with Chinese characteristics" triggered the economic transformation that brought me to China—and helped me gain a greater appreciation for how this remarkable nation shaped my family.•
__________
Gregory Lattimore Andrews is managing editor of IBJ.
Please enable JavaScript to view this content.