SHANGHAI—Eli Lilly and Co. CEO John Lechleiter arrived in China March 1 and isn't leaving until March 29—a testament to the importance the pharmaceutical company is placing on this emerging market.
Lechleiter has been visiting Lilly's manufacturing and research and development operations, touring hospitals and meeting with doctors. In addition, during his stay, Lilly staged its annual leadership conference here, bringing in the company's 150 highest-ranking executives.
China remains a small market for Lilly. It generated $320 million in sales for the company in 2010, just 1.3 percent of its $23 billion in sales worldwide. But Lilly has big ambitions in China and is racing to capitalize on its rapid economic growth.
China is expected to become the world's third-largest pharmaceutical market later this year and is projected to pass Japan and become the No. 2 market by 2015, according to IMS Health, a Connecticut-based pharmaceutical research firm.
One of Lilly's goals is to reap sales from the growing prevalence of diabetes, a byproduct of the Chinese population's increasingly sedentary lifestyle.
An estimated 92 million adults—about 10 percent of the adult population—have diabetes, and the percentage is expected to continue rising. The company is building a diabetes-research center here that will employ 100 scientists and also is constructing a manufacturing plant that will package insulin.
IBJ's Greg Andrews sat down with Lechleiter at his Shanghai hotel to talk about the company's China strategy. The following is an edited version of that interview.
IBJ: Why are you spending so much time here?

Lechleiter
A: Last year, one of our board members—talking about the importance of China and Asia—suggested I spend more time than the usual fly-by allows.
There are really a couple of reasons for that. No. 1, I want to get more familiar with and get a broader look at China across many dimensions—the health-care-delivery side of the business but also R&D and manufacturing. Second, I wanted to call attention to the importance of China to our company, and send a message to our employee base around the world and our Chinese employees here.
This is our second-biggest employee population outside the United States. In no other country do we have as many employees—3,200 here in manufacturing, R&D and the commercial side of the business.
So, we have been growing very rapidly. The market here is growing … but it is also changing, I hope to have greater understanding and appreciation for that when I go back.
IBJ: Are you doing a lot of work with contract-research providers in China? Aren't their costs much lower than what you would pay in the United States?
A: I think we have a reasonable—but I wouldn't say significant—portion of our contract research here in China.
Keep in mind that most of preclinical contract research is done through Covance (a New Jersey-based firm that acquired Lilly's Greenfield Laboratories in 2008). But we do some early-stage chemistry work here through a company called ChemExplorer. It is a deal we have had in place since 2002.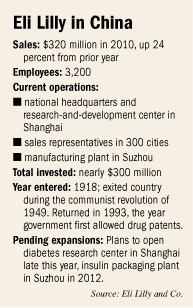 We also work with a local company, WuXi AppTec. So while there are cost advantages, the skill level and the quality and the increasing availability of high-skilled and high-quality operations in the contract-research space in China renders these firms globally competitive with other service providers we can contract with in the United States.
IBJ: Does the emergence of pharma R&D here put research at risk in the United States?
A: There is not one easy answer. I will say I think our research tends to migrate to where the intellectual capital sits.
Frankly, in recent years we have had our share of difficulty in even getting green cards and permanent resident visas for some of the Chinese people we want to hire coming out of American universities. So we need to make sure we can follow the talent, and I expect there will be people recruited to the U.S. who will want to stay in the U.S. And there will be Chinese people and others who want to come back here. Our research center here in Shanghai gives them a place to land.
IBJ: What is driving your enthusiasm for this market?
A: I think it is a combination of things.
There are huge demographic changes under way. I met with Ambassador (Jon) Huntsman last week in Beijing. He and his staff told us they believe somewhere between 300 million and 400 million people incrementally are going to be moving from the countryside to the cities in the next 10 years.
Many of these cities don't even exist yet. So we know that as the Chinese population migrates into urban centers, health coverage tends to be better, and accessibility to health care tends to be better as well.
China has one of the [oldest] populations in the world. A significant fraction of all the medicines we will consume in our lives comes after the age of 65, and the age demographic here is shifting rapidly toward an older population.
And then I think you have other things—like the government's commitment to providing basic health care. And our industry—the biopharma industry and health care in general—is an economic priority for the government in terms of areas China wants to pursue an economic opportunity.
Couple that with the availability of high-caliber talent of Chinese origin coming out of Chinese (universities) and in many cases universities in the U.S. and elsewhere, and you have a situation that is very favorable for a company like Lilly.
I will add to that that our therapeutic matchup is very good for China. Two of our most important products here are products that we long ago ceased to really sell or offer in most markets—Ceclor, our oral antibiotic, and Vancacin, our injectible hospital antibiotic.
Anti-infectives are still our largest single category in China, although they are quickly being overtaken by chronic medicines. And cancer is a big problem here. Diabetes is a huge problem here. Mental illness is a huge problem here.
So you could say our past portfolio, our current portfolio and our pipeline are going to match up well with the medical needs of this country—which, by the way, increasingly are starting to intersect with what we typically think of as the most important medical needs in the U.S. or Europe.
IBJ: China is a major focus of your Lilly Asian Ventures venture-capital arm?
I think what we announced as Lilly Asian Ventures is for all practical purposes really Lilly China Ventures—because the opportunities are here in China, and it's been deliberately the center of our focus.
We have just under $50 million employed currently. We have seven significant investments here. As we envisioned when we launched it in 2007, it has enabled us to establish contacts and get in the mix and flow of a number of deals that are being done or contemplated. It's an important part of our total strategy for China.
IBJ: Can you give an example of one of the investments and explain why Lilly saw promise there?
A: We've invested in everything from biotech startups to companies that provide pharmaceutical distribution.
We have invested in several companies that are planning to enter the market with branded generics—in other words, high-quality versions of existing products for China and maybe eventually for export.
I think it is fair to say the companies we have invested in are really across the board, literally across the value chain.
IBJ: What are the potential pitfalls in this market? What could go wrong?
A: Well, I think the economic juggernaut that today is China very much depends on continued strong economic growth. With the [government's recently released] five-year plan, the country continues to set some very ambitious targets.
Obviously, if economic growth were to slow or hit a speed bump, that would potentially undermine the very impressive approach China is taking to modernize its health system and to expand coverage. I think that is probably the major issue or concern.
Competition is very fierce here. Seventy percent of all medicines in this country are produced and sold by local companies. Multinationals like Lilly have only about 30 percent of the market.
The market is incredibly fragmented. The biggest player in China has maybe 2 percent of the market. And, you know, not surprisingly some of these current local players want to move up the food chain and want to compete with multinationals, ultimately even moving into what we call the innovator space.
I don't think it is going to happen immediately, but we are very mindful of that. And we also are working hard to ensure multinationals are treated fairly in the market, and that patients here can get access to our products in a process that is predictable.
IBJ: Chinese culture places tremendous importance on "guanxi"—relationships and connections. Do you have to spend more time cultivating ties and getting to know the right people than you do in other countries?
A: This is a country that has a strong relationship culture. I think that is manifest in my getting asked quite often, are we committed to China?
The fact we have a manufacturing presence here, the fact we have a research presence here, the fact we now have sales representatives in 300 cities vs. only about 50 five years ago sends a clear message that we are investing in China for China. And that is something that people pay attention to here, frankly.
IBJ: By "people," you mean the government?
A: The government and physicians—the people who prescribe our products. Even our own employees. This is a market with pretty high labor turnover rates. It's important that we be able to retain our employees facing the competition that we do.
IBJ: How big a presence might Lilly have here in 10 years?
A: We play here today pretty much where we lie in the global tables. If we are No. 9 or No. 10 globally, we are in about the same position among the multinationals in China today.
This is a market where everyone it seems is investing aggressively for the same reasons that we are. I think we are going to continue to be aggressive but thoughtful with our investments here.
We believe we have the potential to launch 15 products here in the next five years. Some of those are line extensions of the same product—not 15 molecular entities but 15 important products.
As we do that, we are going to continue to evaluate: Are we sized the right way, and should we expand our presence further?
IBJ: Some of those products already are sold elsewhere in the world?
A: It's a combination. What we are trying to do is catch up a little bit here, just like we have been catching up in Japan, launching products that in some cases were launched in Europe and the United States five, six or seven years ago.
IBJ: Have you had any revelations about the Chinese market during your time here?
A: I have been coming to China for about 10 years. The one sensation you get and the one my colleagues comment on is just the rate of change.
I have this very distinct recollection when I was here four years ago of coming out of the hotel here in Shanghai and seeing not hundreds but thousands of bicyclists coming down the street as people went to work in the morning. Yeah, there were cars. There were motorcycles. But not that many. Now it's [mostly] motorcycles and cars.
The city is emblematic of the country—it's changing. What you see are new buildings and new parks and new bridges. What continues to be challenging for anyone doing business in China is keeping up with the rate of change. It's dizzying.•
Please enable JavaScript to view this content.