Indiana's battered manufacturers, which shed more than 100,000 jobs in a year's time during the depths of the Great Recession, are beginning to hire again as the economy improves.
The sector gained 3,100 jobs in January, and 12,300 in the past 12 months—a year-over-year increase of 2.8 percent, government statistics show.
"It definitely is coming back; there's no question about that," said Mark Cahoon, a vice president of the Indiana Manufacturers Association. "But it's a slow process."
To grasp the impact of the recession, and related layoffs by then-troubled Detroit automakers, one must look all the way back to World War II. Fewer workers were employed directly in manufacturing in the summer of 2009 than at any time since the close of World War II, when factories abruptly scaled back assembly lines.
Indeed, Indiana plants employed 672,100 Hoosiers at the start of 2000—the most since the late 1970s, according to the Bureau of Labor Statistics.
But two downturns in the past decade lopped the number to 426,500 by June 2009, a 57-percent decrease from the high. And a fourth of the 245,600 total jobs that were lost disappeared in just one year.
An improving economy has manufacturers of all sizes cautiously optimistic, however.
Columbus-based engine maker Cummins Inc. in February reported record quarterly profit and revenue in the fourth quarter of 2010. The company earned $362 million on revenue of $4.1 billion, up 22 percent from the same period in 2009.
Cummins officials credited the positive results to "significant growth in key international markets," though its North American truck engine markets declined considerably.
"But we do expect the U.S. to get stronger, particularly the heavy-duty truck market," said Cummins spokesman Mark Land, noting the company expects U.S. sales to grow 50 percent this year.
Cummins instituted several rounds of job cuts in its Indiana plants in 2008 and 2009, Land said, and has called back most of its laid-off workers.
Perhaps the most positive jobs-related news from Cummins occurred in July, when it announced it would expand operations in Seymour, hiring 200 people in manufacturing and engineering over five years.
The Seymour plant is where Cummins makes high-horsepower diesel engines for power generation, mining and other industrial uses. Those products, which are in high demand in China, India and Brazil, have become more important as the North American heavy-duty truck market has flagged.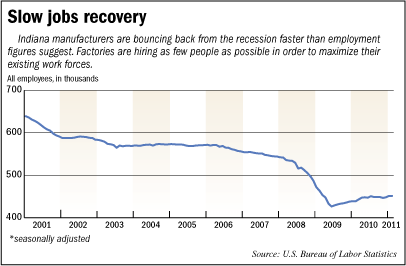 More recently, Lafayette-based Wabash National Corp., the top truck-trailer manufacturer in the country, announced March 18 it would add 200 jobs to build fluid tankers for another Indiana company, Knox-based Sabre Manufacturing. Half the planned jobs should be filled by the end of the year, Wabash National said.
Cummins and Wabash National are publicly traded, yet even the smallest manufacturers are experiencing an uptick in business.
Draper Manufacturing, on West 73rd Street near Interstate 465, makes parts on contract for other manufacturers, most of which are in Indiana.
The 10-year-old company has only 12 employees and slid to just eight during the height of the recession. President Gabe Draper expects sales to increase 25 percent this year, which should enable the company to hire three or four more employees.
If that occurs, Draper Manufacturing could return to operating three shifts.
"We've got high hopes," Draper said. "Things are loosening up."
There's optimism at the national level as well. The U.S. Bureau of Labor Statistics reported in January that manufacturing jobs rose 49,000, helping push the Institute for Supply Management manufacturing index to 61.4, its highest rate since May 2004. A reading over 50 indicates the manufacturing economy is expanding.
Sales at Hurco Cos. Inc., whose machine tools are purchased by manufacturers, may be one of the best indicators of growth worldwide. The Indianapolis-based company's products are sold mostly in North America, the Asia Pacific region and Europe.
Stronger industrial manufacturing activity worldwide helped Hurco turn a profit in its most recent fiscal fourth quarter ended Jan. 31 for the first time in two years.
By the time Hurco's shipments increase, manufacturers already have been pumping out more products for several months, said John Donlon, the company's executive vice president of worldwide sales and service.
That's because "shops will try to squeeze every bit of capacity out of their existing machine tools before they invest in new equipment," he said.
Despite the increased exuberance, the manufacturing sector in Indiana is unlikely to add enough jobs anytime soon to return it to employment levels reached 10 years ago.
Plants have become more productive by getting more work from fewer employees. And hourly pay hasn't changed much in the past four years, hovering around $22 an hour, according to the Bureau of Labor Statistics.
"We fell far and we're slowly getting back," said Jerry Conover, director of the Indiana University Business Research Center. "But at this rate, it will take a long time to get back to before the recession."•
Please enable JavaScript to view this content.