Allison Transmission is not a household name like Google or General Motors, but it won't lack an audience for its planned $750 million initial public offering.
Most of Allison's business revolves around commercial trucking, and that is as enticing as any overseas growth strategy or new technology the company laid out in its prospectus, analysts said.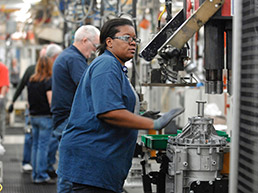 Latonia Mahone works on Allison's assembly line. The company hopes to raise $750 million through a public stock offering. (IBJ Photo/ Perry Reichanadter)
"It's a good time to go public for anything in the truck industry," said Eli Lustgarten, senior research analyst at Longbow Research, headquartered in Independence, Ohio.
Allison is the leading supplier of fully automatic transmissions for commercial trucks and buses. Demand for those vehicles cratered in 2009, but industry forecasts show it climbing closer to pre-recession levels by 2013.
Industry research cited by Allison predicts volume will increase 21 percent this year over last to 218,000 and continue to 312,000 by 2013.
Allison fits the profile of a capital-goods maker riding up the economic recovery, said Josh Pokrzywinski, senior analyst at MKM Partners in Connecticut. "You're getting a business that's more or less still on the bottom," he said. "They like to be able to tell a good growth story. I think the IPO will be fine."
Allison, which submitted its IPO plan to the Securities and Exchange Commission March 18, hasn't yet disclosed how many shares will be issued or at what price. That's likely to come after its underwriters shop the company to institutional investors. (Allison's offering is backed by the biggest names in investment banking, including Bank of America Merrill Lynch, Citi and J.P. Morgan.)
The two private-equity firms that bought Allison from General Motors in 2007 for $5.6 billion expect to keep a controlling interest. That's a signal that Carlyle Group and Onex are confident in Allison's future, Pokrzywinski said.
Allison would use a portion—the company hasn't said how much—of the cash it raises to pay down $3.6 billion in debt that was accumulated through the leveraged private-equity purchase.
Any debt that Allison pays down will be a "credit positive," but it won't necessarily lift the company's rating, said Tim Herrod, vice president and senior analyst at Moody's Investors Service. Allison's current rating is a speculative-grade B3 with a stable outlook.
Herrod isn't adamant about seeing Allison wipe a huge chunk of debt off the books in one swoop.
"They had a good year last year," he said. (Allison swung from a $324 million loss in 2009 to a profit of $29.6 million.) "I don't view it as crucial to the company's credit profile."
International strategy
Allison's long-term growth will have to come from places like China and India, where it's still rare for trucks to come equipped with automatic transmissions.
Automatics are the norm in fleets that do a lot of stop-and-go work—school buses, delivery trucks and the like. And that's where Allison dominates. The company increased its share in U.S. work-truck markets from 39 percent in 1998 to 56 percent in 2010.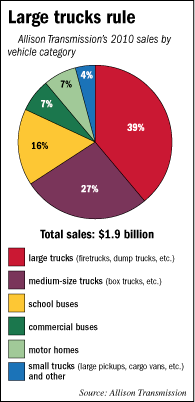 Can Allison chart a similar course overseas?
"You're competing on a world stage when you get to the emerging markets," Lustgarten said. "They're a player."
In China, Allison competes not only with Ohio-based Eaton Corp. and Washington-based ZF Transmissions, but a host of native companies, Lustgarten said.
Although Allison is a recognized brand in trucking, its fully automatic transmissions are more expensive than the manuals and hybrids offered by its competitors. So it will take time for Allison to penetrate emerging markets, Lustgarten said.
"Cost is everything, in many respects, in those parts of the world," he said.
Mark Foster, chief investment officer at Kirr Marbach & Co. in Columbus, Ind., has seen global modernization benefit other transportation companies. His firm invested in Belgium-based braking-system maker Wabco, which sold more of its products as foreign governments upgraded safety standards.
"There's an evolution going on in those marketplaces," Foster said. "It looks pretty good for those businesses."
Allison's presence in emerging markets isn't large, but it is growing. The company notes that it has 30,000 transmissions installed in trucks and buses in China, and it's pushing into new industries.
At Chinese shipping ports, Allison boosted its share of cargo-moving vehicles called dock spotters from zero in 2004 to 100 percent in 2010.
Most of Allison's 2,750 employees are in Indianapolis, but that mix will change as well. Last year, the company set up a plant in Chennai, India, and this year it will open a facility in Hungary, through a partnership with GM Powertrain.
Both plants will make components for global operations and assemble transmissions for emerging markets, the company said.
Allison has put a bigger sales and marketing force on the ground. The company says its head count in China, India, Brazil and Russia has grown 68 percent since 2007.
International growth is interesting, Pokrzywinski said, but Allison will have to get investors excited about its core business. One factor that might give investors pause is that military vehicles accounted for 23 percent of Allison's sales last year.
"Clearly, military spending is slowing," Pokrzywinski said.
Another trend working against Allison is tight government budgets, which may hold down sales of school buses, firetrucks and garbage trucks, Pokrzywinski said.
In the end, however, Pokrzywinski thinks investors will look to the financials, which show strong profit margins above 20 percent.
"That reflects a good opportunity for what the earnings could look like as you put volume through the business," he said.•
Please enable JavaScript to view this content.