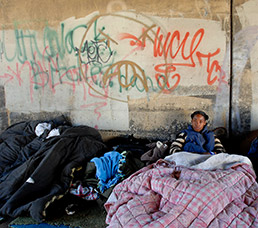 Homelessness workers keep in touch with Antoinette Lackey, who sleeps under a bridge south of downtown. A task force that focuses on chronic cases might add her to its list.(IBJ Photo/ Perry Reichanadter)
Homelessness outreach workers Stacey Nugent and Donnie Robinette sounded lighthearted as they debated which of two former street-dwelling drunks, Robert or Louis, had more arrests under his belt.
Robert, who used to lie in his own vomit and panhandle outside the downtown Champps restaurant, once was arrested three times in a single day, Robinette noted as he steered the outreach team's van through downtown.
"He just was a mess on a daily basis," Nugent said.
Both Robert and Louis opted for a recovery program more than a year ago, and on March 28, the team was en route to help Robert move to transitional housing. It's one of the early success stories from a task force that in the past 18 months has led some of the most stubborn homeless people in Indianapolis from downtown streets to shelter or recovery programs.
The Community Outreach Task Force is an informal collaboration of social workers, police and prosecutors that focuses on homeless people who are frequently arrested, abuse drugs or alcohol, or suffer from mental illness. It's the population that makes businesspeople cringe and costs taxpayers a fortune in court time and emergency health care.
"You don't have to be compassionate. You don't have to like them," said Kay Wiles, who runs the Homeless Initiative Program at federally funded HealthNet. "It's about dollars and cents."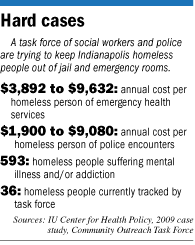 Using a couple of small grants, the task force is tackling an item that's been on the city's to-do list for years. The 2002 Blueprint to End Homelessness called for building an "engagement center," where people who might otherwise spend a night in jail can cool off and perhaps decide to enter treatment.
The center is still in planning stages, said Michael Hurst, program director at the Coalition for Homelessness Intervention and Prevention. It would be owned by Marion County Health and Hospital Corp. and operated by Midtown Mental Health.
CHIP has its eye on a site adjacent to the Horizon House day center on East Washington Street and recently landed a $750,000 gift that could have it up and running with 12 beds in a couple of months, Hurst said.
The ultimate goal is a 50-bed facility, which would cost at least $1.8 million, or more, depending on the location. In any case, Hurst said the agencies involved want to make sure surrounding neighborhoods are on board with the plan.
"I don't think we're there yet," he said.
Meanwhile, the task force is quickly spending down a $65,000 grant that covers treatment for people on its list.
Most go to Salvation Army's Harbor Light for substance abuse, which costs $12 to $20 per day (a bargain compared with $798 per arrest, plus $61 per day in jail, according to Indiana University Center for Health Policy estimates).
"I'm shocked because they're going in and they're staying," Wiles said. "It's almost like nobody ever offered it to them before."
Wiles' agency employs a full-time outreach team, which includes Nugent and Robinette, covering the whole city.
What's different about the task force is that 20 organizations communicate regularly about the most chronic cases. If anyone on the list decides to leave the streets, money is available to help, regardless of which agency claims that person as a client, Wiles said.
A key player is the Indianapolis Metropolitan Police Department. Before the task force formed in September 2009, the police had no relationship with outreach workers, Sgt. Bob Hipple said.
"They didn't like us. We didn't like them," he said.
Police now allow a homeless person to go with outreach, rather than to jail, Hipple said. Hipple also has warned outreach workers about city plans to clear out bridge encampments.
The task force convened at the behest of Mental Health Court Judge Barbara Collins, who summoned Hipple not long after he was assigned in 2009 to the downtown homeless beat. Collins didn't like the way police were interacting with homeless people, Hipple said, and he didn't understand why mental health professionals didn't have a presence on the street.
Hipple said he readily agreed to open the lines of communication.
"My goal was to solve the problem, and arrests didn't have to be the solution," he said.
Though anecdotal, the early results are encouraging. Twelve months after the task force formed, the number of arrests among the first nine people on its list dropped 48 percent.
The task force is now tracking 36 people, about 20 of whom are in various stages of recovery, staying in shelters, or no longer living in Indianapolis, Hipple said.
Fred Laughlin, vice president of management services at Indianapolis Downtown Inc., is aware of the task force's efforts but doesn't think the business community has noticed.
One reason could be that panhandling is still a common sight, especially in the evening rush hour and during conventions. Many panhandlers aren't homeless, but even outreach workers can't make the distinction until they meet people.
Holding a sign and shaking a cup is still an effective way to make money. And Laughlin notes, "What they're doing is legal."
Gary Rhodes believes he would have died drunk and homeless if it weren't for a young man invading his camp and stomping on his throat.
Rhodes, whose raspy voice is the result of that attack, left Wishard Hospital in July 2008 and started a long journey that included his first apartment in 14 years and three failed attempts at sobriety.
Rhodes, who in one drunken fit destroyed his kitchen cabinets, expected to be kicked him back to the streets.
"It's not like that," he said. "It's on a personal level."
By the time Rhodes, 47, gave up his subsidized apartment and checked into Harbor Light for a fourth time, he was on the task force's list. He's been sober for 10 months and hopes to move to a halfway house.
But one condition for that move is finding a job, and Rhodes' rap sheet is so lengthy that even Goodwill Industries rejected him.
Rhodes doesn't know what's next, but that doesn't faze him. "I can't let the fact that I'm being rejected from employment hold me back from recovery."•
Please enable JavaScript to view this content.