The Children's Museum of Indianapolis received a $1 million grant from the Eli Lilly and Co. Foundation to support expeditions by an Indiana University team to Captain Kidd's ship in the Dominican Republic.

The grant will allow the museum to display a 310-year-old cannon recovered from Kidd's ship, the Cara Merchant. IU underwater archeologist Charles Beeker has been studying the ship and developing it into an underwater museum since its discovery in 2007.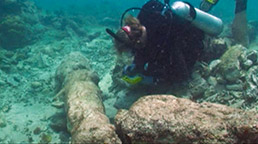 A cannon from Captain Kidd's ship will go on display at the Children's Museum in June. (Photo Courtesy Indiana University)
The cannon is one of many discovered at the site, but it will be the only one available to landlubbers. The museum will use the grant to bring in other artifacts, some of which will be on display for the first time in "National Geographic Treasures of the Earth," opening in June.

The Lilly grant also will be used to enhance wet labs at the museum, at IU and in the Dominican Republic. Members of Beeker's team will make visits to the Children's Museum to oversee artifact conservation and share stories with the public.