Before Twitter, 140 characters didn't amount to much when it came to corporate marketing plans.
But companies seizing the opportunity early, like Scotty's Brewhouse (@brewhouse), with a whopping 7,626 followers, have made tweeting a full-time part of their business. Scotty's owner Scott Wise recently hired a full-time employee to manage the chain's social media, while Scotty's employees are required to tweet from their store's Twitter handle as a part of the social media policy within the employee handbook.
By encouraging personal interaction between Scotty's and its followers, Wise has forged a clientele relationship he's compared to an IV drip. A recent tweet: Thanks for the Foursquare check-ins, let me know how lunch is please.
"People tell me social media is a waste of time, which I think is a joke," he said. (See IBJ's 2010 profile of Wise and videos of him in action here.)
Locally, it's the smaller businesses that are tweeting from the rooftops, as Indianapolis' largest companies either have a dinky Twitter account (WellPoint Inc.) or have surprisingly few followers relative to their corporate footprint (Eli Lilly and Co. has 3,119 followers).
Tweeting the wrong thing can be detrimental. Just ask the Chrysler employee who was let go recently for using a cuss word on Twitter, which is why Wise thinks larger companies haven't taken full advantage of Twitter as a measured marketing tool.
"Smaller companies have less of a risk," he said.
Inside are profiles of six local corporate employees in charge of establishing their company's Twitter identity. With little precedent in the arena, they explain their strategies for navigating uncharted corporate skies.•
——————–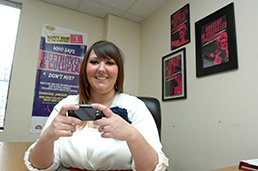 Kimi Karau (IBJ Photo/ Perry Reichanadter)
Kimi Karau, 27
Company: Indianapolis Symphony Orchestra
Handle: @Indy_Symphony
Followers: 2,701
Title: digital marketing manager
Sample Tweet: Here's a sneak peek of what to expect when Dennis DeYoung mixes the music of Styx with the ISO, next Thursday,… http://fb.me/TmEZAqqp (link to a You Tube video)
Strategy: Rather than another marketing strategy, Karau views Twitter as "another level of patron engagement," and a way to show what the symphony is up to when it's not putting on a performance. Karau, whose position was brand new when she accepted it in 2009, stresses it's important not to be overly "salesy." Rather, she tries to give the symphony a face and personality. When an intern brought in a cake on her last day, Karau tweeted a photo. "A tweet has such a small lifespan, it wouldn't be beneficial to push out one sales pitch after another. People are immune to it."•
——————–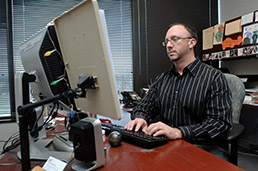 Greg Seiter (IBJ Photo/ Perry Reichanadter)
Greg Seiter, 43
Company: AAA Hoosier Motor Club
Handle: @AAAhoosier
Followers: 1,329
Title: public affairs manager
Sample Tweet: Sitting 2 close or far away from yr steering wheel? Sit no closer than 10 inches but close enough 2 maintain bend in elbows
Strategy: Seiter took it upon himself to start the @AAAhoosier account after talk of social media cropped up at a AAA conference two years ago. He figured he could make the intimidating and often-confusing world of car insurance a little more approachable. While the account is part of AAA Hoosier's brand, Seiter rarely uses it to directly market the company, something he says followers are fond of. Instead, he uses the medium to preach tips on safe driving or gas saving. He's even forwarded stranded drivers' info to dispatch.
——————–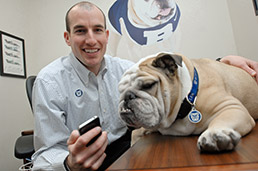 Michael Kaltenmark (IBJ Photo/ Perry Reichanadter)
Michael Kaltenmark, 31
Company: Butler University
Handle: @butleru
Followers: 4,707
Title: director of Web marketing and communications
Sample Tweet: Looks like we'll be a No. 8 seed in the home "whites" on Saturday in Houston. Never had ram. Heard it's good, Texas BBQ style. #godawgs
Strategy: As overseer of both @butleru and the mascot account, @ButlerBlue2, Kaltenmark's phone buzzed almost nonstop during the NCAA tournament season. Butler's basketball success has made gaining followers easy, but now Kaltenmark is faced with keeping them engaged. Interacting with followers is key. For example, he recently asked followers to identify themselves as students or alumni of Butler so he could follow them. "It's all about the quality of your tweet." Klout, an organization that measures Twitter accounts' influence, ranked Butler the sixth-most-influential college on Twitter, but Kaltenmark is aiming for No. 1.
——————–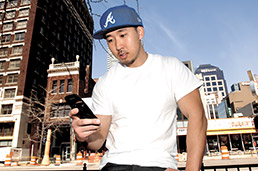 John Ban (IBJ Photo/ Perry Reichanadter)
John Ban, 31
Company: West Coast Tacos
Handle: @WestCoastTacos
Followers: 4,430
Title: co-owner
Sample Tweet: LUNCH at Illinois & Ohio (One America) 11am-1pm #GetYourFix….Try the New Fried Rice Burrito! & try our New Wasabi Salsa on your tacos!
Strategy: The food truck is mostly known for tweeting its location or asking followers where they'd like the taco truck to park for dinner, but Ban says that's only part of his responsibilities as "main tweeter." Ban no longer rides on the truck, but still keeps in close contact with clientele via Twitter. "I make sure I have conversations with people [on Twitter] every day," he said. "And it doesn't have to be about tacos." Ban admits he has an easier time marketing his company on Twitter than other businesses. "Our business is fun, anyways, so the tweets are automatically fun, too," he said.
——————–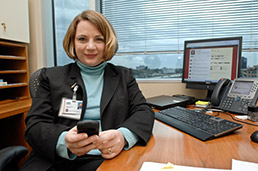 Libby Manship (IBJ Photo/ Perry Reichanadter)
Libby Manship, 33
Company: IU Health
Handle: @IU_Health
Followers: 1,622
Title: director of e-marketing
Sample Tweet: Do #cellphones affect young brains? What the research says: http://iuh.me/gx2jKh (link to study)
Strategy: While Manship adapts IU Health's tweets to what's happening within the community, she's careful not to let her personality shine through. "Our followers aren't interested in Libby's personality," she said. Instead, she focuses on tweeting health information that make followers think. For example, during the Indiana State Fair last summer, @IU_Health tweeted what followers would have to do to burn off fair foods like deep-fried Twinkies.
——————–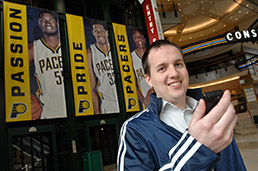 Matt Cooper (IBJ Photo/ Perry Reichanadter)
Matt Cooper, 28
Company: Indiana Pacers
Handle: @indianapacers
Followers: 20,736
Title: digital marketing manager
Sample Tweet: It's final. The #Pacers knock off the @ChicagoBulls tonight in OT, 115-108.
Strategy: Cooper's obvious busy hours are when he's tweeting courtside during games, making his main challenge engaging fans while the Pacers are off the court. Most popular tweets include trivia questions or contests to win autographed pictures and other memorabilia. Cooper encourages followers to tweet any concerns they may have about the Pacers or Conseco Fieldhouse in general as he pays close attention to what they're saying when the Fieldhouse is occupied. "Sometimes people are having trouble at will-call or want to know where the nearest rest room is. I can respond to that very quickly," he said. He's also been known to research Pacers trivia at the request of a follower.•
Please enable JavaScript to view this content.