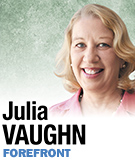 Recently, the trustee in the Fair Finance Co. bankruptcy proceedings issued a press release attempting to recover from numerous Indiana politicos approximately $800,000 in campaign contributions from indicted Ponzi schemer Tim Durham. Unbelievably, the response from the elected officials, candidates and party committees who profited from Durham's allegedly ill-gotten gains has been to ignore the request, with just a couple of notable exceptions.
Marion County Sheriff candidate Tim Motsinger returned the money when it became public that Durham was the subject of a federal investigation, even though it ended his campaign. And, on March 21, state Sen. Mike Delph rightly returned the $10,000 he received from Durham, doing so before the 12 felony indictments were announced.
It is time for Gov. Mitch Daniels, Lawrence Mayor Paul Ricketts, former Marion County Prosecutor Carl Brizzi, the Indiana Republican State Committee, the Greater Indianapolis Republican Finance Committee and all others who received contributions to write a check and make reimbursement. Continuing to use the excuse that the money is already spent amounts to a slap in the face of the Ohio victims of Durham's illegal scheme, many of whom lost their life savings.
This excuse is particularly galling since all of the above (save Brizzi, whose political career in Marion County is over for a host of reasons, including his ties to Durham) continue to raise political money. For goodness' sake, have a bake sale if necessary, but give the money back!
If Daniels wants to run for president, he needs to correct this immediately; benefiting, however inadvertently, from an alleged scam will prompt many pointed questions while he campaigns in Ohio. According to the bankruptcy trustee's press statement, the governor has at least responded to the inquiry, unlike the others listed above. Let's hope the check is in the mail.
An especially loud raspberry goes out to Kyle Walker, chairman of the Marion County Republican Party, which received $50,000 from Durham. Walker's response to the bankruptcy trustee's request? "I feel it would be a violation of my ethical and fiduciary responsibility to those donors to spend their funds in any other manner—no matter how worthy the cause."
Here's an idea for Mr. Walker. How about letting the donors decide by sending a special fundraising request with the proceeds earmarked for return to the bilked Ohio investors? (Maybe the SerVaas family will pay for postage.) Not only is it the right and ethical thing to do, but you just might score some political points by standing up for the little guy. Ethical behavior equals good politics.
While it is important for this money to be returned to the victims, the situation raises larger public policy concerns about Indiana's wide-open campaign finance system.
Unlike most states and the federal government, Indiana has no limit on the amount individuals can contribute to political campaigns. Fat cats like Tim Durham can legally gain access to the highest elected officials in our city and state through their checkbooks, inflating their significance in the process and giving them a louder voice than they deserve in a democracy.
Further, Durham is just the latest on a long list of institutional and individual campaign contributors whose money became radioactive. The tobacco companies, Enron, BP, Jack Abramoff, and now Tim Durham.
Rather than have to decide which contributions are OK to accept and which are tainted, we need an entirely new system of campaign financing that substitutes modest and limited amounts of public funds to candidates who choose not to participate in the system of legalized bribery now in place.
Pubic financing systems like those in Maine and Arizona give candidates and voters a campaign finance system that protects the integrity of the process and frees candidates from the guilt-by-association appearances that are created by big campaign checks. Like returning the Durham contributions, it's just the right thing to do.•
__________
Vaughn is policy director for Common Cause/Indiana, a nonpartisan citizens lobbying organization that works for open, honest and accountable government. Send comments on this column to ibjedit@ibj.com.
Please enable JavaScript to view this content.