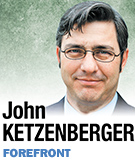 Will Gov. Mitch Daniels mount a run for president or won't he?
Hoosiers haven't had a political debate this good since the Indiana High School Athletic Association screwed up the original March Madness.
The question gained real currency last summer after The Weekly Standard published a long profile of the governor. It hasn't waned since.
I believe the governor when he says he doesn't know whether he'll take on the gargantuan challenge that some say will require $1 billion. And I can't fathom the discussions he's having with his family and closest advisers.
Daniels certainly has much to recommend him as POTUS—his tenure as governor, his focus on fiscal issues over wedge social issues, and his varied career experience. There are blemishes on his record, too, the failed attempt to privatize the Family and Social Services Administration chief among them.
So his due diligence on the question is both due and diligent. If his first run for governor is any indication, he'd make a heckuva presidential candidate.
I hope he doesn't.
My reasons are purely selfish with an eye toward the state's business and economic vitality. Here they are:
• It would be great to see the governor put his words into action and become an active investor in Hoosier businesses.
Daniels parked much of his considerable personal wealth when he decided to run for governor in 2003. Unleashing even a fraction of that on nascent companies would bring this money—and that of many others who respect the governor's business savvy—into a niche that needs it.
Daniels should be among Indiana's ranks of angel investors.
• It's hard to imagine Daniels wouldn't rather meet with peers on corporate boards than bureaucrats who head federal agencies.
The governor would inject new life into Indiana's corporate realm, which could stand a jolt. And, just as many of former Gov. Evan Bayh's top lieutenants now are among the state's corporate leaders, there's another crop in Daniels' administration. It'd be nicer to plant them in Indiana's business sector than to sweep them off to Washington, D.C., should he reach the White House.
• How many young execs with big ideas would benefit from Daniels as mentor?
The governor knows firsthand the value of mixing opportunity with advice in the sink-or-swim world of politics and business. He'd be uniquely positioned in his early 60s to offer advice, energy and money to those he believes could benefit from it.
That can only benefit the state's overall economy.
• By getting his hands dirty in the state's business trenches, Daniels will have greater credibility to tell the state's economic story.
It is one thing to set the policy and charge others with implementing it and quite another to take the risks, put in the hours, and commit the capital with companies all across the state. Again, Daniels will be in his prime for this sort of effort.
When the chattering class comes looking for a comment, then, he'll have fresh material from which to draw.
• Speaking of the chattering class, Daniels most likely will continue to have access to it even if he doesn't run for president. He currently appears regularly on Fox News and seems to have a slot on The Wall Street Journal's opposite-editorial page whenever he wants it.
Storytellers still define the story. Daniels' access to major media outlets to tell his stories could affect how others view Indiana and the opportunities that exist here. Don't underestimate the potential.
So will he run or won't he?
We'll probably know soon since the field starts to form, and Daniels has said he'll make a decision once the General Assembly's finished its business.
I hope his appetite for a Hoosier tenderloin sandwich and Indiana's business community is greater than his hunger to be president. The state's economy likely will be better off if the governor stays home in 2013.•
__________
Ketzenberger is president of the Indiana Fiscal Policy Institute, a not-for-profit dedicated to nonpartisan research into the state's tax policies and budget practices. Send comments on this column to ibjedit@ibj.com.
Please enable JavaScript to view this content.