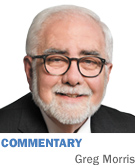 I recently had the opportunity to walk through the exhibit space at the Fire Department Instructor's Conference at the newly expanded Indiana Convention Center. It was an awesome experience and it gave me a great firsthand look at why we invested $275 million expanding the convention center.
The center expansion debuted in January and the facility features an attractive new look and layout. The recent expansion added nearly 350,000 square feet of exhibit space, advancing it from the 32nd-largest convention facility in the country to the 16th largest. Lucas Oil Stadium and the Indiana Convention Center are now connected by a climate-controlled walkway that runs under South Street so you don't have to go outside to move from one facility to the other. That is a great feature and it kept me out of the rain and cold that day.
Combined, the convention center and stadium provide about 745,000 square feet of exhibit space and 83 meeting and ballroom spaces, all equipped with the latest technology. You've got to experience a meeting or event yourself to fully appreciate the scope of this project.
The FDIC event was awe-inspiring. Thanks in part to the additional convention space, FDIC reported this year's attendance was the largest in its 83 years, just shy of 30,000. FDIC brings in a reported $30 million of economic impact to the region in one week. That's serious money.
There were more than 800 exhibitors taking up every bit of that expanded space. Every kind, size and shape of fire and rescue vehicle manufactured was on display. It was an eye buzz. Many had their lights flashing, ladders extended, and most had an American flag on top. A long list of companies that provide goods and services relevant to firefighting and search and rescue operations filled out the exhibit space. I gained great appreciation for the equipment, money and resources necessary to keep all of us safe.
Indianapolis receives a great deal of attention during this conference. All attendees get to see the Indianapolis Fire Department showcased on center stage and featured as one of the top fire departments in the country. IFD is considered a leader in the area of health and safety initiatives for firefighters both personally and professionally. Because IFD acts as host for this conference, area firefighters benefit from an all-access pass to the conference, which includes a substantial educational component. Firefighters know success depends on training, information and education. A conference of this caliber delivered to our doorstep is invaluable for all our emergency services and responders and the citizens they serve.
As I walked through, I stopped to listen to some of the conversations. The talk was dominated by one theme … public safety and keeping people safe. There was a lot of talk of 9/11 and being ready for the next unexpected attack. There was concern over reduced funding and being able to provide necessary services to the public under their protection.
With the 10th anniversary of 9/11 approaching, it reminded me of how lucky we all are to have these folks protecting us. They risk their lives every day to make us safe. Has that patriotic feeling you had after 9/11 faded a bit? Do you remember how our firefighters were hailed as true American heroes? I was reminded as I walked through the FDIC conference. I was also reminded that a terrorist attack is not necessary to appreciate the life-saving activities firefighters engage in on a daily basis. It was a great reawakening for me.
The vendors and exhibitors seemed thrilled with the record attendance and the new facility. I'm told about 80 percent of them have already renewed for next year's conference. Chances are strong that we would eventually have lost this conference if we hadn't invested in the convention center expansion.
I'm proud of our newly expanded Indiana Convention Center. I'm proud of the Indianapolis Fire Department and all our area fire departments, and I am grateful to them for their service. And, I'm proud we host the Fire Department Instructor's Conference here in Indianapolis. We're looking forward to next year and doing it again bigger and better!•
__________
Morris is publisher of IBJ. His column appears every other week. To comment on this column, send e-mail to gmorris@ibj.com.
Please enable JavaScript to view this content.