An Indianapolis insurance brokerage disciplined for unauthorized legal practice might now face millions of dollars in claims from more than 4,000 former clients.

Richard Kennard filed a class-action suit March 16 in Marion Superior Court against United Financial Systems, which in 2002 sold him a $2,500 estate-planning package, along with two annuities.

United Financial used estate planning as the hook for a lucrative business selling other insurance products until 2008, when the Indiana State Bar Association filed a complaint for unauthorized practice of law. Family-owned United Financial at one time had a presence in 13 states, but courts have forced it to revise its business model, and the company appears to have shut down in Indiana.

"Any time you have a financial services company marketing exclusively to retirees and elderly people, it raises questions," said Richard Shevitz, Kennard's attorney at Cohen & Malad.

Ronald Elberger, United Financial's attorney at Bose McKinney & Evans, declined to comment on the class-action suit.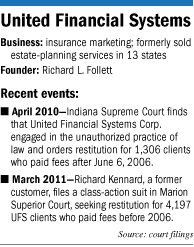 Richard L. Follett started United Financial in 1982 and ran it with his wife, Jayne, and sons Richard and Beau. It's unclear how many people the company employed. All the salespeople and attorneys, apart from the general counsel, worked under contract.

Richard L. Follett II was president until 2008, when the company was restructured under an entity called United Financial Resources.

United Financial no longer sells estate plans, at least as a primary offering. A sister company, Alliance America, in Sarasota, Fla., lists these services on its website: "health care planning, insurance planning, retirement planning, funeral planning, annuities, long-term care and charitable planning."

IBJ reached Richard L. Follett II through the Alliance America office, and he asked for questions to be submitted via e-mail, but he did not respond to them.

One of Follett's lead salesmen, Jody Waugh, said he's working for a sister company called United Planning Group. Asked which entity is doing business in Indiana, he said, "None of 'em."

Like many United Financial clients, Kennard, 89, had a will in effect when a saleswoman visited his home in 2002. She persuaded him to buy power-of-attorney and living-will and trust documents, which were drafted by a lawyer that the firm contracted.

Kennard's probate lawyer later revised the work.

"It's a convoluted, mixed-up situation," attorney Bob Wampler said. "It was inappropriate for this man with his financial situation, assets and age."

Some of United Financial's clients not only bought inappropriate estate plans, but paid huge tax penalties after they cashed in valuable stocks to buy the firm's annuities. Such stories prompted the bar association to try to conduct its own investigation and eventually led it to file a complaint with the Indiana Supreme Court's disciplinary commission.

The Supreme Court ordered United Financial in April 2010 to cease its unauthorized law practice and reimburse clients who paid fees after June 6, 2006. (The cutoff date was established because of a prior court ruling.)

The court's order applied to 1,306 clients who collectively must be repaid more than $3 million.

United Financial has 4,197 more Indiana clients who, like Kennard, paid fees before 2006.

"We believe this case is ideally suited for class certification because the Supreme Court has already determined the underlying legal violation," Shevitz said.

The Supreme Court of Ohio disciplined United Financial, too. The company sold more than 2,000 estate-planning packages in the Buckeye state, according to a January 2010 court order. The Ohio court ordered the firm to stop its practice but didn't require it to repay fees.

The Indiana Department of Insurance rescinded United Financial's brokerage license in January because the firm had not paid fees related to a compliance investigation that began last year.

Sales hook

United Financial says it sought to educate clients about the pitfalls of settling their estates in probate court, but a judge said its methods were alarmist.

"The education provided by United Financial is an entirely one-sided ad delivered in such a way so as to likely alarm the customer," concluded Bruce Embrey, the Supreme Court-appointed commissioner who heard the case brought by the bar association.

Most people bought United Financial's costliest estate-planning package, which was most recently priced at $2,695.

The salespeople received $750 for their first sale of the week and $900 for each subsequent sale, according to Embrey's report.

The contracted attorneys, meanwhile, received $225 for each set of documents.

The estate-planning fees made up a small portion of United Financial's impressive sales, Embrey found. In one 31-month period, October 2006 to May 2009, the company grossed $29 million, according to his report.

In addition to gathering information for drafting documents, the salespeople would have customers fill out a financial profile, which was later used by a second salesperson who tried to close a deal on an investment.

United Financial would relay the documents to the attorneys, who would call the clients to discuss their information.

But Embrey noted that wills and trusts prepared by different lawyers over a five-year span were "remarkably similar." In one instance, the documents contained a clause for distributions to children, though the client was a 70-year-old woman with no children.

The second salesperson, a "financial-planning assistant," would deliver the documents and help clients execute them. Then he or she made a pitch for investments.

Embrey noted that some of United Financial's clients cashed in valuable holdings so they could buy annuities.

Ruth Springer of Allen County sold $500,000 worth of Exxon stock and incurred $132,000 in tax liability in the process.

Robert Nesbitt, who lived in a nursing home in West Lafayette, sold some $250,000 in stock.

"After the transactions with United Financial, Mr. Nesbitt had insufficient cash flow to take care of his daily living expenses," according to Embrey's report.

The company said it employed a tax strategist and financial consultant, but Embrey found that wasn't true.

"Not a single satisfied UF customer appeared at trial to testify on behalf of United Financial," he noted.

United Financial shifted gears around the time of the bar association's complaint to selling supplemental Medicare insurance. In August 2008, the company hired a sales director and established a "health-planning assistance division."•