After seeing how snow and ice storms hurt the Super Bowl in Dallas this year, the National Football League is requiring that future host cities be better prepared to deal with inclement weather or disasters.
Indianapolis, which is to host the Super Bowl next February, will be the first city held to the new standards.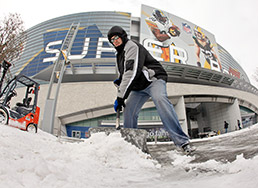 In the week-long run-up to this year's Super Bowl, Texas Stadium was plagued by snow and ice piling up on its roof and sliding off. (AP photo)
No longer will it be adequate for cities to plan for the most likely weather and emergency scenarios. Now, host city officials will be required to have plans to keep the city open and the game on track during almost any weather or emergency scenario.
Jim Steeg, a San Diego Chargers executive who previously spent 26 years as the NFL's Super Bowl point man, wonders how it will be possible for a host city to have such an extensive contingency plan.
"How do you prepare, how do you anticipate everything?" Steeg said. "In 1989 in Miami, we had riots break out before the game."
Frank Supovitz, the NFL's chief of Super Bowl operations, said the league is changing the way it assesses risk in the contingency plans for future Super Bowls.
Much of that, NFL officials said, has to do with what they witnessed in Dallas in February, when the city had the worst winter weather it had seen in 40 years.
Supovitz said league officials and host committees previously prepared for the "most likely worst-case scenario." Now, Supovitz said, NFL officials are prepared to take planning a step further.
The NFL is asking for a comprehensive plan involving city, state and federal officials, stadium officials and the operators of training venues for the AFC and NFC championship teams.
The change comes as the NFL prepares to have two of its next three Super Bowls in cold-weather cities. In addition to Indianapolis, New York will host the big game in 2014.
NFL officials wouldn't directly comment on the possibility that the new requirements would increase the cost for the host city, but Indianapolis host officials said they're prepared.
The 2012 Super Bowl Host Committee has raised $25 million to host the event next February, and host committee spokeswoman Dianna Boyce said additional money shouldn't be necessary to comply with the NFL's more stringent guidelines.

Miles
The local host committee has increased preparedness at little additional cost by relying on numerous volunteers, Boyce said.
"We started working on our plan a month before the Super Bowl in North Texas," she said. "We're already in the mode of preparing for the worst-possible-case scenario."
Supovitz has said repeatedly that Indianapolis "is ahead of the curve," and NFL officials this month said Indianapolis is already well on its way to meeting the more stringent guidelines.
"Indianapolis is doing everything they need to do to be ready for this game," said NFL spokesman Greg Aiello.
So how bad are local host committee officials prepared for?
"We're thinking really extreme, like the blizzard of '78," Boyce said.
The blizzard that hit central Indiana in 1978 is the worst on record, dumping 15.5 inches of snow in 34 hours, with strong winds prevailing for nearly two days creating snow drifts as deep as 10 feet. At the blizzard's peak, winds reached 55 miles an hour and the wind chill plummeted to 51 degrees below zero.
On March 11, the local host committee unveiled its Weather Preparedness and Response Team, which is being chaired by Jim Schellinger, CEO of CSO Architects. The team includes members of city and state government in addition to officials from local airports, the National Weather Service, Citizens Energy Group, Indianapolis Power & Light and other key organizations.
Mark Miles, chairman of Indianapolis' host committee, said he hopes Indianapolis will serve as a "model for future Super Bowls" in preparedness efforts.
"Our goal is to have this be the very best event we've ever coordinated and the best Super Bowl ever held," said Earl Goode, chief of staff for Gov. Mitch Daniels and a member of the local host committee's newly formed Weather Preparedness and Response Team.
The idea of the Weather Preparedness and Response Team, Miles said, is to expand the scope of the original committee to ensure a "comprehensive and integrated plan of action" to address anything that could happen leading up to and including Super Bowl XLVI.
"If we learned one thing in Dallas, it's that you have to be ready to respond to just about anything in real time," Miles said. "In Dallas, we saw events get canceled, entrances to the stadium get closed, and the take-away is, things just don't always go as planned. We have to be able to deal with things as they happen, and communication between the various groups in the host committee will be key."
Pitts
After a period of identifying and evaluating the issues that could be faced, Miles expects to begin implementing the plan as soon as July and continue that through next February.
Airports, streets and sidewalks aren't the only concerns. The stadium's ability to withstand a snow and ice storm and other issues also are being evaluated.
The NFL this month revealed that falling snow and ice from the roof of Texas Stadium crushed four of 10 gates, requiring them to be closed on Super Bowl Sunday. The closings led to long lines and delayed fans from entering the stadium on game day.
Officials for the University of Indianapolis, where the NFC champion will train in the week leading up to the Super Bowl, and officials for the Indianapolis Colts, who will host the AFC champion at their West 56th Street training complex, said they are prepared for the worst.
"We're not concerned with our facility. We have a grounds crew on call 24 hours a day," said Colts Senior Vice President Pete Ward, a member of the local Weather Preparedness and Response Team. "Our facility has never been closed due to weather since we've located here in 1985."
The Colts, Ward said, have been working with the Weather Preparedness and Response Team to coordinate planning to make sure roads are clear from the team and media hotels to the training centers.
Though the University of Indianapolis was closed during an ice storm Feb. 1-2, university President Beverley Pitts said that was mostly due to the roads leading to the campus. Pitts, a member of the Weather Preparedness and Response Team, said the school has staff in place to make sure parking lots and sidewalks on campus remain clear regardless of weather. The domed facility that will host the NFC championship team is designed to shed snow "like Teflon" as it falls.
Ward is also confident that Lucas Oil Stadium won't be plagued by the same problems as Texas Stadium.
"Because we live in a cold-weather climate, the facility and its roof were designed differently," he said. "The snow and ice aren't a concern at Lucas Oil Stadium because of the way the roof is tiered."•
Please enable JavaScript to view this content.